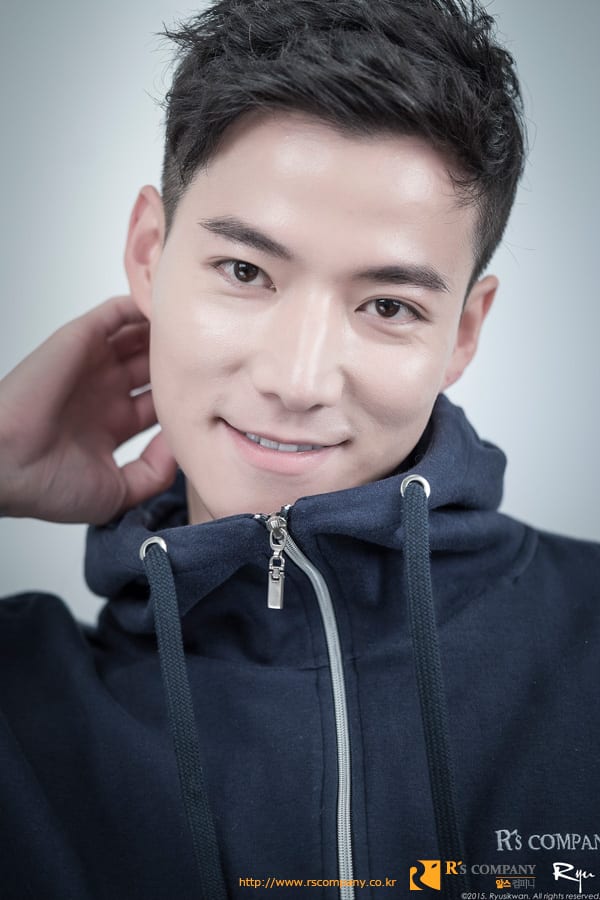 For those who have tuned in to Descendants Of The Sun, Dr. Daniel Spencer, played by actor Jasper Cho Tae Kwan, would  have definitely caught your attention with his charming good looks and the role of a doctor who can fix everything from the Peacemaker Emergency Doctor Team. If you have read KAvenyou's DOTS articles, you will remember him being featured in this article introducing the hot male actors in the drama!
KAvenyou got the chance to interview Jasper Cho to find out more about himself and about the drama – read on (and do watch the interview video as well)  to find out more about him!

Q1) What is your first impression of your role as Dr. Daniel Spencer, and was there anything that you had to learn to fit in the role better?
Jasper: My first impression of the role Daniel was that 'such character does not exist in reality'. He's supposed to be very good looking but also very good at what he does – as a doctor and fixing things – and has the warmest heart on the planet. Oh, plus extremely wealthy. Huh? I know. That was my first impression. I just had to search for (online and offline) someone who's similar. Probably somewhere in between Albert Schweitzer and Iron Man. Was not easy to find such reference.

Q2) In real life, how similar are you to Dr. Daniel Spencer?
Jasper: In real life, I am just a tiny little bit similar to Daniel Spencer. Maybe the fact that I am fluent in both Korean and English (but I set Daniel to be less fluent in Korean) and very comfortable with both cultures – Korean/Asian and Western – because I spent most of my life outside of Korea. What else… Although I'm not good at fixing EVERYTHING, I do like DIY stuff. And I am very much into charitable work. But Daniel does it on a worldwide scale right ha.
Q3) What is your favourite/ most memorable line from the drama?
Watch the interview video!
Q4) If you can choose your own role in Descendants Of The Sun, who do you want to act as?
Jasper: Well, it'd be grateful to try any of those roles. Each and every one of those roles is very well portrayed. But if I were to pick one, I thought Seo Dae Young was very charming. Not all lovey-dovey and romantic all the time, but when he was expressing it to his girl… damn. It was good.

Q5) Did you expect Descendants Of The Sun to be so popular in the first place, and what are your thoughts about the drama as a whole?
Jasper: I did expect DOTS to be very successful simply because it was like an all-star team full-on making this drama. The best writers in Korea, the best directors, and the top actors (minus myself) all put together. How do you make this better?
Q6) Since the drama is so widely popular now, can you share with us some interesting events that happened while filming?
Jasper: I can't think of anything very interesting. Maybe just when we were in Greece filming this, and obviously we had some days off, so the boys got together and played basketball. All the boys can hoop real bad! Including the camera team!

Q7) I'm sure our readers are very interested to find out about this, especially after falling for Dr. Daniel in the drama – what is your ideal type?
Jasper: Someone who's similar to myself. Someone who can share and enjoy what I like to do. Someone who can get along well with my family and friends.
Q8) As you have made your debut as a Superstar K contestant, if you can choose between being a singer or an actor, what will you choose?
Jasper: Definitely an actor. I've never thought about becoming a professional singer, that's always been my life-long hobby. Superstar K was just a good experience that came across to me that year and I didn't mind participating. Music is a matter of consumption to me. I love listening to others.
Q9) What are your upcoming plans for 2016?
Jasper: As I've always been doing, I am going to do anything that can be an outlet of my creative juice and artistic expression – that include making ads and acting.
Q10) You have gained plenty of fans, especially international fans because of the drama. Do you have any messages for your fans?
Watch the interview video!

Watch the interview video with Jasper Cho here:
A big thank you to Jasper Cho for sparing his time to sit down for the interview, as well as R's Company!
Follow Jasper Cho here!
Instagram: @jasperRRRR
Twitter: @jasperrrrr
Facebook: www.facebook.com/chojasper
Image Credits: R's Company