UPDATED: 22 January 2019
Besides the main leads in Descendants of the Sun that by now everyone probably knows about very well, I'm sure most diehard fans of the drama (like me) are very, very interested in the other cast members as well, especially those soldiers with the well-defined chocolate abs.
And without further ado, KAvenyou will do an introduction 101 to the handsome soldiers of Captain Yoo Shi Jin's Alpha Team from the Special Forces.
Captain Yoo Shi Jin (Song Joong Ki)
I don't think this hottie and cutie pie mixed into one, who protects the elderly, pretty women and children needs any further explanation…
Seo Dae Young (Jin Goo)
Jin Goo has only recently hopped onto the Instagram bandwagon, and we're hoping to see more behind-the-scene photos posted by him!
Follow Jin Goo on Instagram: @actor_jingoo
Kim Ki Bum (Kim Min Suk)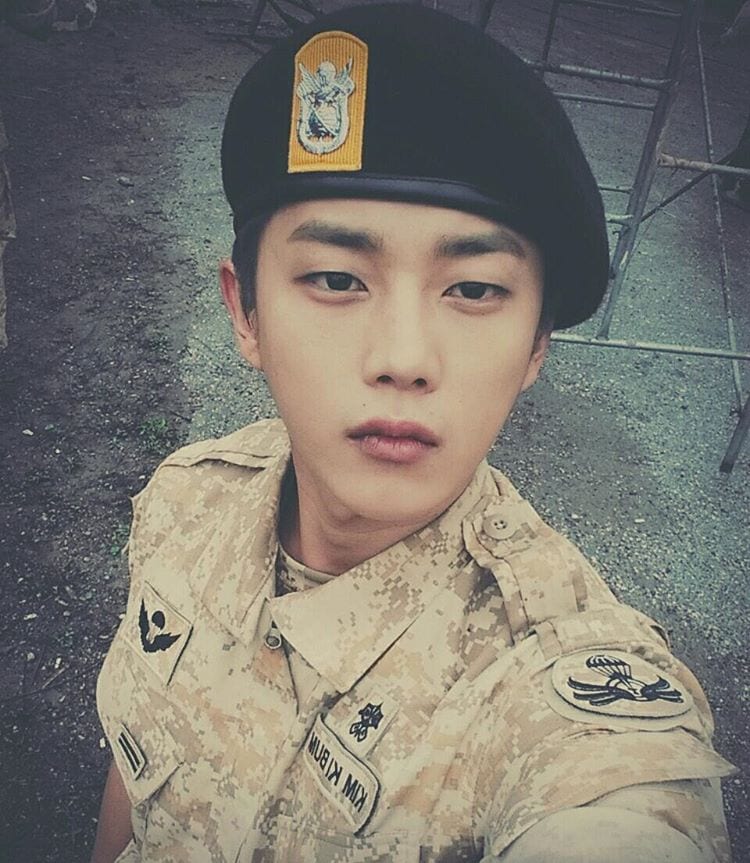 This baddie-turned-soldier is indeed an eyecandy-worthy material! Do you know that he's from Woollim Entertainment, and has also acted in Who Are You – School 2015 as well as Shut Up Flower Boy Band before?
Follow Kim Min Suk on Instagram: @samuliesword
Im Kwang Nam (Ahn Bo Hyun)
This model-turned-actor is also another hidden gem. He is also acting alongside with INFINITE's Hoya for the movie Hiya, which marks both of their big screen debut.
Follow Ahn Bo Hyun on Instagram: @bohyunahn
Gong Chul Ho (Choi Woong)
If you find Choi Woong a bit familiar, perhaps you have seen him before on other dramas such as Oh My Ghost, You're All Surrounded or Nine.
Follow Choi Woong on Instagram: @woongstargram
Choi Woo Geun (Park Hoon)
This fierce and strict sergeant (who is always quarrelling with Kang Mo Yeon) seems like a real cheeky person in real life – see the above photo posted by Onew on his Instagram account, and what Park Hoon posted back in response! Sadly, he does not have an Instagram account, but you can find him on Twitter instead.
Follow Park Hoon on Twitter: @hoonpark81
---
The following are the more underrated ones from the Taebaek Army, but still the same old smokin' hot soldiers in the drama:
Kim Seo Young (Instagram: @rooco)
Lee Bum Hoon (Instagram: @leebumhoon)
Yoon Tae Hwi (Instagram: @yoontaehwi_)
Im Young Deok (Instagram: @youngdddd)
Jeong Young Hoon (Instagram: @j.andrea0522)
Park Hee Tae (Instagram: @jjajanggerrard)
Han Sang Gil (Instagram: @sangggggil_h)
Lee Yoo Seop (Instagram: @_useop)
Son Eun Joon (Instagram: @eunjoon.son)
Note: I have excluded Park Byung Soo from this list as he's a bit old for our liking… but I'll throw in another hottie (but not really a soldier though) as a bonus! 😉
Dr Daniel Spencer (Jasper Cho Tae Kwan)
This charming rookie actor hailing from Canada can fix everything in the drama, from stitching up human beings to repairing machinery. Can he also mend our lonely hearts?
Talking about being multi-talented, did you know Dr Daniel participated in Superstar K6? Check out this video of his performance here:
http://mwave.interest.me/mnettv/videodetail.m?searchVideoDetailVO.clip_id=163977
Follow Jasper Cho on Instagram: @jasperrrrr
If you have yet to catch on to the drama fever from the sun landing on earth, you can do so on VIU. VIU recently launched in Singapore, that offers the latest premium Korean dramas, variety shows and other Asian programmes.
By the end of this article, I'm sure that you have already clicked 'follow' on most of these hot guys 😉 Why not follow and like KAvenyou as well – as we'll bring you more exciting articles like this!
Watch this space for more updates about music, entertainment and Korean culture at "KAvenyou: Your Avenue to Non-Stop Entertainment, Lifestyle and Fashion"!
Article by: Zhen Zhen @ KAvenyou