Korean Born Taiwanese Singer Idol, Bii has returned to Singapore after almost four years to perform at Sing浪 2022. Organised by Singapore Chinese Cultural Centre (SCCC) annually, Sing浪 showcases Chinese art and culture through musical performances. This year, the line up included popular well-known mandopop stars Tanya Chua and Bii as well as local Singapore artists like Glenn Yong and Tosh Zhang.
Bii, who debuted in 2010, is known for popular karaoke hits like 'Love More' and 'Come Back To Me', both songs which he performed at Sing浪. Many of his hit songs have also been featured in many Taiwanese TV series.
The singer, who was born and raised in Korea, moved to Taiwan and had to pick up Standard Mandarin there. When asked about tips for picking up Chinese, he shared that personally, he realised later on that the environment was really important for him to learn and practise his language skills. Just watching television and reading books were not very helpful for him to improve. Bii also encouraged that in Singapore, we have a great environment where there are many people who speak Chinese, so if possible, do learn and practise using more of the language as it might be useful in the long run.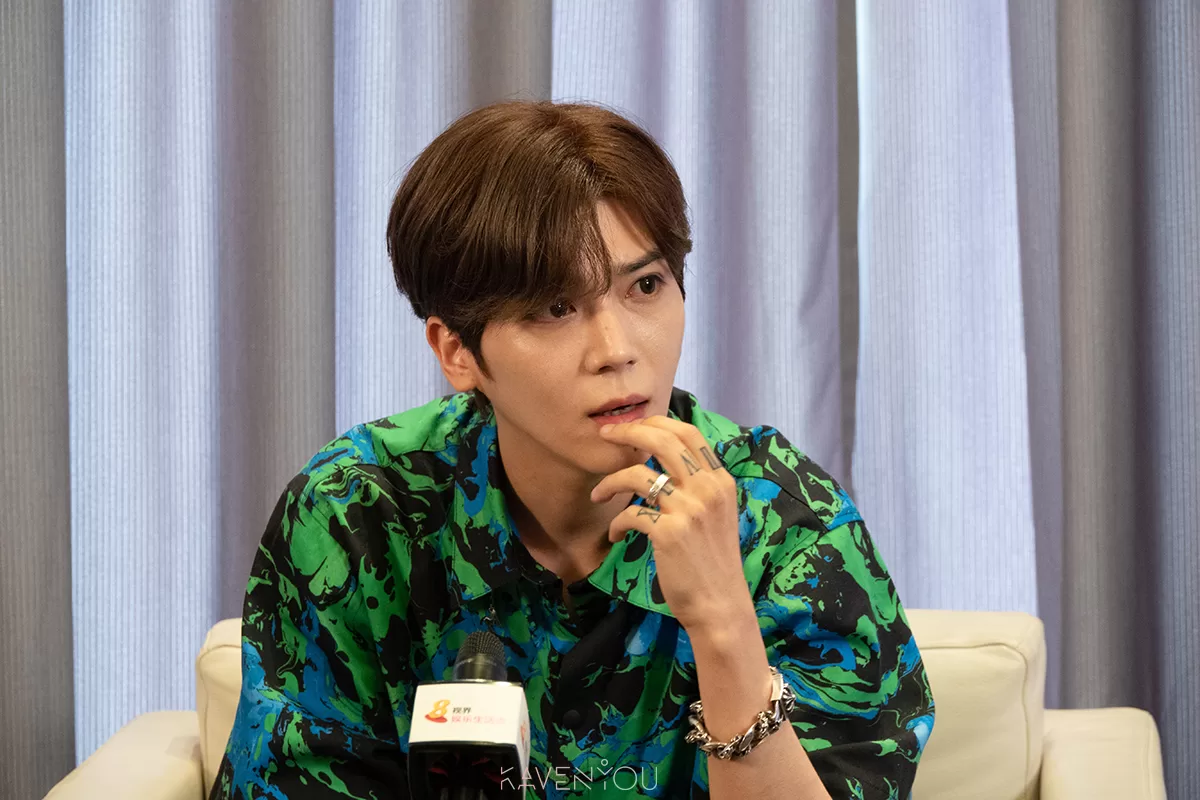 When asked about who helped him the most when he was learning Chinese, he replied that as he had to go to the company everyday, his colleagues were his best partners in practising Chinese. He also practised speaking the language with the Chinese teachers at the company but would still occasionally hide away to avoid speaking it as he kept getting corrected.
They say learning curse words is the best way to learn a language and Bii broke into a smile while divulging that the first thing his colleagues taught him were curse words, but it was not convenient to repeat it at the media interview. When assured that we would censor the curse words if he would teach us some, the singer turned us down good naturedly, while telling everyone "No, no, I'm not very angry at all right now."
The experienced singer did not hesitate when asked if he would prefer fans to be silent or sing along, and be louder than him when he is performing. "Louder than me would be better! I quite like being able to hear their voices even when my earpiece is in, whether it is their cheering or them singing along with me."
A lot has changed since we last had Bii in Singapore, the young dad was happy to field questions about his two year old. When asked if there was any particular style of songs his daughter liked, he shared that she prefers dance songs, for example her favourite song was "Action Go!" among his discography. "She will request it whenever she gets in the car, saying "Papa, Action, go!"" Bii mimicked his daughter, "I would select it for her and once the song ends, she will request it again and again. I realised she prefers fast songs and dances to them. Even with nursery rhymes, she prefers the faster ones."
Everyone might be curious as to which language the daughter of the multilingual star might speak and it is mostly Chinese, as they speak Chinese at home, "But sometimes I would still use Korean with her," Bii shared while nodding.
The singer spoils his daughter with everything she wants and when asked if there was a limit, for example an item of a certain price where he would say no to her, Bii admitted that he would not resist her requests in that way. "For example, there are children's toys being sold at where we buy diapers from, there might be a toy or two that my daughter would hold on to and not let go of. She is really well behaved, I would tell her to choose one and she would choose a toy without making a fuss." When questioned if she really would not throw a tantrum in public, he also affirmed that when they did a family trip to the zoo, his daughter obediently chose a toy at the souvenir shop and did not make a fuss at all.
The singer also revealed his thoughts on his daughter's future education. "I do think about it but as my wife and father-in-law understand Taiwan's education system and methods better, I leave it more to my wife to handle. But personally, while learning Chinese, I hope my daughter can learn some English. I would like to teach her personally too but as I don't have much patience, I will hire teachers instead," Bii shared frankly, to the laughter of everyone in the room.
As with every young parent, the next question they would always be asked would be when would the next kid be? Bii shared that his dream is for two kids, but he will respect his wife's decision and leave it up to fate. "It is not a must for me," he explained.
Rounding off the interview, Bii was asked to share how was Covid for him. The singer expressed that he did feel down during the period and reminds everyone during performance stages and on SNS to not to give up. "Cherish every opportunity that comes by. While keeping in mind your long term goals, think about what you can do now and just do your best to work towards it. It doesn't matter if it is studying, practice or working part time etc, just do what you can in the meantime to help yourself and persist for your future."
During Covid, while many people couldn't leave their houses, they discovered new interests and hobbies. "For me, I realised I can just lie in bed all day." He declared straightfacedly, making everyone chuckle. "Otherwise, I quite like chatting with my family and listening to new music. Previously, I would always replay the few songs I like but now, I would check out what songs are on the charts. Whether it is Korean, Western or Chinese songs, I would give the songs a listen and save the ones I like and play them when I drive or head out."
Bii listed 'Love Me' by The 1975 as well as songs from artists like Justin Bieber, BTS, John Mayer and Lauv when probed to share some of the songs he listened to.
In regards to anything new he would like to try or learn in the future, the singer stated that for him, he still has more interest in music and would like to try being a producer and do some songwriting for some upcoming artists. We look forward to more hits from Bii!
Article & Photography: Angeline