Keeping to her promise, Girls' Generation's Yoona returned to Singapore after her last visit in July, for her first ever solo fan meet, YOONA FANMEETING So Wonderful Day #Story_1 in SINGAPORE, to a crowd of over 2000 fans at Zepp@BIGBOX last Friday evening.
The K-pop goddess serenaded SONE with 'When The Wind Blows' at the start of the fan meet, and sat down with the emcee to share about her upcoming plans, the behind-the-scenes of her Instagram posts, and also answered fan questions that were written on post-its.
What does So Wonderful Day mean to Yoona?

Yoona: In Korea, I always spend my birthday with fans but it's such a pity as it's only with my Korean fans – so I decided to take my fanmeeting across Asia! #YOONA_SoWonderfulDayinSG

— KAvenyou (@KAvenyou) September 28, 2018
Yoona was even asked if she knew any Singlish, and was given some lessons on the spot. Her memory is definitely amazing as she could still remember how to say the terms she learnt – 'abuden' and 'shiok' until the very end of the fan meet!
Do you know any Singlish?

Yoona does not know any.. and the emcee taught her 'abuden'! #YOONA_SoWonderfulDayinSG pic.twitter.com/ACkTG6I8Db

— KAvenyou (@KAvenyou) September 28, 2018
Yoona also learns how to say 'shiok'! #YOONA_SoWonderfulDayinSG pic.twitter.com/4B6xYmWgbc

— KAvenyou (@KAvenyou) September 28, 2018
Lucky fans got the chance to get up-close and play games on stage with their idol, where prizes included taking solo photos with her and also taking home the local delicacy rojak, prepared none other by Yoona herself.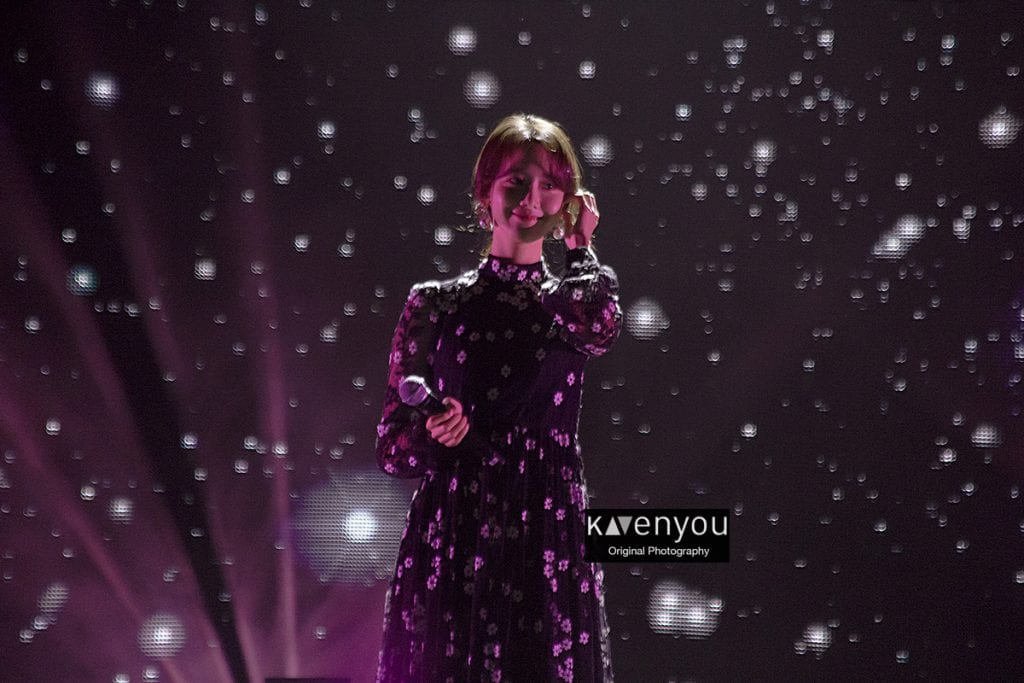 The talented artiste showcased her versatile sides on stage, as she performed songs like ballad track 'To You', a sexy dance cover of Meghan Trainor's 'Watch Me Do' and a sweet rendition of 'Deoksugung Stonewall Walkway'.
The fan project was marked as a success as a fanmade video dedicated to Yoona was shown, and a prompt at the end asking her to turn back revealed SONE holding up banners and pink lightsticks. Visibly touched, Yoona promised that she definitely wants to be back again, hopefully with her fellow Girls' Generation members as well.
Yoona took a selfie video with fellow SONE here in Singapore! Let's hope to see it up on her IG soon ^^ #YOONA_SoWonderfulDayinSG pic.twitter.com/nVaBZLfuoE

— KAvenyou (@KAvenyou) September 28, 2018
KAvenyou will like to thank IMC Live for the media invitation. Check out more photos from the fan meet here: YOONA FANMEETING So Wonderful Day #Story_1 in SINGAPORE
Article by: Zhen Zhen @ KAvenyou
Photography: Angeline @ KAvenyou