UPDATED: 12 SEPTEMBER 2018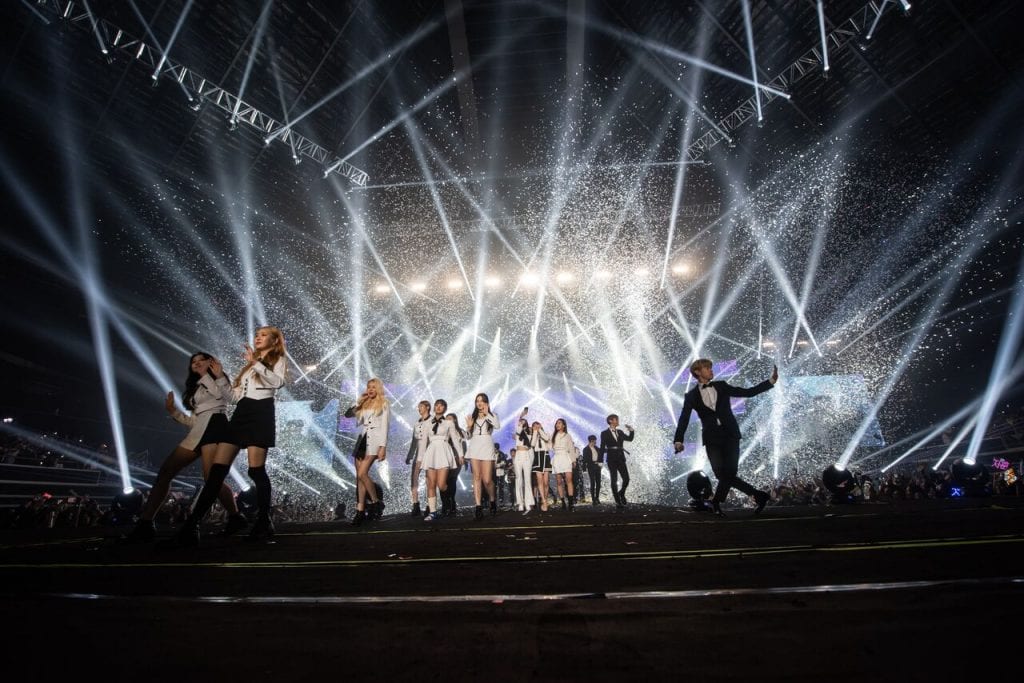 8 September 2018, HallyuPopFest 2018 – Skepticism was the feeling, when HallyuPopFest 2018 was first announced in the middle of this year. However, we were swept off our feet by the quality of the production and organisation as a whole.
There has yet to be a K-Pop event involving multiple performers, that we can say was a great success; from our years of experience in the scene (if you didn't know of our existence). Beginning from the showcases in the morning, and upbeat performances by Gugudan and Yu Seungwoo; we were given a sneak preview of what was to come at night. The imported lighting and sound systems were something we have never experienced before.
HallyuPopFest Day 1 – Hit by a Bboom Bboom Baam, energetic moves, and much LUV
Upon nightfall, it was the time we got the full impact of the flashy lights and LEDs (not like we were actually outdoors). It was basically party all night, with the powerful vocals of Huh Gak and Eunji echoing through the state-of-the-art sound system.
Victon put on a neatly choreographed performance befitting of any great K-Pop rookies. A tinge of global idol BTS also made an appearance through Victon's cover dance of 'Go Go' (고민보다 Go). Eric Nam was his usual cute self dishing out fluent English as the emcee for all 3 days.
Huh Gak stimulated our tear glands with his soulful voice, and (omg) those lights. Momoland did a hit and run, Apink showed us how to properly transition from a cute to sexy image; while Wanna One closed it off with a Boomerang sweeping across the stadium.
So fans, not to raise the bars in expectation; be prepared to be swept away by the production. We understand a lot of effort has been put into having such world class production all the way from Korea to Singapore, so get ready to party for the remaining 2 days.
HallyuPopFest Day 2 – Ladies steal the show with the return of Solji for EXID, and Soyou carrying the SISTAR name with scintillating performances
Day 2 of the festival saw MOMOLAND yet again delivering their powerful Bboom Bboom and BAAM, after Jeong Sewoon warmed the hearts of the fans. It's just like heading out for an exercise, get our hearts warmed, before upping the intensity. Jeong Sewoon displayed his shyness (as if introducing his girlfriend), while introducing "Pudding" (his guitar) to the fans. MOMOLAND was the opposite in their "Random Dance Challenge", dancing to random K-Pop hits.
The night presented a very different mood, from the first with more veteran idols taking to the stage. Solji made her long awaited return (after health concerns since about 2 years ago) to complete EXID, as they belted out their hits; such as "L.I.E", "Up & Down", "Ah Yeah", and "Hot Pink". The sexy angels of AoA also heated up HallyuPopFest with their purring moves for "Like A Cat"; while NOT wearing their "Short Skirt" (they were in hot pants).
More experience on show, with Soyou who was now of teacher status (recently on Produce 48) collaborated with label mate Jeong Sewoon; for her hit duet "Some". She also showcased the classics of SISTAR, such as "Ma Boy" and "Touch My Body". Eric Nam continued to play his role as emcee, but also performed songs like "Into You"; but not without surprising everyone by heading down the stage to meet with the fans.
Rookies on show tried their best showing off their charms, with SNUPER performing to "Platonic Love"; and we can look forward to their comeback soon in October. ONF was energetic throughout, requesting the fans to "Fly Me To The Moon". Day 3 wouldn't be complete without Wanna One's 2nd night of performance. Fanchants were roaring the stadium when the boys concluded the show with "I.P.U" and "Light".
HallyuPopFest Day 3 – Every party must come to an end and when it does, there are kisses, promises and wave goodbyes
The last 10 hours of Hallyupopfest 2018 began, and fans were not distraught by the morning showers that welcomed the party; or rather it looked like the skies wept in sadness anticipating the end to come.
Meeting Singapore fans for the first time on Day 3 of the Hallyupopfest 2018 showcase were Dreamcatcher and MYTEEN.

Fans were greeted by both groups' captivating stages and pretty smiles that melted our hearts, despite the heat rising as the showcase continues. From giveaways of personal items by the lovely girls of Dreamcatcher, to random dance by the bright boys of MYTEEN to 'Move by Taemin', 'Dance the Night Away by Twice' and even 'Blood, Sweat and Tears by BTS'!
The final night concert commenced with a special opening performance by Dreamcatcher. The mega festival continued with dazzling stages by UNB, a starlit sea filled the stadium for Heize, and of course our extraordinarily cute emcee Eric Nam; who never fail to shake us up with his witty jokes and sleek body rolls for all 3 nights.
Fans cheered loudly as rising stars NCT 127, who were performing for the first time in Singapore; unleashed their limitless charms with 'Firestruck' and 'Cherry Bomb'. The cute boys of BtoB decked in white suits, made fans swoon with 'Missing You', followed by 'Blowin' Up'. With the recent and sudden military enlistment of Eunkwang, cheers of "Fighting Eunkwang" could be heard from the members of BtoB and fans; showcasing their love and support for the BtoB leader.
As the last 30 minutes of the festival dawns upon us, the stage is finally ready for none other than Queen Taeyeon!

The Queen took her time in interacting with the fans, and asked if the fans liked her hair today. She further indulged the fans by posing on stage, asking fans to take many pretty photos of her, as she flaunts her colourful tinsel hair extensions specially done up for Hallyupopfest 2018.
With the impending comeback of Girls' Generation-Oh! GG, Taeyeon brought the stadium to a high with her solo hits such as 'I', 'Rain' and finishes off with her latest song 'Something New'.
3 days of HallyuPopFest 2018 seemed like a never ending party, but it is inevitable that great times walks into history. However, it won't be long before the party continues at HallyuPopFest 2019. With no confirmed details, it was announced by the organizers that HallyuPopFest will be back again next year!
Until then, see you guys at HallyuPopFest 2019!
Photo Credits: HallyuPopFest / H.A.H Entertainment