The annual Skechers Sundown Festival will open its doors at 3pm today, 19th April 2019. Marking its 10th year anniversary, this year's Skechers Sundown Festival will run for a total of three days starting from today.
At the Skechers Sundown Festival press conference earlier yesterday, 15 groups of artistes from countries such as China, Thailand, South Korea and our home country Singapore, came on stage to talk more about what fans can expect from their performances during the festival.
Some of the artistes you can expect to see are Singapore rappers – The Lion City Boy, ShiGGa Shay, Fariz Jabba, Yung Raja and more, Taiwanese Artistes – Nike Chen, A$$ Kid, Korean Artistes such as iKON, MFBTY, Bands from Thailand such as Keng Tachaya and Big Ass, and many other artistes from different parts of Asia. 
This year's Skechers Sundown Festival features three different stages with different artistes performing on each stage on the three different days.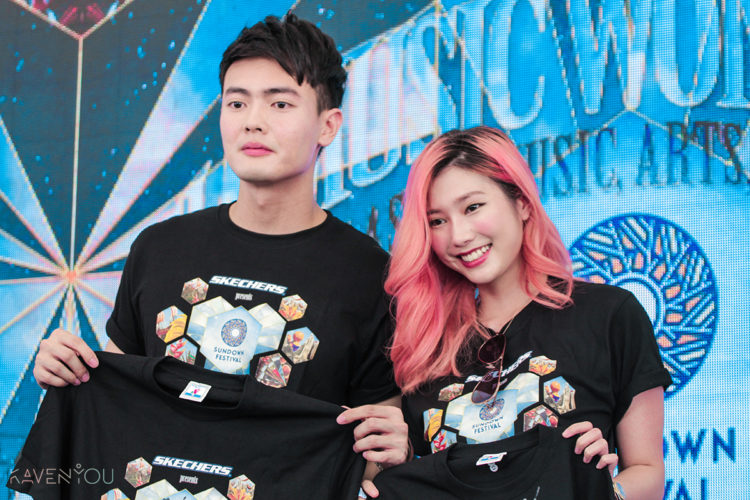 Performing on Utopia stage are artistes such as Justin Oh, Tiara Typinsky, iKON and MACHI-DIDI Andrew Chou. At the Nirvana stage, catch the heavy metal band from Osaka, Japan – Crossfaith, Korean Hip Hop Group – MFBTY consisting of Yoon Mirae, Tiger JK and Bizzy, and various Singapore rappers such as ShiGGa Shay, who recently released his new single Paiseh. Artistes such as Sufi Rashid, Max Lee, and former Korean girl group SKarf member Ferlyn G, who is currently a singer, dancer, and actress in Singapore will be performing on the Eden stage. 
During the press conference, the artistes were asked to share what they wish their fans would do during the festival, and what the festival goers should take note of in order to enjoy the festival. Many of them said to drink lots of water and beer, Thai rock band Big Ass said that all festival goers should just do whatever they liked and enjoy the festival.
With the huge line-up of artistes, fans can expect to see an array of amazing performances and party to their hearts' content together with the artistes.

Article by: Zan & Leah @ KAvenyou
Photography by: Zan @ KAvenyou