4 December 2014, Singapore – The Skechers Sundown Festival 2014 comes to a conclusion after a night of Asian music on 22 November 2014. The 6-hour long festival brought together singers and musicians from 11 different Asian countries, each group of performers presenting a really different music style, ranging from hip-hop to pop to rock. The highlights of the night include Cross Gene from Korea, Weaver from Japan, Kate Tsui from Hong Kong, and of course, Shila Amzah from Malaysia.
After the opening act by Singapore's very own lion city kia, ShiGGa Shay, the festival officially started with its first set of performers — local talent Jeremey Teng, all-girls group S.O.S. from Indonesia, DJ-singer Regina Lin from China, and the highly anticipated Cross Gene from Korea.
Cross Gene's appearance was the first highlight of the night, heating the atmosphere up with their songs and sleek dance moves as they performed their new track 'I'm Not A Boy, Not Yet A Man'. With members from Korea, Japan and China, the multi-national group greeted the fans in English, introducing themselves as "Cross Gene from Asia".
Promising to make the crowd crazy that night, Cross Gene then performed 'Crazy' and 'On the Floor', and the members ran to the front and sides to get closer to fans. They ended off their performance with 'Shooting Star' and 'Dirty Pop', with fans screaming for more as they exited the stage.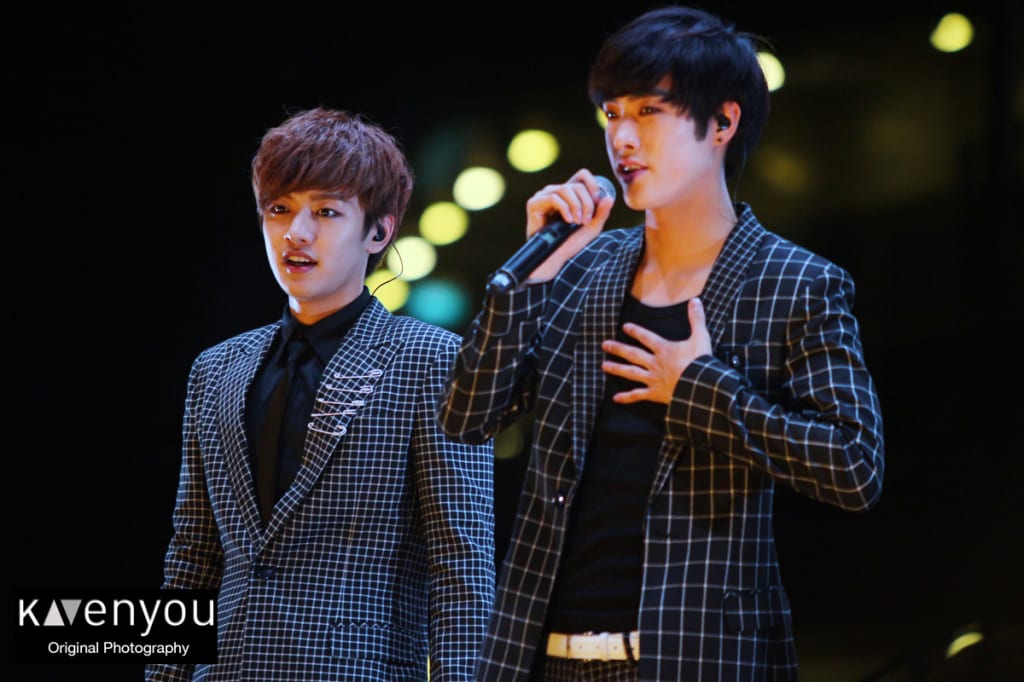 After a guest performance by James Yang from Taiwan, the second set promptly started with a performance by J-rock band Weaver, which had the large following of J-rock fans jumping and nodding along to their songs. They impressed the crowd with their music, and even performed a special mash-up of their own song, 'Shin Sei Kei', Coldplay's 'Viva La Vida', Singapore's National Day song, 'Home', and 'Let it Go'.
Following a series of Indian hits by Kanika Kapoor, PUPIL from Philippines had their large following in the crowd chanting along to 'Disconnection Notice', '20/20' and 'Out of Control'. The second set ended with the crowd singing along with gorgeous Hong Kong actor-singer Kate Tsui, as she performed familiar hits like 'Drenched', '我的歌聲裡' and 'I Love You'.
Big Ass from Thailand started the third and final set with a series of high rock songs. Following that was a more relaxing performance as local singer Olivia Ong took the stage with a specially arranged acoustic performance of her hit songs, including '要你管', '不變' and '幸福記號'.
Amidst the strong line-up, Shila from Malaysia undoubtedly took the night. She won the loudest cheers from the crowd with her powerful vocals as the audience listened to her in awe. She had won the crowd with her opening act of '最長的電影', after which she joked that she had prepared 20 songs for the night. People from amidst the audience cheered at the sound of that and told her that she wasn't to leave until she performed 20 songs. She then sang a Malay song, 'Cinta Hati' and confessed that it has been a very long time since she last sang a Malay song.
After singing 'All of Me', Shila requested that the audience only uploads the chorus portion if they were going to video the next song. The audience was left curious as dancers took their spots on stage, and Shila then confidently danced and sang to EXO's 'Overdose', winning even more cheers from the crowd who thoroughly enjoyed her performance. She promised that she will try her best to get more shows in Singapore so that fans in Singapore could see her more often, and added on by saying "That is if you like me lah!" She also gave a heads up that she would be releasing her album next year, probably around March.
She got the crowd singing and waving their hands along with her as she performed her last song, '想你的夜', and fans in the crowd shouted to her that she hasn't sung 20 songs!
The night ended with classic hits like '路口', '思念是一種病', and '自由' by Chang Chen Yue, veteran rock singer from Taiwan.
Check out KAvenyou Facebook Page for more photos of the event here: Skechers Sundown Festival 2014

KAvenyou would like to thank Red Spade for the invite to Skechers Sundown Festival 2014!
Article by: Lauren @ KAvenyou.com
Photography by: Yanglin @ KAvenyou.com