With 2019 barely begun, get ready for the hottest debuts who are sure to rock the K-Pop world. What can we expect? Debuts from two of the Big 3 – YG Entertainment and JYP, as well as BTS's new brother group from Big Hit Entertainment and even more. Let us break it down for you and show you our top 10 picks for 'Most Anticipated K-Pop Rookie Debuts in 2019'.
---
#1. TXT
Firstly, after BTS's worldwide domination in 2018, Big Hit Entertainment announced BTS's brother group – TXT (Tomorrow X Together), a 5-member boy group. After dropping each member's introduction film over a few weeks, fans are already swooning over the boys' visuals.
The group consists of Yeonjun (Rapper, Dancer), Soobin (Leader, Rapper), Beomgyu (Vocalist, Dancer), Taehyun (Rapper) and Huening Kai (Main Vocalist, Maknae). With BTS dominating the world in 2018 and with BTS as TXT's senior, many are already excited for this group. Are you?
---
#2. YG Treasure Box
After MIXNINE, many were skeptical about "YG Treasure Box" but it turned out to be a hit, especially since they have been airing on V-Live and YouTube. After announcing the last member on 25th January, fans are divided due to the final line-up.
The seven finalists who will make their debut as "Treasure" are Kim Jun-kyu, Yoon Jaehyuk, Park Jeongwoo, Haruto, Choi Hyun-suk, So Junghwan and Bang Yedam. "YG Treasure Box" is a survival audition program among YG Entertainment trainees, and despite the fan's division over the final lineup, this group is sure to set the K-Pop scene on fire as this will be YG's first boy group since iKON's debut four years ago.
As of January 29, Yang Hyun Suk announced that a second team of 6-members from "YG Treasure Box" will debut. Now fans are even more hyped! Who do you think will be in this 6-member line-up?
---
#3. CUBE Entertainment
Back in 2017, CUBE Entertainment, home of celebrities like Jo Kwon, BTOB, Pentagon, (G)I-DLE and more, announced their plan to debut a boy group in 2019. So far, only three members have been confirmed: Lai Guanlin from Wanna One, Yoo Seonho (A former Produce 101 contestant) and Jo Woochan (A former Show Me the Money 6 contestant).
Fans can expect more members which will most likely be selected through auditions. We look forward to more information and can't wait to see Lai Guanlin back on stage!
---
#4. Brand New Boys
With Wanna One having their last concert on 27 January 2019, Brand New Music have plans to debut Wanna One's Lee Daehwi and Park Woojin, along with current members of MXM (Im Young-min and Kim Dong-hyun) as a brand-new group – Brand New Boys.
We still hold on to hope to see the full 11-member Wanna One again – but for now, we will look forward to seeing these four boys back on stage again.
---
#5. Happyface Next Boys (HNB)
In May 2017, the CEO of Happyface Entertainment – Lee Joo Won, announced plans to debut a new boy group with MIXNINE's winner, Woo Jin Young. This group will be an upcoming 9 member project, consisting of Jo Yonggeun, Kim Hyunsoo, Park Woodam, Woo Jinyoung, Won Hyunsik, Kim Junhyeong, Kim Jungwoo, Jung Minhwan and Kosuke.
With most of these boys having participated in either MIXNINE if not Produce 101 Season 2, we already know fans can't wait to support these talented boys again!
---
#6. VERIVERY
Under Jellyfish Entertainment, VERIVERY is the younger brother of VIXX, consisting of 7-members that has made their debut with their first mini album, VERI-US on 9th January 2019.
With over 2.7 million views on their MV "Ring Ring Ring", we can't wait for more. Check out their music video, "Ring Ring Ring" here:
---
#7. TREI
Banana Culture, popular 5-member group EXID's agency, will debut EXID's first brother group – TREI (Short for TRiNiTiOPUS), a 3-member group. The group will consist of Lee Jaejun, Kim Juntae and Chae Changhyun.
Having dropped a pre-debut single, "Nike" in May 2018, as well as covering their senior, EXID's "Night Rather Than Day", we are excited for them to release their first album! Check out their cover here:
---
#8. ONEUS and ONEWE
When fans think of RBW Entertainment, they think of vocal queens, MAMAMOO. But not anymore as TWO new boy groups – ONEWE and ONEUS will be debuting soon. ONEUS will be a dance group that will include members who previously participated in 'Produce 101' and 'MIXNINE' such as Hwanwoong, Ravn, Seoho, Keonhee and Xion.
Meanwhile, ONEWE will be a boyband with members who previously debuted as MAS, such as Young Hoon, Ha Rin, Cy A, Dong Myeong and Kang Hyun.
---
#9. Under Nineteen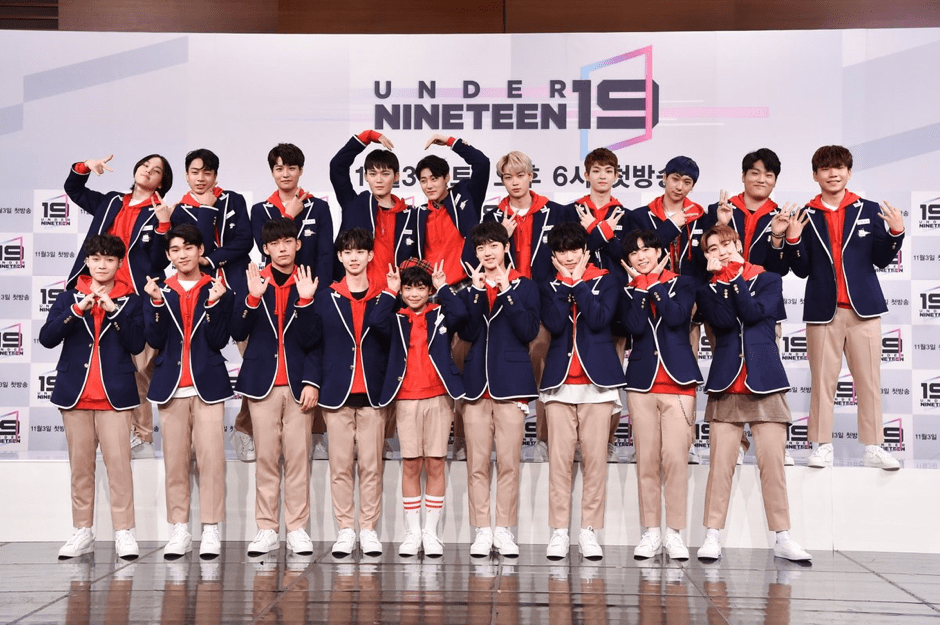 Similar to "YG Treasure Box", "Under Nineteen" is a survival program on MBC for trainees under the age of 19 years old. There is a total number of 57 trainees who participated in this program, but only 9 of them will debut for 12 months, managed by MBK Entertainment.
As of now, their debut date has not been released nor have the final 9 been announced – but fans are desperate to see the final line-up as mentors such as BTS's J-Hope and EXO's Kai have made an appearance to mentor these trainees. Talk about jealous!
---
#10. WayV
As fans have been waiting for a "NCT China", SM Entertainment recently debuted a Chinese based unit of NCT, with seven members: Kun, Ten, Winwin, Lucas, Xiaojun, Hendery and Yangyang. While Xiaojun, Hendery and Yangyang may be new, fans are excited as they can finally see Kun and Ten in a fixed group.
Having made their debut on January 17 with NCT 127's Regular (Chinese Version) as their lead single of their first digital EP, The Vision, fans cannot wait for their next release.
---
2019 will probably be the year of K-Pop once again with all these amazing debuts happening – especially since most of these boys are from "Produce 101" if not "MIXNINE". We are so excited for them but tell us – who are you most excited about? Let us know in the comments your top 10!
Article by Vanessa Liang @ KAvenyou.com