After more than a year of hiatus, (G)I-DLE has returned as a 5-member group with their first full-length album "I NEVER DIE" on 14 March 2022, featuring the title track "TOMBOY". "I NEVER DIE" is an album that contains (G)I-DLE's feelings and thoughts on not only the prejudice against themselves, but also on all the prejudice in the world.
The title track "TOMBOY," which fully reveals (G)I-DLE's unique confident attitude, has straightforward lyrics such as, "I'm not a doll," and "Just me I-DLE," shows off bold charms and makes its listeners call to mind uncontrollable eccentric characters. In addition, the hook that is made up of (G)I-DLE's unique voice and rough and grand instrumental sounds, along with the catchy variation section that begins at the point when the mood is at its climax, also points to focus on in this song.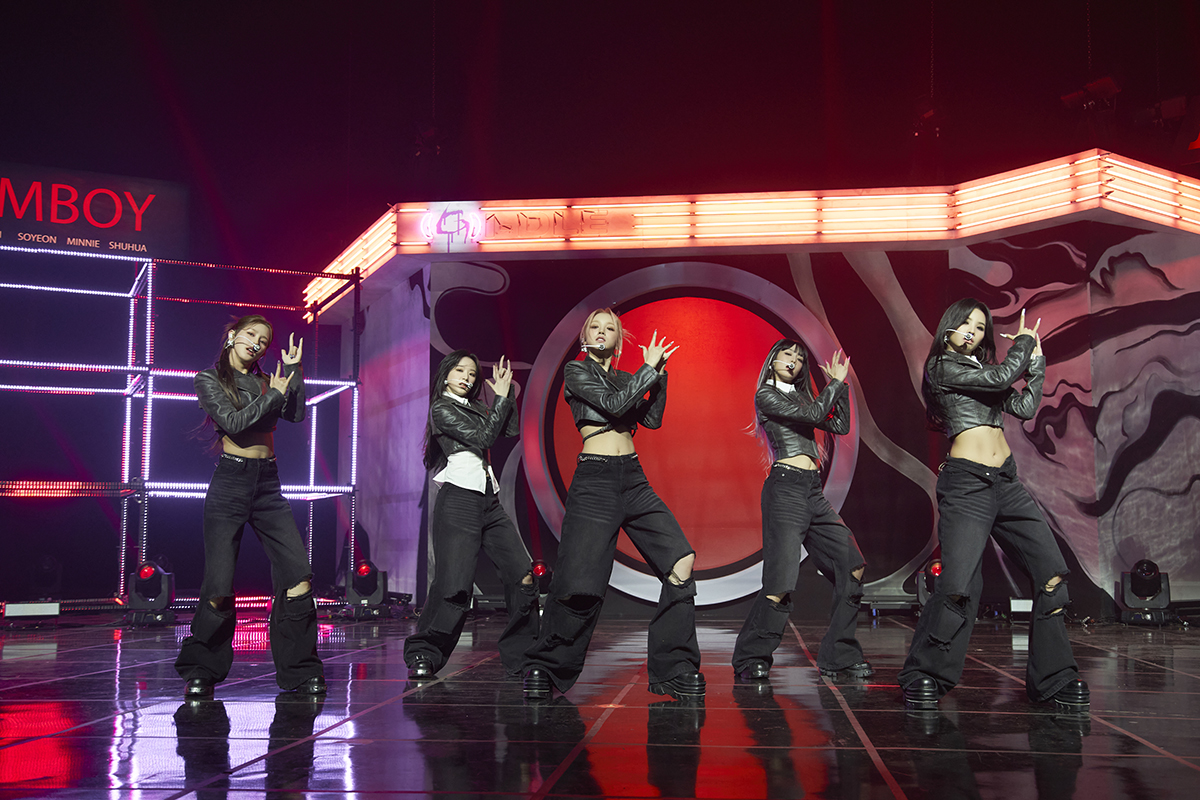 Besides the title track, the B-side tracks are written and composed by (G)I-DLE members as well, confirming the unique color and musical spectrum of the group. The album contains a total of 9 tracks: "TOMBOY", "Never Stop Me", "VILLAIN DIES", "MY BAG", "TOMBOY (CD Only)", which are co-composed and written by Soyeon, "ALREADY" and "ESCAPE" which are co-composed by Minnie, and "POLAROID" and "LIAR" which are co-composed and co-written by Yuqi. By fully showcasing (G)I-DLE's skills that they have been building up over the years and capturing the messages the group wanted to convey, the album is expected to show (G)I-DLE's broadened range of musical capabilities, and such composition of the tracks is more than enough to enable its listeners to feel its authenticity.


"I NEVER DIE" Media Showcase
During the media showcase which also happened on 14 March, prior to the album release, the members of (G)I-DLE shared more regarding their comeback. The music video for "TOMBOY" was based on the concept of watching a movie, where one can express anything freely in the movie. Thus, the group tried to showcase a shocking picture without prejudice in the music video, using many props to convey the message. In the music video, one of the more prominent props is probably the Barbie dolls, which Minnie gushed about and wanted to bring them home as they were very cute, and the resemblance to the members was uncanny too.
"As much as (G)I-DLE's presence and values are included in this album, I hope you think that there's no end to the team called (G)I-DLE."


– Soyeon, on how (G)I-DLE wants the album to be remembered by the public
On what (G)I-DLE hopes to achieve with this album, definitely it will be good to have good results, but for the members, they'll always say, "Let's do our best", "Let's do what we want". As it has been a while since their last comeback, they want to leave a strong impression on Neverland.
During the end of the media showcase, Minnie also revealed that their first place promise is to shoot a video with the concept that Neverland has chosen for them, from their outfits, makeup, to their concept.
Listen to (G)I-DLE's first full length album "I NEVER DIE" on your favourite platform: ingrv.es/i-never-die
Watch the official music video for "TOMBOY":
Official Photos: CUBE Entertainment