Almost half a year after their 'DUMDi DUMDi' summer release, (G)I-DLE has returned with their 4th mini album, "I burn" on 11 January 2021. Prior to the album release, KAvenyou attended the online media showcase to find out more about the members' preparations for the comeback, album details, as well as watched the stage performance for 'HWAA', followed by the official music video before its release at 6PM KST.
As "I burn" is released early in January 2021, the (G)I-DLE members were working hard practising for the album even until year end. The members spent New Year's Eve enjoying themselves by performing and counting down together at MBC Gayo Daejun.
About "I burn"
"I burn" revolves around the various emotions experienced in the process before finding back your happiness after a breakup, with the thought that 'a breakup is not over until it is completely forgotten'. The story starts with 'I', whose heart is totally 'burnt' by the breakup. Despite being hurt, through the pain suffered, 'I' emerged shining through the wounds with red flowers blooming.
As clearly seen from the title and the lyrics for the title track '화 (火花) (HWAA)', (G)I-DLE uses a burning flame and colourful flowers as a metaphor for the pain of love. In the freezing white snow fields and fire rising from afar, the image of splendid flowers blooming below is painted in front of their eyes. 'HWAA', worked together on by Soyeon and composer Pop Time, is an impressive song with an addictive hook and lyrics with dramatic emotional changes.
Soyeon: Rather than delivering a message, we wanted to share the sentiments of separation. When we first started planning for the concept, the image we had in mind was "a woman caught in winter", and we aimed to include winter, flower, and fire in "HWAA".
On the three concepts for the album (winter, fire, flower), Soyeon explained that there was an order to them, "The three concepts come together to convey the message that you set fire to the winter-like frozen heart to bloom a flower. "Winter" represents the emotions frozen cold because of a breakup, "Fire" the will to melt the frozen heart, and "Flower" the new love that comes after once we have fully confronted a breakup."
On Working on Their Own Songs For "I burn"
Minnie and Yuqi, whom are both non-Koreans, participated in lyrics writing and composing for this album – 'DAHLIA' and 'MOON' for Minnie and Yuqi for 'LOST'.
Minnie: It's been a while since my song got to be on (G)I-DLE's Korean album. I feel very proud and incredibly excited for this. I've always been making music, but making it onto an album wasn't easy to achieve. I'm delighted to finally share my music with NEVERLAND who have been waiting for so long, and I'll let you listen to more of my songs in the future too, so please look forward to them. Hope you like both the title track and the B-sides this time!
Yuqi: This album feels like a gift for me too. Although there was "i'M THE TREND" which Minnie and I wrote together, this is the first time my own self-composed song made it on the album, so I feel very happy and proud. Soyeon and Minnie have always been talented composers, whereas I'm a rising composer in the group. Only one track of mine made it this time, but it still let me prove that Yuqi can make music. NEVERLAND must have waited for this day too, I'll always do my best to present more music to you. Thank you.
(On how Soyeon participated in writing the lyrics for 'MOON')
Minnie: Soyeon is a quality guarantee mark, so I just left it up to Soyeon. I love how her lyrics turned out. When I first started making this song, I merely thought of the moon, and that is all I told Soyeon. She wrote great lyrics just out of that idea. Regarding "DAHLIA", I studied a lot in order to express the dahlia flower well. Compared to previous releases, I believe my lyric writing skills have improved.
Soyeon: I liked the lyrics of "DAHLIA" so much that I wrote the rap part for it, and I really enjoyed working on it.
About the Making of 'HWAA' Music Video
The fancy music video set and stunning visuals were a given, but the members' facial expressions are also eye-catching and memorable. On the topic of acting, Shuhua revealed that there was a scene where Soyeon had a few NGs as she was laughing, and Soyeon explained, "This happened when we were filming for my part. It was supposed to be a serious scene where I had to whisper to Shuhua, but we didn't know how to act like we were whispering. So I was playing around and really whispered to her instead."
Indeed, the music video for 'HWAA' turned out really well, and Minnie talked about the snowing scenes in the MV, "The film set itself wasn't actually that cold. But since there were many scenes that looked cold, such as snow falling, I tried acting that I felt cold during my part."
(G)I-DLE's Hairstyles for "I burn"
For this comeback, some of the members are styled in unique and strong hair colours, which definitely created buzz amongst the fans.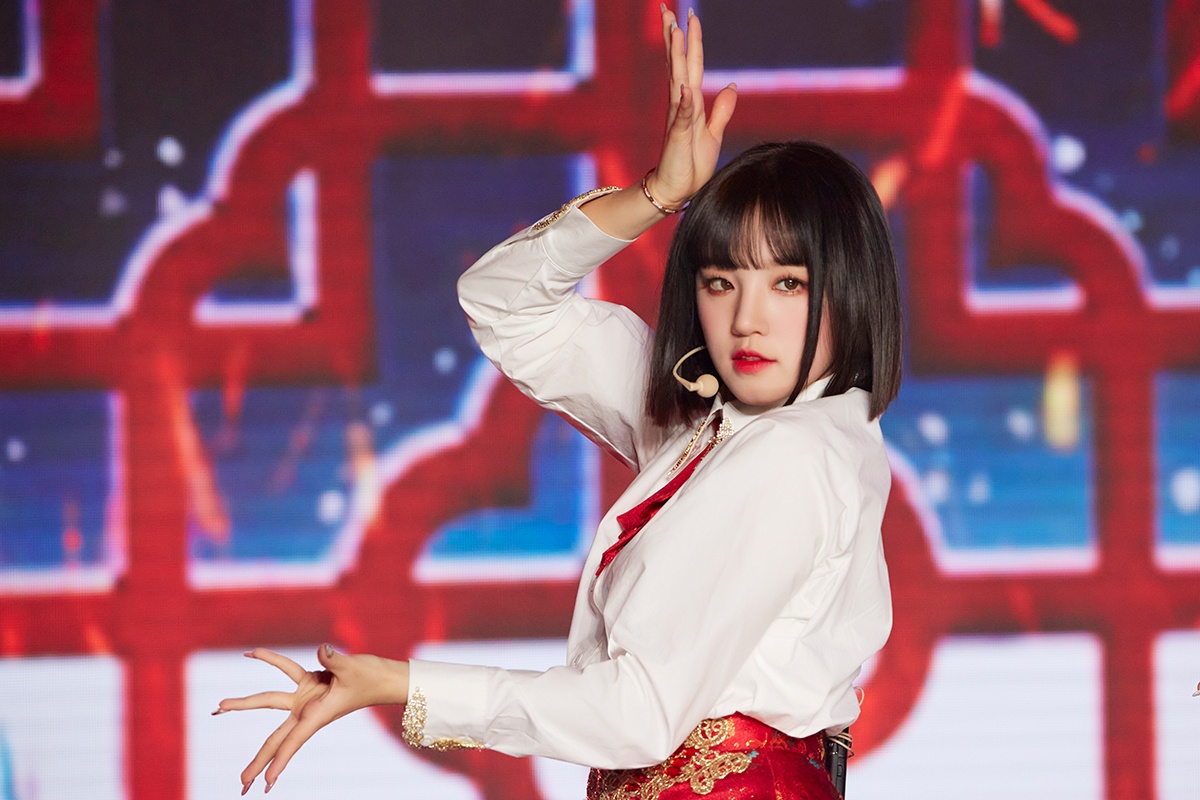 Yuqi: This is actually the first time in my life to ever cut my hair this short. It was a very big challenge to me and I was debating over it. I tried wearing a wig first but it didn't felt right. Only after chopping it recently, it looked and felt more natural and I was being complimented so much by my members that I look cute and pretty.
Minnie: I think she really made the right choice, she really looks very pretty.
Yuqi also revealed that she was actually wearing a wig in the music video, prior to having her hair cut.
Yuqi: Yes, I was wearing a wig during the teaser and music video as well. I didn't want to worry over it during the year end because there were many schedules to attend then, but since comeback was nearing I decided to cut it.
Minnie: It is also the first time ever in my life dyeing my hair all red. I was debating if I should go for a 'cool' tone such as silver or grey for winter, or 'warm' tone like red for fire. Soyeon suggested that I would look good in red, which is how I decided to dye my hair red and Soyeon had her hair done in silver.
(G)I-DLE as 'Performance Experts'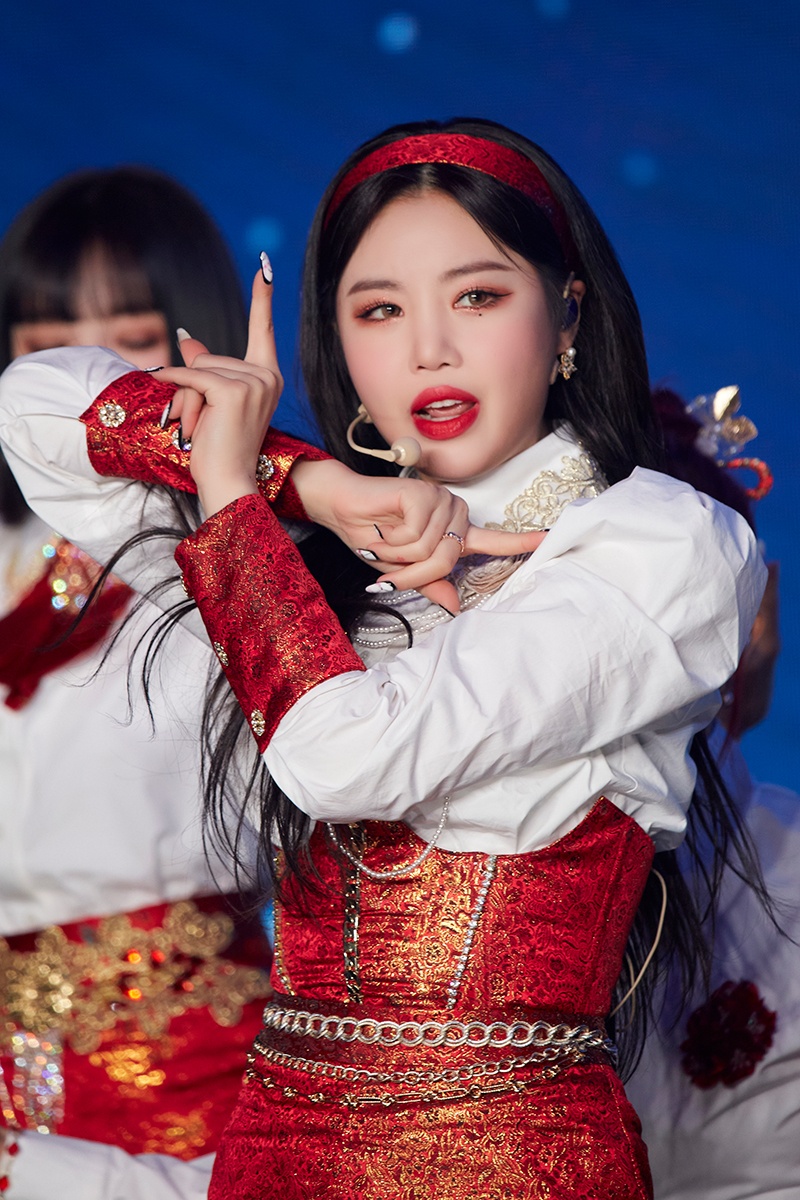 For every comeback, (G)I-DLE sure know how to outshine themselves and present outstanding performances, hence they are often referred to as "performance experts". Here are what the members will like the audience watching to focus on:
Soojin: Body lines are key to our choreography this time, so I hope people pay attention to it as they watch.
Yuqi: There are lots of pretty and aesthetic movements in the choreography. Make sure to watch them!
(G)I-DLE on Year-End Award Shows
Q: Whenever (G)I-DLE is mentioned, amazing and alluring performance is what that comes to mind. In the year 2020, (G)I-DLE has been performing at almost all award shows. To be honest you have been very busy right?
Soojin: It's all thanks to the love and support from our fans NEVERLAND, and of course to Soyeon as well who wrote such great songs that we were invited and was able to attend so many shows.
Q: For all the year-end award shows, you have performed not only your own songs but did dance covers of senior artists, not only are the stages different, even your performances are always different from the previous, how much exactly did you have to practice for it?
Yuqi: From vocals to dancing, I believe we have tried and were able to showcase our different sides and charms through many different stages and performances that were not just our songs. So we are very thankful for being invited to perform. It might be also because of this I feel that our year end was well spent in a vibrant way.
Q: Your fans NEVERLAND really enjoyed your performances, but they were also worried as it was during the same period where you had to juggle your packed schedule while preparing for a new album.
Miyeon: Though we have been very busy since the year end and even till now, instead of being tired we are actually really happy and enjoyed the process of preparing for the new album together. We will continue to work hard this year and hope that everyone will look forward to it.
On the Members' Activities
(G)I-DLE held their fan meeting last November and since then, the members have been constantly busy with group schedules, as well as individual activities. For Miyeon and Minnie, both of them made their acting debuts with web drama "Return" and Netflix original series "So Not Worth It" respectively.
Miyeon: It's my first time challenging myself to acting after only taking lessons to learn about it. I really had fun filming it with so many nice people and it was a great overall experience. Please show your love and support as it premiers this month.
Minnie: It's a sitcom called 내일 지구가 망해버렸으면 좋겠어 (English title: "So Not Worth It"). I was very nervous and anxious since it was my first towards acting. The director, production crew and fellow actors/actresses treated me really well and with their trust, I really gave my all and had fun filming as well. Please look forward to it.
Yuqi also participated in a couple of variety shows, and the showcase emcee, Oh Jung Yeon is actually on the same variety show, "I Am A Survivor" with her.
Oh: We have both witnessed many different sides of each other on "I Am A Survivor", from smiling, laughter and even crying, but seeing you here, you look very cool and awesome!
Yuqi: We actually talked about this while filming for "I Am A Survivor", I asked unnie if you could help us in our showcase. I actually called our company about it right after filming. But if you didn't text me yesterday with the message 'See you tomorrow', I wouldn't have known! I was still wondering what do you mean, and that's when I realised it worked out! So I was really happy.
Oh: That's right, I contacted you when it was decided that I would be the host for today, but you were so happy that you cried.
Yuqi: Hahaha yes, it has been so long, and I really missed you. I really like that we are able to work together again. I'm really glad to see you again.
Oh: I am very happy to see you again too!
Yuqi is also part of other variety programmes such as "Learn Way", and on her upcoming plans if she still plans on doing more variety, she replied, "I feel like I have learned what I am good at, and improved a lot on variety shows after working hard in 2020. If there are any good opportunities, I will continue and steadily work hard."
Shuhua was asked about her plans for variety and as she is quite capable of cooking, the emcee suggested for her to try out cooking related shows.
Shuhua: I still feel a bit awkward going on shows myself, so I prefer participating together with my members. If there is time and opportunity after promotion ends, I would like to take part, and/or along with my members, in a cooking related show too.
As for Soojin, not only did she appear in many pictorials, her amazing dance cover uploaded online has also been the talk amongst fans. As the main dancer of (G)I-DLE, everyone is definitely curious if she has more dance covers to be revealed.
Soojin: As we are currently working hard with our newly released album, once promotions are over and there's an opportunity, I shall upload another dance cover.
(G)I-DLE's New Year's Resolution and Future Plans
Q: Do you have any New Year's resolution?
Soyeon: If it's possible for it to come true, I really wish to meet our fans NEVERLAND up close again. There was supposed to be a world tour last year but unfortunately it was cancelled. So I wish we would be able to have a world tour this year.
Q: If you are to be able to meet your fans again in 2021, what is the very first thing that you will do? What are your future plans for your local and international fans?
Shuhua: First and foremost, we want to listen to our fans cheering for us with our own ears. We hope to gather with both our Korean and international fans in the same space for a concert.
Lastly, for this round of promotions for "I burn", a goal that (G)I-DLE hopes to achieve is to rank #1 on the digital music charts.
A remark of praise we would like to receive is "(G)I-DLE is like a spark in the middle of this winter".

– Soyeon
For more photos of the media conference, do check out KAvenyou's Facebook: (G)I-DLE [I burn] Online Media Showcase
Watch the music video for 'HWAA' below: