Kang Daniel has made his acting debut with Korean drama "Rookie Cops", which is also currently streaming on Disney+. With the final episode of "Rookie Cops" left, let us take a look at the versatility of Kang Daniel as Wi Seung-hyeon in the coming-of-age drama.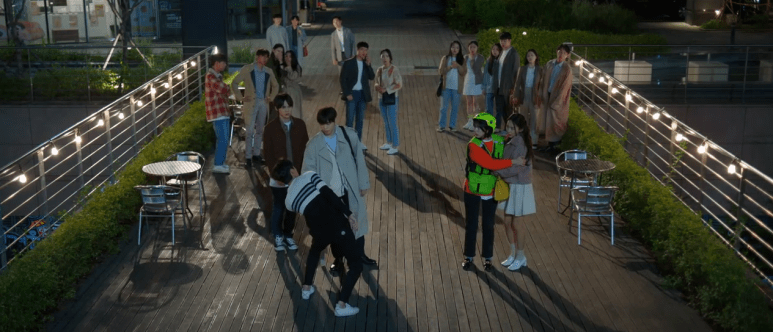 1) The Protector
Seung-hyeon has never backed down from defending people, even in the face of imminent threat. In the first episode, when Eun-kang's (Chae Soo-bin) elder sister was about to be slapped by her current boyfriend who accused her of cheating, Seung-hyeon jumped in immediately and prevented that from happening. Seeing Daniel pull off such an intense scene showed his capabilities as a budding actor.
2) The Stealthy Detective
When Eun-kang was falsely accused for secretly recording the academy's unjust punishments, she faced the possibility of expulsion. After learning this, Seung-hyeon took it upon himself to solve this mystery. With his stealthy light feet and eavesdropping skills, he aided Eun-kang in uncovering the truth. 'Protector' Seung-hyeon also appeared here when he shielded Eun-kang from being slapped by the senior.
3) The Martial Arts Master
When Seung-hyeon goes on a hunt to capture a thief in episode 4, he knocks the thief out while delivering an impressive flying kick. Mastering the art of adrenaline-pumping action is not a simple feat for anyone, much less Kang Daniel, who delivered this action sequence with incredible ease.
4) The Charmer
As Seung-hyeon often appears serious and level-headed, he is rarely seen smiling. Thus, it's easy to get captivated when he reveals his endearing eyesmile. His dazzling smile never fails to lure you in and proves time and again that he has a true mastery of facial expressions to capture the viewers' hearts.

Catch Korean coming-to-age drama "Rookie Cops", starring Kang Daniel and Chae Soo-bin, now streaming on Disney+.