Checking South Korea's second largest city off your bucket list? Here are the top 10 places you must visit in Busan for the best experiences!
Stay connected in Busan with 4G LTE sim cards (data only / with calls and texts) or portable wifi routers from Trazy.com, your #1 trusted Korea travel partner.
ORYUKDO (오륙도)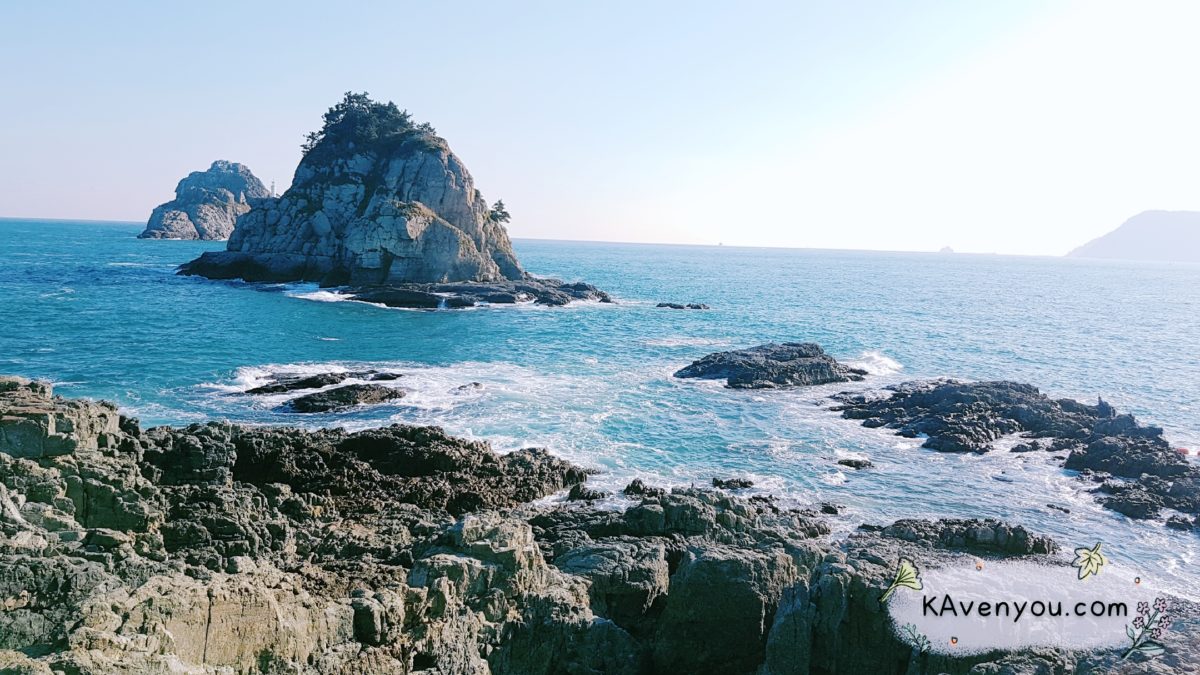 Located off the southern coast of Busan, Oryukdo is nested in a quiet neighbourhood surrounded by high rise condominiums. This is a great place to spend your evening watching the waves crash onto the shores. The color of the waters are greatly dependant on the weather such that if the sky is clear and blue, same goes for the waters. Having visited there twice, the blue waters were definitely more breathtaking than the grey ones.
Opened in 2013, the Oryukdo Skywalk is located on top of a hill 5 minutes away from the tourist information centre. This is probably the closest you can get to the waters with the 15 meter long skywalk put togethr by 24 pieces of bulletproof glass plates. Do note that you are required to use a shoe-cover provided to wear over your footwear so that the glass surface will not be scratched.
Address: Oryukdo-ro, Nam-gu, Busan. 부산광역시 남구 오륙도로 (용호동)
---
BUSAN PREMIUM OUTLET MALL (부산 프리미엄아울렛)
The Busan Premium Outlet Mall is truly a shopping paradise for people of all ages! With over 180 stores ranging from international brands to domestic brands, your hands will be filled with shopping bags before you know it. Set aside 2 hours to cover the two levels in the mall. Do take note that the Busan Premium Outlet Mall is closed on Seollal (Lunar New Year's Day) and Chuseok (Thanksgiving Day).
Brands available at Busan Premium Outlet Mall:
– Adidas, Nike, Puma, New Balance, Converse, H:Connect, Samosonite, Pancoat, Jill Stuart, Polo Ralph Lauren, Tumi, Fendi, Versace, Calvin Klein and many more.
Opening Hours: 10.30am – 9.00pm
Address: 1133, Jeonggwan-ro, Gijang-gun, Busan. 부산광역시 기장군 장안읍 정관로 1133
Useful Links: Website, Facebook, Instagram
Tips: Haedong Yongunsa Temple (해동 용궁사) is located two bus stops away from the Busan Premium Outlet Malls. Due to long walking distance, it is advisable to set aside 1.5 hours to complete this attraction as walking in and out from the main road will take more than half an hour.
---
BUSAN NATIONAL UNIVERSITY "STREET OF YOUTH"
(부산대학교 앞 젊음의 거리)
Busan's most popular university shopping street is none other than the "Street of Youth" located right beside the Pusan National University Station (Line 3). Apart from the usual cosmetics stores, you will be able to find independent designer brands and non-branded stores which are widely popular among the students and locals. Occasionally, there will be flea markets and pop-up stores with hand-made goods and accessories. Want something different? This is the place to go!
Address: Jangjeon-dong,Geumjeong-gu, Busan (부산광역시 금정구 장전동 일대)
Getting There: Pusan National University Station (Busan Subway Line 1), Exit 1 or 3.
---
NAMPODONG DISTRICT (남포동거리)
Named as Busan's #1 Tourist Attraction, Nampodong District is home to Gukje Market, BIFF Square, Busan Tower and Yongdusan Park which is accessible by an escalator!
Being one of the largest markets in Korea, Gukje Market connects to Bupyeong Market, Kkangtong Market, and other smaller markets. Be prepared to find many food stores and indulge in traditional korean food to your heart's desire! You can find almost anything and everything here – kitchenware, electronics, mattresses & blankets, dried goods, apparels and many more. Do note that Gukje Market is closed on the 1st and 3rd Sundays of the month
Address: Sinchang-dong 4-ga, Jung-gu, Busan (부산광역시 중구 신창로4가 일원)
Home to the 120-metres tall Busan Tower, Yongdusan Park is known to be one of the best places to visit in Busan during autumn. Visit in the day for an unobstructed view of Busan's landscape or drop by at night to see the night lights lighting up the entire city.
Address: 37-55, Yongdusan-gil, Jung-gu, Busan (부산광역시 중구 용두산길 37-55 (광복동2가)
BIFF Square got its name from the renowned Busan International Film Festival (BIFF) way back in 1996. Definitely a foodie's favorite, you will find an endless stretch of food stalls along the street which will leave you spoilt for choices. Pop by the Jalgachi Market if you're a fan of seafood delicacies as it is a stone's throw away from the BIFF Sqaure.
Address: 20, BIFF Gwangjang-ro, Jung-gu, Busan (부산광역시 중구 남포길 4 (남포동3가)
Getting There: Nampo Station (Line 1) Exit 1 or 3 or Jagalchi Station (Line 1) Exit 7.
---
GAMCHEON CULTURE VILLAGE (부산 감천문화마을)
Did you know that Busan's iconic Gamcheon Culture Village was once home to the city's poorest residents and refugees back in the 1940s? Gamcheon Culture Village was revamped through the "Village Art Project" by local artists in 2009. Thereafter, the brightly colored houses and mural-covered alleys attracted tourists from all over the world and it quickly rose to fame. This attraction will take you less than 2 hours to complete if you wish to explore this place thoroughly. Check out the list of things to do in this colorful village!
Things to do at Gamcheon Culture Village:
Collect stamps and complete the tourist map (KRW2000) to redeem exclusive postcards
Write postcards and send some love back to your home country
Snap a shot with the Little Prince and overlook the entire village
Pose with the street art and wall murals
Grab a seat at a cafe and enjoy people watching
Rent a Hanbok and dress up as a Korean princess for a day
Munch on the street food such as Hotteok and many more
Customize a photo momento on the spot and receive instantly in 10 minutes
Stock up on character socks for KRW1000
Address: 203, Gamnae 2-ro, Saha-gu, Busan (부산광역시 사하구 감내2로 203 (감천동))
Operating hours: 9:00am – 6:00pm (March – Nov), 9:00am – 5:00pm (Dec – Feb
---
DALMAJI HILL (달맞이길)
According to Trazy.com, Dalmaji Road is located on the slope of Mt. Wausan near Haeundae Beach. Lined with pine trees and cherry blossom trees, Dalmaji Road is one of the best cherry blossom viewing spots in Busan for tourists and locals. This is a place not to be missed, especially when you can overlook at the Diamond Bridge at Gwangalli Beach as well!

Address: 1468 Jwa 1(il)-dong, Haeundae-gu, Busan, South Korea


---
SHINSEGAE CENTUM CITY (신세계 센텀시티)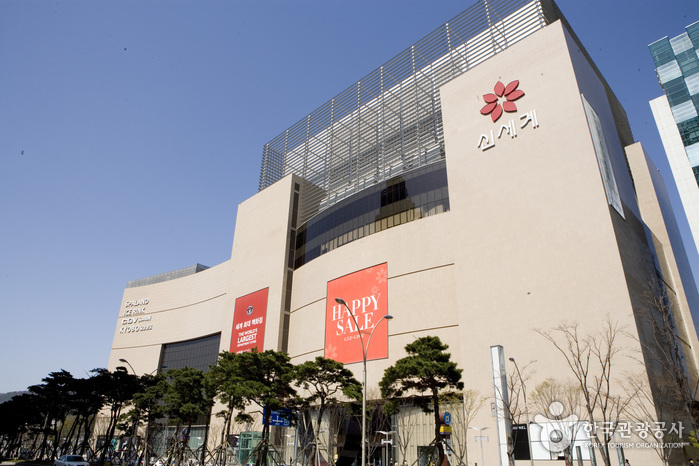 Apart from being registered in the Guinness World Records as the largest shopping complex in the world, Shinsegae Centum City is well known for housing the popular Korean bath house (or jjimjilbang) named SpaLand (스파랜드).
SpaLand operates from 6am – 12pm daily with a total of 22 spas, 13 themed sauna and a open-air foot spa. Admission for adults ranges from KRW15,000 to KRW18,000. Get the discounted night time ticket (8pm – 12pm) from KRW10,000 to KRW13,000.
Address: 35, Centum nam–daero, Haeundae-gu, Busan (부산광역시 해운대구 센텀남대로 35 (우동))
Getting There: Centum City Station (Busan Subway Line 2), Bus Service 139, 141, 155, 36, 39, 40, 5, 5-1, 63

---
SEOMYEON SHOPPING DISTRICT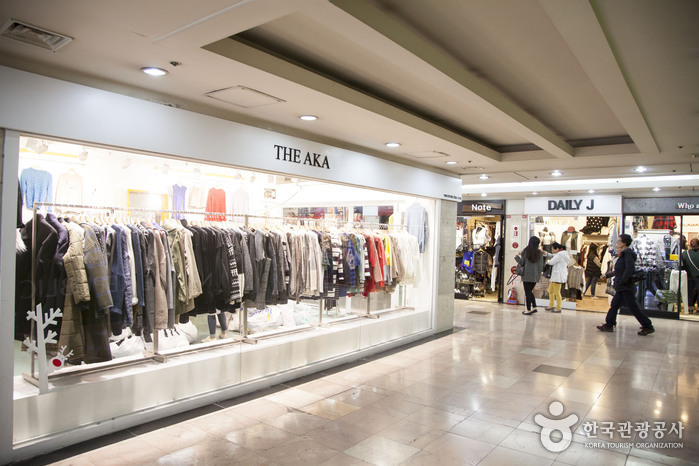 Seomyeon Underground Shopping Center (서면지하도상가) will probably take up half a day if you plan to conquer the entire place. Cosmetics stores such as too cool for school, Nature Republic, Etude House, Missha, Innisfree and many more are widely available in the underground street.
Don't forget to drop by Billy Angel Cake Company (빌리엔젤, Busanjingu Bujeondong 254-20) for your daily dose of cake!
Address: 737, Jungang-daero, Busanjin-gu, Busan (부산광역시 부산진구 중앙대로 737 (부전동))
Operating Hours: 10am – 10pm (closed every 2nd Tuesday of the month)
Getting There: Seomyeon Station (Line 1 & Line 2)
---
Other activities you might be interested in:
Article by Xuan Lin @ KAvenyou.com