Gangneung Tourist Taxi – Gangneung, located in the northeast of Korea, is a stunning coastal city with picturesque landscapes and ocean views that you just can't pass by. It can be challenging for foreigners without a car to explore Gangneung, however, an easy & reliable tourist taxi service is now exclusively available to all foreigners in Korea!
Let's check out how to use Gangneung foreigner tourist taxi service to explore the famous 'BTS & K-Drama' course in Gangneung!
How to Use Gangneung Foreigner Tourist Taxi Service
Visit Gangneung Tourist Information Center located in the Gangneung train (KTX) station.
Consult with the guide about the destinations and course.
Fill in the application form. (Make sure you bring your passport for verification.)
Hop on the taxi and meet the driver.
Enjoy the ride and trip. Bon voyage!
Price:
20,000KRW for 3 hours (15,000KRW for every hour after 3 hours)
*Parking fee, admissions, toll fee are excluded from the price. You need to pay separately.
What to bring:
Please bring your passport. If you're a group of people, the person who's booking needs to bring his/her passport. 
Gangneung Tourist Information 033-640-4534
To find out more about using Gangneung foreigner tourist taxi service, visit Gangneung's official website here.
Recommended Course: Northern Gangneung 'BTS & K-Drama' Course
---
1. BTS Album Cover you Never Walk Alone" – Bus Stop
This small bus stop, which is also a photo spot, located on Hangho Beach, next to Jumunjin Beach, is widely known as the filming location of the world-famous K-pop group BTS album cover 'You Never Walk Alone'.
Address: 8-35 Hangho-ri, Jumunjin-eup, Gangneung, Gangwon-do
2. Korean Drama "Goblin" filming spot – Yeongjin Beach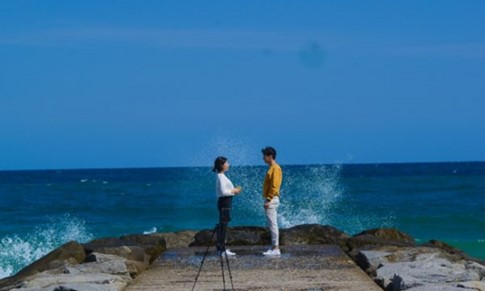 Even if you haven't watched the drama 'Goblin', starring Gong Yoo and Kim Go-eun, Yeongjin Beach is still worth visiting because of the scenery – the breakwater against the emerald waves of the sea. You simply won't be able to resist taking photos with this background like the scene from the drama.
Address: Yeongok-myeon, Gangneung, Gangwon-do
3. Sagunjin Beach
Sagunjin Beach is a small beach next to Gyeongpo Beach, famous for auto camping and its underwater park for scuba diving. Also, it's a popular picnic spot on the beach with rocks, where you can enjoy the ocean view and the sunset.
Address: 16 Haean-ro, 604beon-gil, Gangneung, Gangwon-do
3. Korean Drama "Mr Sunshine" filming spot – Imdangdong Catholic Church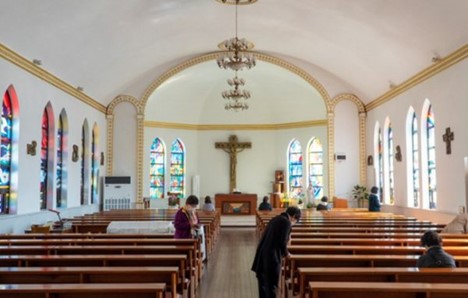 Built in around the 1950s, Imdangdong Cathedral preserves its modern facade and interior, alluring tourists to visit and have a quiet moment of their own. The charming colors and alluring structure of the church welcomes anyone with a warm heart.
Address: 148 Imyeong-ro, Gangneung, Gangwon-do
5. Heo Gyun & Heo Nanseolheon Memorial Park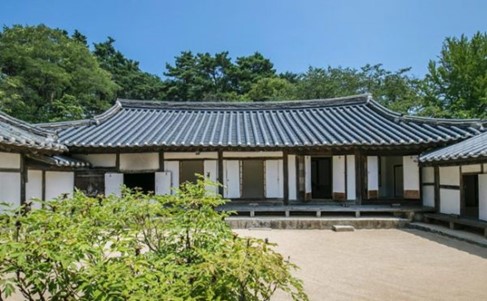 A park built to commemorate the Heo brother & sister and their pioneering literary works: Heo Gyun, the author of the first Hangul (Korean alphabet) novel 'Hong Gil-dong Jeon (a story about a fictional superhero who resists the hierarchical society)' that came to a shock at that time and Heo Nanseolheon, a female poet, which was rare during the Joseon dynasty.
The park comprises Heo Nanseolheon's house (birthplace), the memorial hall, and the traditional tea experience hall where you can try Korean traditional tea ceremony. The pine forest that spreads out behind the birthplace is perfect for a relaxing stroll.
Tea experience: 1,000KRW (10:00am~5:00pm/ lunch break 12:00pm~1:00pm/ closed every monday)
Address: 1-29 Nanseolheon-ro 193beon-gil, Gangneung, Gangwon-do
Phone number: 033-640-4798