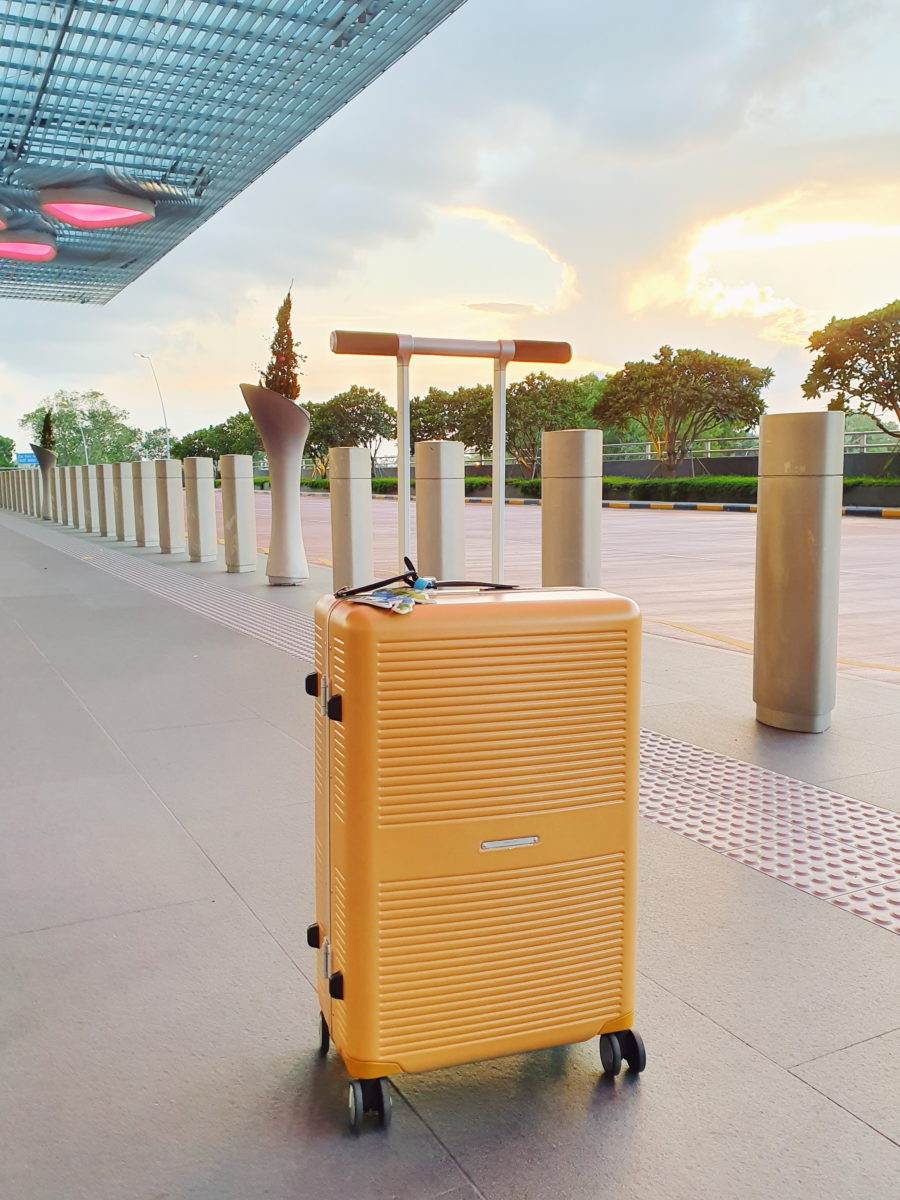 We love to travel, but also can't help to hate certain aspects of travelling when these issues arise:
Misplacing important travel documents
Overweight luggage (or having the constant fear of exceeding the baggage weight limit)
Luggages with noisy wheels and unable to balance on its own
Dragging your luggages and other bags on the go – and your hands are way too full
Trust me – these happened to me countless of times, and no matter how seasoned of a traveller you are, some of these problems are hard to avoid when you have a lot of shopping to do, especially in places like Korea (think K-pop merch, beauty products, clothes and Korean snacks). Thus, it was a blessing when I got to try a new and highly-raved luggage for my recent Japan trip (where I actually attended a K-pop concert and lugged back a whole lot of concert merch).
RAWROW is a Korean label that specialises in making minimalist products that only contain essential functions for the user. What captured my attention initially was the vibrant colour of the luggage, a R Trunk Hardshell (63L) in mustard. But that was quickly replaced with intrigue when I saw that the luggage had bagged awards at the iF World Design Guide.
Boasting the world's first TT Handle (inspired by the bicycle handle), accompanied with a built-in scale, convenient hidden pocket and silent wheels, I was more than excited to try out the luggage for myself and put these features to test.
Built-in Scale
The feature that impresses me the most is probably the built-in scale function that the R Trunk Hardshell series offer. I can check the luggage weight anywhere, any time, so you won't find me sitting at the airport with my luggage wide open trying to repack my items because of an exceeded weight limit. A thing to note is that the luggage itself, when empty, is already around 5kg – so do keep that in mind when doing your shopping!
TT Handle
The unique T-shape handle of the R Trunk Hardshell, dubbed the TT Handle, is also very useful when I was switching between accommodations – it made moving around so much less of a hassle. The handle conveniently allows you to hang an additional bag (or two, or even more), such as duffel bags and shopping bags like what I did above, or even backpacks and tote bags:
Silent Wheels
One thing I am not really keen about travelling with luggages besides the unavoidable bulkiness, is the sound the wheels produce on the road which gets worse on certain terrains, usually resulting in stares from others, especially in quieter alleys.
RAWROW R Trunk Hardshell uses a Hinomoto Lisof wheel system, which prides itself in silent wheels and 360-degree roll capability to stroll the luggage with less power. I was skeptical of this as the luggages I've used previously were really noisy, especially on pavements. But true to its claim, the wheels of this luggage were so much quieter, and wheeling it around uneven roads is less of a hassle with its super rotatable wheels.
TSA Approved Locks
The locks are TSA approved, so you be less likely to face any damaged lock issues by the airport security. Since there are two locks, just don't forget both of the passwords!
Hidden Pocket
Below the handle bar of the luggage, there's a hidden pocket which is handy for keeping your travel documents that you may need to readily produce, saving the hassle of having to dig your bags for your passport and holding up the lines. The hidden pocket also fits the water repellent RAWROW Pack Slim Case 105 Waxed Canvas perfectly.
Overall, it was a pretty smooth experience with the RAWROW R Trunk Hardshell for my trip, when both indoors and outdoors. The rotatable wheels make it easy to navigate the luggage about in cramped spaces. Also, the luggage proved to be really sturdy – I packed the luggage to the brim and had to sit on the luggage to squeeze everything inside and lock the luggage properly – kudos to the durable polycarbonate shell (and please don't overbuy like me!)
Currently, Sift & Pick carries the R Trunk Hardshell in 37L (1 ~ 3 days) and 63L (4 ~ 6 days), with the colour options mustard, ivory and silver available for sale in the flagship store at Changi Airport. It would be perfect if there's the 88L (7~ days) version available here as well, to fit in more items for longer trips as this luggage is not expandable.
Lastly, a big thank you to the amazing folks over at Sift & Pick for providing me with the handy RAWROW R Trunk Hardshell for my trip. Do take note that this luggage is a flagship exclusive, meaning that its only available in-store – you can purchase the luggage at the airport and immediately fly off to your next destination with it 😉
Sift & Pick Online Store – https://www.siftandpick.com/
Changi Airport Terminal 3
#B2-35, Singapore 819663
10AM – 11PM daily