Singapore – Rejoice if you are a lover of both Korean food and cheese – because ANDONG ZZIMDAK is releasing a series of cheese-themed dishes! KAvenyou had a 'sneak preview' before the dishes are officially launched on 3rd June 2016 (Friday) and we kid you not, they got us smacking our lips and wanting more.
1. Byol Byol Zzimdak Jjimdak
This is a dish with a portion good enough to be shared amongst up to six people. It is served with plentiful of chicken, potato, vegetables and potato noodles and, here it comes, topped with a generous amount of melted cheese. You don't even need to taste it to know that it is good – just the smell of it is enough. What's better? The unique spicy sauce is specially flown in from Korea – as authentic as it can be!
Just a heads up, if you are into chewy noodles, make sure to dig under the meat and vegetables to get to the potato noodles. Remember to also have each mouthful with a good amount of cheese rolled around your spoon because as strange as it may seem, the cheese actually complemented the dish very well!
2. Spicy Cheese Dokboki
As someone who does not really fancy korean rice cakes, I was pleasantly surprised by this dish. The ddeok is not tough to chew at all (as some are) and surprise, surprise, goes well with the cheese as well. For those who cannot take spicy food well, fret not as the cheese actually slightly helps combat the spiciness. If it does not, reach for some (free flow) pickled radish that will help clear your palate.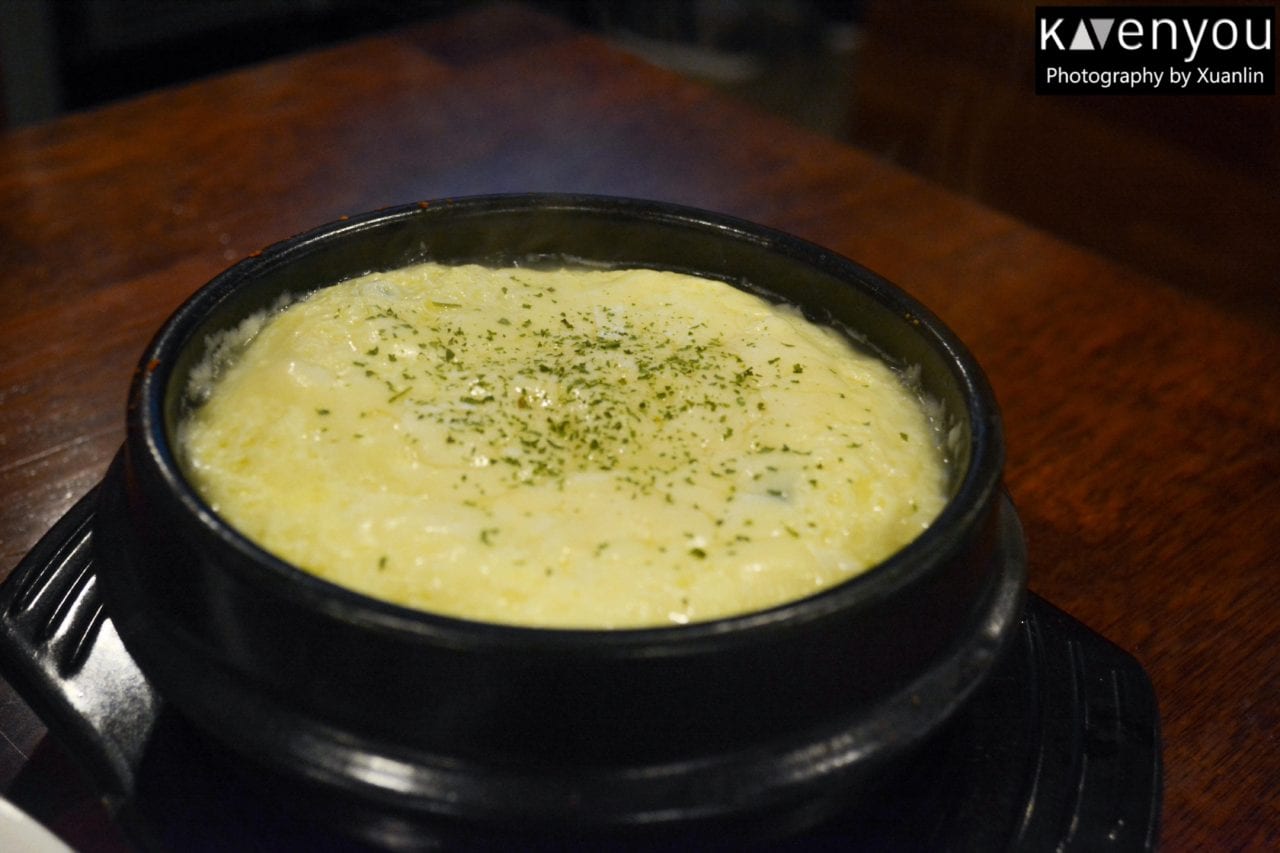 3. Cheese Steamed Egg
We were not kidding when we said that they were extremely generous with the cheese. Dip your spoon into the bowl and you can feel just how thick the cheese is. Cheese and egg is not a new combination so we are not surprised by how good it was. What we are surprised by is how the egg seems to immediately melt into the cheese the moment you taste them. It was an interesting experience, so to speak, and a thrill to the senses. Just do take note to finish this dish while it is still hot.
4. Korean Cheese Pancake
The seafood pancake was well prepared; it was neither too soggy nor too oily but just the right amount of softness and crispiness with a generous serving of cruncy shrimps. Think it cannot get any better? Well, they upped it a notch by topping it off with cheese. The taste of cheese was not as obvious as it was with the other dishes but it was just enough to add a little edge to the seafood pancake, or a Korean pizza we would say. Don't forget the dipping sauce!
5. Kimchi Seafood Soup
Leave the soup for the last because this will definitely help clear your palate and whet your appetite for more. Every spoon is chock full of the taste of seafood, which is something we really appreciate as some soup can be too bland. This is a dish that even people who cannot take spicy food well as the spiciness is not at all overwhelming. It is, instead, a slight buzz on your tongue that will leave you craving for more. Obowl please!
Think that having so much cheese with everything is too much? No, not at all. As the taste of the cheese was a good complement to the dishes (and this comes with a good chef and a team who knows their stuff well), there was not a single time when we thought that it was too much. In fact, it was not enough and we wished we could have had more! None of the dishes felt or tasted oily, despite the addition of cheese. Also, just a tip: a good drink to go with these dishes would be their iced citron tea. It is refreshing and also helps wash your palate.
Andong Zzimdak's Cheesy Fiesta menu will be officially launched on 3rd June 2016 (Friday) while the Kimchi Seafood Soup will be introduced next week. If you call yourself a cheese-lover then you must not miss this! #TellUs which is your ultimate favourite cheese dish if you've already tried!
Andong Zzzimdak (安东찜닭)
Address: Raffles City Shopping Centre, #B1-44F.
Hotline: +65 6533 3951
Opening hours: 11.30AM to 10.00PM
Facebook: https://www.facebook.com/AndongZzimdak/
Instagram: https://www.instagram.com/AndongZzimdakSG/
Special thanks to Andong Zzimdak and Lauren for the arrangements.
Photography and Article by Xuan Lin & Li Xin @ KAvenyou