With Korean hit film Parasite's recent 4 Oscars win, the movie is once again trending, not to forget the iconic chapaguri dish that Mrs Park requested for while returning from the cancelled camping trip on that fateful stormy night.
Chapaguri / Jjapaguri (짜파구리) is a combination of two different Korean instant noodles, namely jjapaghetti (짜파게티) and neoguri (너구리). Jjapaghetti is dry black bean sauce noodles (think jjajang and spaghetti) and neoguri is spicy udon noodles. This dish was first introduced in 2009, when a college student first published the recipe on a blog, but it first became a big hit in 2013, when it was introduced in an episode of Korean variety show, "Dad, Where Are You Going?"
Nearly 7 years later, chapaguri is trending once again following the tremendous success of Parasite, that Nongshim has released its official chapaguri recipe in 11 different languages on YouTube.

Chapaguri Recipe (from Parasite)
#1. Boil 1,100ml of water with the vegetable mix of both Chapaghetti & Neoguri.
#2. When the water boils, add both noodles.
#3. After 4 min & 30 sec, strain the noodles but keep 150ml (20 tablespoons) of water.
#4. Add the whole pack of Chapaghetti soup base, 1/2 of Neoguri soup base, and seasoning oil of Chapaghetti. Mix and simmer well for 30 seconds.
#5. Remove from heat and serve.
However, the official recipe excludes an important ingredient that was key in Parasite – the sirloin steak – which upgrades this simple working-class dish. Here's how to incorporate the beef into the chapaguri recipe above!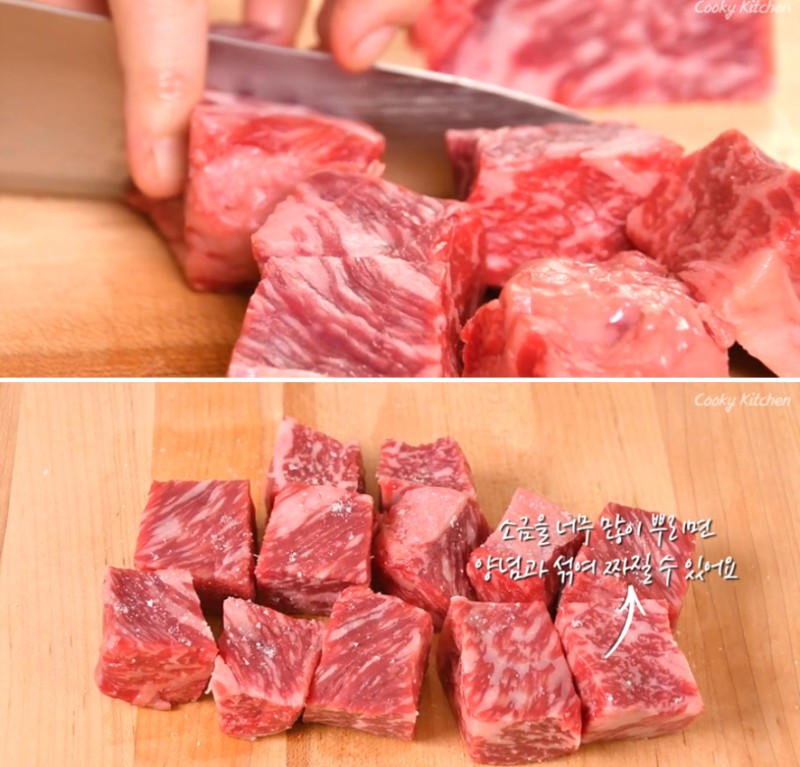 #2-1. Slice 300g of sirloin steak thickly into cubes and season with salt.
#2-2. Add olive oil into a hot pan and cook the meat.
Once the meat is done, you can add it to the chapaguri at step #4 above, after all the seasonings have been added to the noodles, and then mix them well and serve.

Here is our step-by-step video instructions for a clearer picture:
Tip: Personally, we added the entire packet of Neoguri soup base into the noodles and we felt that it was tastier!