KAvenyou reveals Della's inner passion during exclusive interview
Singapore – Entering the room with smiles from the start, Della Ding sat down for an interview session with us one afternoon. Della started off promoting her upcoming concert in Singapore, "Give Me One Love" which will be happening on 21 April 2018 at The Star Performing Arts Centre.
Della mentioned that this year, 2018 is her 11th year of debut and this time round it will be her third visit to Singapore for a solo concert. For the past two visits to Singapore, she had her concert at the Singapore Indoor Stadium, in a large venue. Fans can look forward to Della's upcoming concert in April as it will be held in a smaller venue where Della is able to interact with her fans on a more intimate level. Della herself also mentioned that "interaction" is the key of the concert this time round as she wishes to get closer to her fans, engaging them just like in a conversation with friends.
Q: It was your 10th anniversary debut last year, there must be ups and downs throughout your music career. Were there any exceptional moments that you could not forget?
Della: It would have to be the third year of my debut—the time where "I Love Him" ("我愛他") was released. One thing that touched me was when I received a call from my friend—I was at my house in Taipei during then—telling me that he/she heard "I Love Him" playing whenever he passes by a shop. At that moment he/she told me, my tears dropped. I felt that all my effort was acknowledged and I was touched by that.
Q: Have you ever had moments when you wanted to give up?
Della: Yes, during the time when I first debuted. I was slightly chubbier and I wasn't that pretty then *laughs*. I was an athlete when I was young, hence I am a big eater. Whenever my photos came out, I would look slightly robust. I started to have expectations for myself and started going to the gym. During my first gym session, I was exercising halfway and I went to the restroom and cried because it was too tough! That was a period where I felt that I needed to be strong-willed.
Q: So how do you maintain your current figure?
Della: Nowadays, I have a habit of bringing a pot whenever I go outside. I would visit the supermarket and buy some ingredients to cook. I am still a big eater but I would try to taste the original flavor of the food and include fewer seasonings.
Q: You are starring in the musical, "An Accident of Love" ("搭错车"), are there any differences between this musical and the one performed in Singapore back in 2013?
Della: Firstly, I want to thank the director; without him, I wouldn't have the opportunity to come to Singapore and meet everyone with the role "Ah Mei" ("阿美") in 2013. Now in 2018, Ah Mei is back once again after 5 years. The concept of the musical remains unchanged, with the exception that some parts of the content, music and stage performances will be presented differently. Personally, I feel that I had the experience in Singapore previously and now coming back to act as Ah Mei, I thought that the portrayal of emotions will be much stronger and deeper this time round.
Q: Do you have an interest in acting?
Della: Absolutely love it! Being able to let go of your own identity and act as someone else is a very challenging task. However, there is no such thing as "being afraid" in my dictionary. I feel that having the opportunity to act as somebody is great and I really treasure it.
Q: What kinds of role do you like to act in?
Della: All kinds of roles… I used to love watching comedy shows and because it brings joy to the viewers, I liked it very much. Any role that is not myself, Della, is good; I am okay with acting ugly too.
Q: Last year, you were one of the coaches for Singapore/Malaysia edition singing program, The Voice, what were your thoughts about it?
Della: I'm very happy and honored to participate in this program as a coach. This is one of the greatest yields for me during last year and I'm also very honored to be the only female coach. I saw and took in many talented singers and two of my students from Singapore and Malaysia will be joining me on stage for my Singapore concert. I hope that everyone can look forward to this exciting stage.
Della revealed that her next album is currently in preparation but details are yet to be released. Fans can look forward to more songs by Della hopefully by the end of 2018. Meanwhile, grab your tickets for "Give Me One Love" before they are all sold out!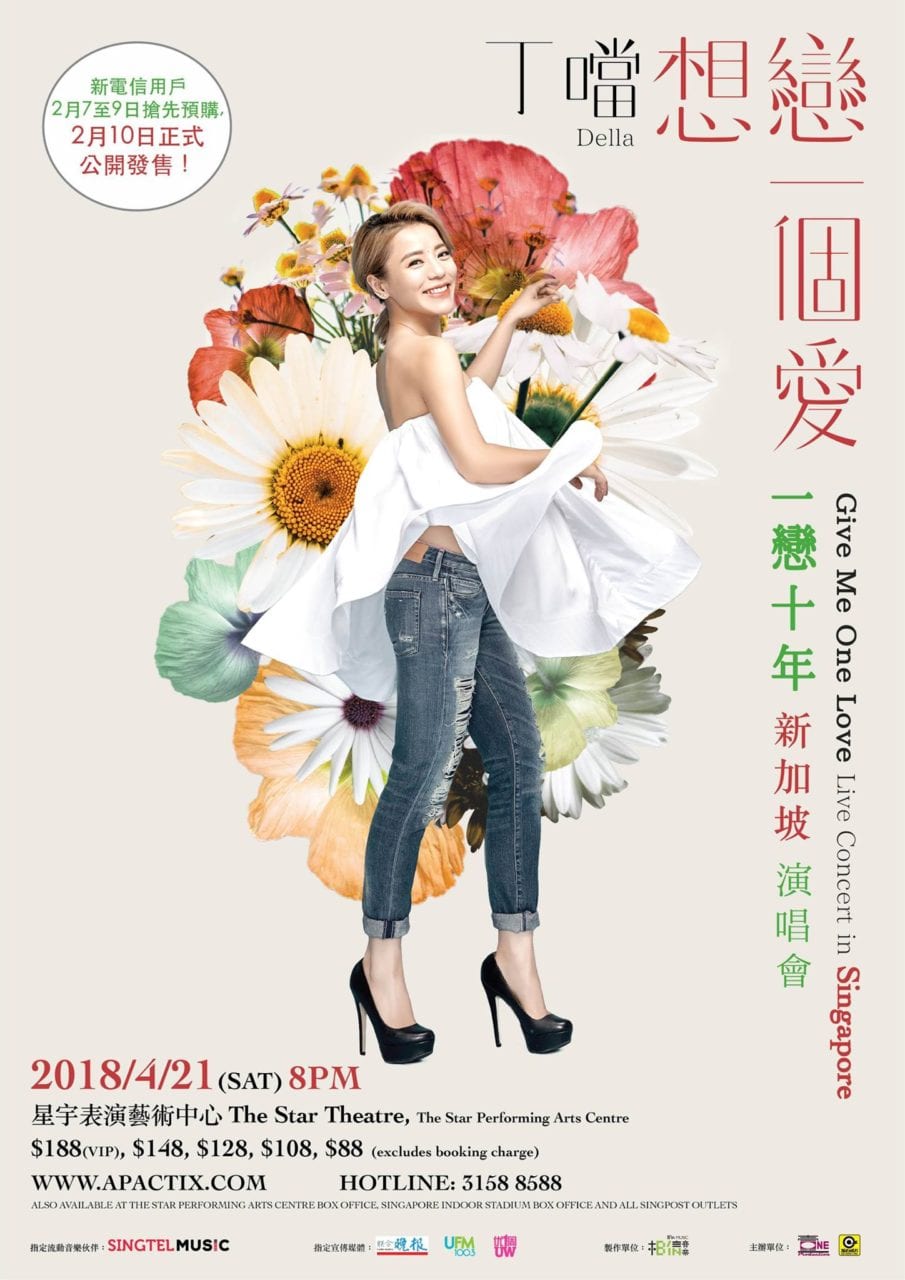 "Della Give Me One Love Live" in Singapore
Date: 21 April 2018 (Sat)
Time: 8PM
Venue: The Star Theatre, The Star Performing Arts Centre
Ticket Prices: $188 / $148 / $128 / $108 / $88 (excludes booking fee)
Booking Website: http://www.apactix.com/events/detail/della-2018
Booking Hotline: +65 3158 8588
Tickets also available at The Star Performing Arts Centre Box Office, Singapore Indoor Stadium Box Office and all SingPost outlets
Special thanks to Rock Records Singapore for the interview.
Article by Jac @ KAvenyou.