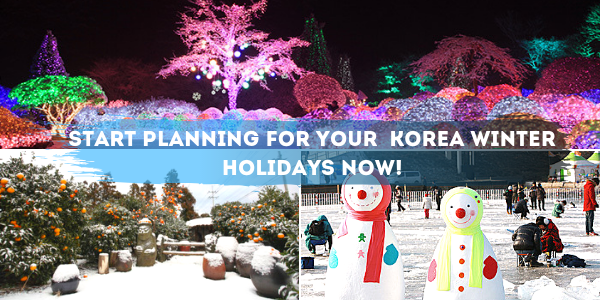 Winter in Korea – This year's summer has been extremely punishing, and will only get worst in years to come with global warming. Can't do much about the weather, but we can start "imagining" the cooling white winter holidays to come in a couple of month's time. No point looking back on all the #throwbacks of holiday destinations now, start keeping eyes glued on those winter season air tickets to #flymetokorea. With JejuAir now also flying from Singapore to Busan, it gives us more options to fly in addition to the likes of Asiana Airlines, Korean Air, and Singapore Airlines.
Visit Jeju Island
If you are concerned with the extremely cold winter, Jeju is a good choice as it remains warmer than the rest of Korea. All you really need to do is rent a car, book your lodging, book your wifi and you are probably on your way!
Rule of thumb, the further North you go the colder it gets. Pyeongchang that hosted the winter olympics is up in the North. A hike up the gorgeous Hallasan will still give you the picturesque views for that drone or instagram photo, and cafe hopping at various sea-facing cafe for a laid-back holiday. Apart from these, winter is also a good time to head to the Tangerine farms to enjoy the sweet tangerines Jeju is famed for.
"Ga" what you said? Gapyeong is where the famous Nami Island is at, and all the famous attractions at Gapyeong gives off a very different vibe across the different seasons. Be it the white trees on Nami Island reminisce the scenes of all-time favourite drama "Winter Sonata", or a winter ride on the Gapyeong Rail Park (가평레일파크) to inhale the scenery of Gapyeong, and of course not missing out on the ever gorgeous The Garden of Morning Calm (아침고요수목원) at night where all the trees lights up.

If you find that public transport is too much of a hassle, and your group is rather big (< 9 pax), you can consider booking a private vehicle that will bring you around the key attractions in Gapyeong at your convenience. Just like how many people are used to touring countries like Taiwan and even Malaysia.
Luxury Glamping in Gapyeong
If the usual stuff is not good enough for you, how about some #trending experience of winter glamping in Korea? 67 Village Resort is probably just the thing for you, and the more comfortable kind of outdoor experience that we pampered city people can accept.
Winter Festivals
How can we ever miss the abundance winter festivals for you and I to busk in the festivities within the locals. You are used to winter skiing in Hokkaido and Europe, but ice fishing should be an experience not to be missed. There are various winter festivals every year from late December to January, and you should really try to get yourself to one of these for your winter in korea holidays.
Pyeongchang Trout Festival – Pyeongchang Trout Festival annually takes place in Pyeongchang-gun, the largest trout producer in Korea. Trout cultivated in the clear waters of Pyeongchang are popular for their rich and chewy texture. At the festival, visitors can enjoy ice fishing along with other fun activities such as barehanded fishing and sledding.

Taebaeksan Snow Festival – Taebaeksan Snow Festival offers guests an array of events and activities that are sure to amuse and entertain everyone. In addition to performances and exquisite snow sculptures, visitors can participate in snow sledding with the beautiful Taebaeksan Mountain covered with snow as their backdrop.

Hwacheon Sancheoneo Ice Festival – The Sancheoneo Ice Festival is held in the pristine natural environment around Hwacheoncheon Stream, the natural habitat of mountain trout and otters. One of the most popular programs at the festival is ice fishing, where people cut a hole through thick ice and try their luck at catching trout. Visitors can also brave the icy water and try catching fish barehanded. Helpful staff are available to ensure that even first-timers get a catch. Freshly caught fish can be consumed either raw or grilled on site.

Jaraseom Singsing Winter Festival – The Jaraseom Singsing Winter Festival is famous for ice fishing for trout, and your catch can be eaten right away, raw or grilled! Other activities include ice sledding, riding bumper cars on snow, traditional experiences, and more.

Inje Icefish Festival – At Inje Icefish Festival, visitors can enjoy ice fishing and other exciting programs such as ice sledding, a large icefish sled, and snow slides. All the icefish caught by participants can be served as hoe (sliced raw fish) or deep-fried for a warm treat.