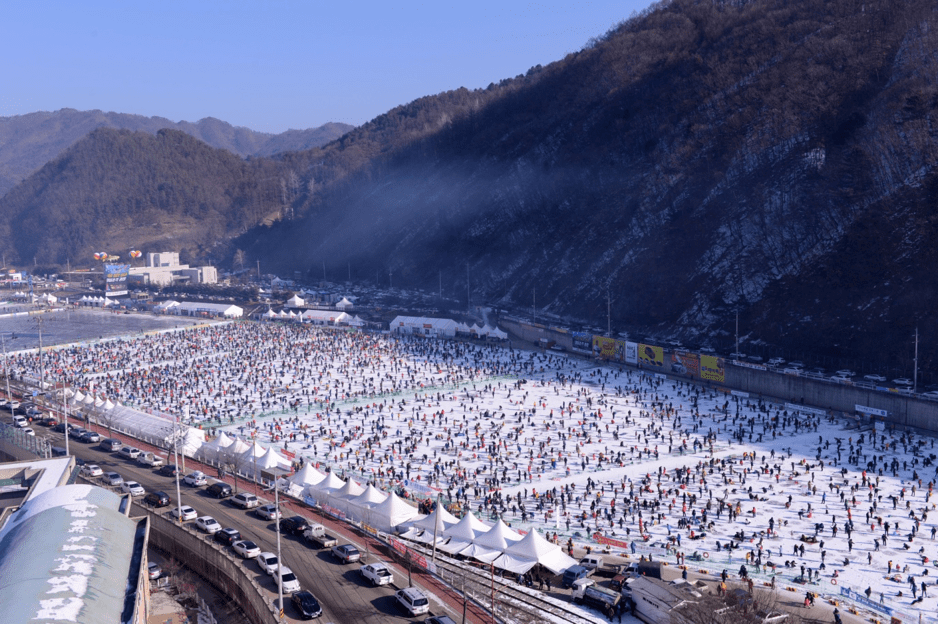 South Korea – What are your favorite winter activities? Visiting Ski Resorts is no doubt one of the hot favorites for locals and tourist during the winter season! Apart from the highly anticipated PyeongChang Winter Olympics 2018, the upcoming Hwacheon Sancheono Ice Festival is a popular choice for many too. Read on to find out what's going on during the festival!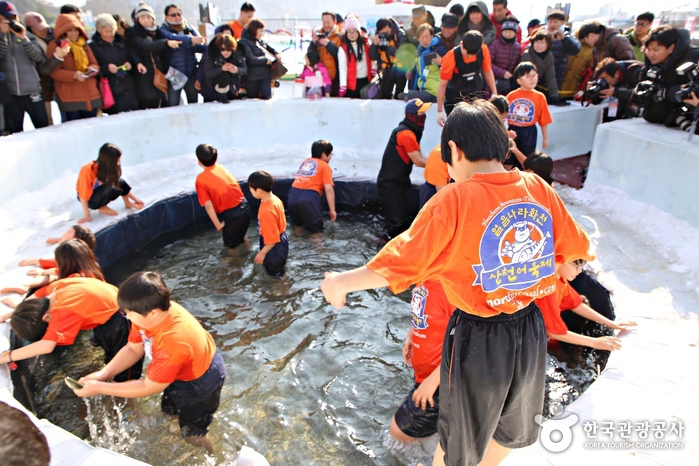 ■ Hwacheon Sancheono Ice Festival Information ■ 
▫ Festival date: 6th – 28th January 2018
▫ Location: Hwacheon-eup, Hwacheon-gun, Gangwon-do. 강원 화천군 화천읍
▫ Website: www.narafestival.com (available in Korean, English, Japanese and Chinese)
▫ Main Program
– Sancheono ice fishing, Lure fishing, Catching fish with bare hands, The World's Largest Ice Sculpture Square, Finland Santa post office Event, Seondeung(pisciform lights) Street, a Night Event, The World's ice sledding , Bobsleigh(snow tubing), Ice skating , snow sledding, a Zipline, places for Grilled fish, Sashimi center and many more.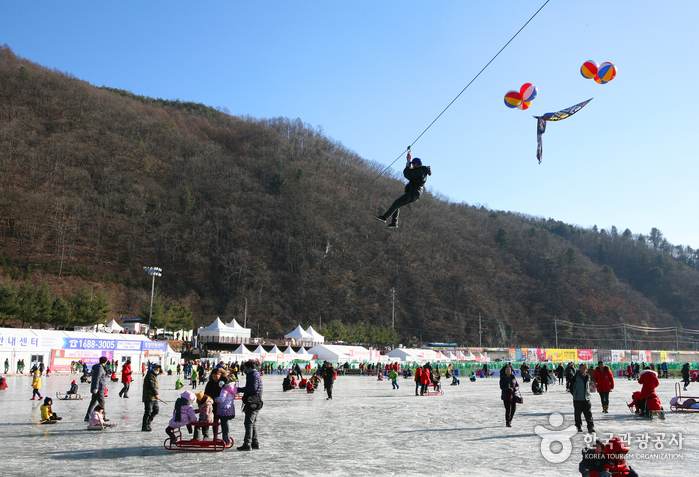 ■ Transportation ■
▫【Shuttle Bus】
※ Shuttle Bus services are available with a round-trip ticket costing 5,000won per person.
※ Advanced reservations required : www.koreadays.kr
※ Hwacheon(kun) County Office telephone: 033-440-2328
<Route>
① Sancheono Ice Festival direct route (3 stops) –
08:00 Hongik University Station Exit number8 ⟶ 08:30 Myeong-dong Station Exit number1 ⟶ 08:40 Dongdaemun Gate Exit number12⟶ 11:00 Sancheono ice Festival ⟶ 17:00 Departing to Seoul
② Sancheono Ice Festival + Ski Resort(엘레시안 강촌) route (3 stops) –
07:00 Hongik University Station Exit number8 ⟶ 07:30 Myeong-dong Station Exit number1 ⟶ 07:40 Dongdaemun Gate Exit number12 ⟶ 10:00 Sancheono ice Festival ⟶ 13:30 Ski Resort(엘리시안 강촌) ⟶ 17:30 Departing to Seoul
▫【by Car】
※ Festival Address (navigation) ➠ Gangwondo Hwacheongun Hwacheoneup Hwacheon sprout 45
※ Duration: 2 hours
▫【by Bus】
※ Dong-Seoul Bus Terminal ➠ Hwacheon Terminal/
※ Duration: 2 hours 30 minutes
▫【by Train】
※ Yongsan Station or Cheongnyangni Station ➠ Chuncheon Station ➠ (bus transfer) Hwacheon