Korea's summer festival season is fast approaching and this summer promises to be even more exciting!
Now, if you want to make the most of your summer in Korea, make sure to put these festivals on your summer bucket list!
| Where: Daecheon Beach, Boryeong City
| When: 21 – 30 July 2017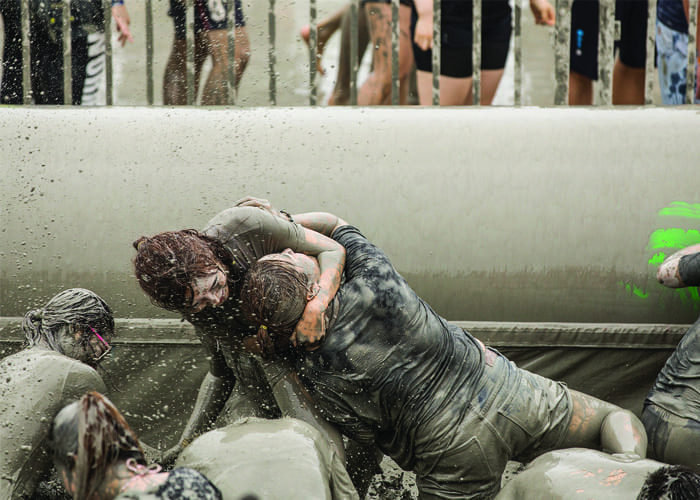 If you are traveling to Korea in mid-July, be sure to visit the nation's one of the largest and most popular festivals, Boryeong Mud Festival.
With a variety of mud-based activities and attractions, such as mud slides, mud pits, a mud prison, a mud swimming pool and plenty more, this unique mud festival is regarded as one of the best festivals in the world!
And for K-Pop fans, SBS MTV's "The Show", a popular Korean music television program, will be live-streamed on July 22 as part of the festival.
| How to Go: If you want to visit Boryeong Mud Festival 2017, check out this ticket+shuttle package (shuttles depart from Seoul). A shuttle bus service from Busan to the festival is also available.
| Where: Nanji Hangang Park, Seoul
| When: 22 July 2017
Heartbeat Festival 2017, which is one of the most anticipated summer festivals in Seoul, is an extraordinary festival that fuses horror and music!
This year, the Heartbeat Festival will offer horror-themed attractions, such as a scare zone and a zombie flash mob, and a lineup of the best Korean rappers and DJs, including DOK2, Heize, Reddy, Osshun Gum and many more.
| Ticket Info: Tickets are 34% off on Trazy, the official English booking website for Hearbeat Festival 2017.
| Where: Jamsil Sports Complex, Seoul
| When: 29 July 2017
Featuring powerful water explosions and an awesome lineup, the Water Bomb Festival is the ultimate music festival you must attend this summer.
This year's lineup include the most popular Korean rappers and artists, such as HyunA, BewhY, Jessi and C Jamm, as well as many local and international DJs including Lookas, Maximite and DJ KOO.
Alongside live performances, festival-goers get to team up with their favorite artists and soak up the targets with water guns!
| Ticket Info: The 1st release tickets are currently $70 but will rise as the event draws closer. Tickets to Water Bomb Festival are available here.
| Where: Sinchon, Seoul
| When: 29 – 30 July 2017
Once again, the entire main street of Sinchon, in Seoul, will transform into a massive water war, but only for two days. If you missed this crazy water gun fight in last year, don't miss out this time and start gearing up for the festival in advance!
| Ticket Info: Here are special discounted online packages for the festival-goers. These packages provide a ticket (a wristband) for the changing room and a locker as well as a raincoat and goggles, starting from $9. Various water gun options are also available at an additional cost.
| Where: Yeongildae Beach, Pohang City
| When: 26 – 30 July 2017
Also known as the "City of Light and Fire," the southeastern coastal city of Pohang offers the spectacular fireworks displays over the Yeongildae Beach every summer.
While there will be daily fireworks displays, street performances, live music, laser shows and many other attractions that will keep you entertained, try not miss the highlight of the festival, the magnificent fireworks competition on the night of July 29.
| How to Go: Overnight shuttle buses will be running to the festival from Seoul. It is best to book your ride in advance as the shuttle bus runs only on July 29.
A few other festivals and events in Korea this summer include the Bonghwa Sweet Fish Festival from July 29 to August 5 (try and catch sweet fish with bare hands!) and the Wake Up City Festa Water Slide Festival in Haeundae Beach, Busan, from July 29 to August 13.
Looking for more summer fun ideas? Discover more awesome things to do in Korea this summer at Korea's #1 Travel Shop, Trazy.com!
RELATED: 5 Secret Korean Hotspots Worth Traveling For This Summer!
Photos by
Boryeong Mud Festival
Sinchon Water Gun Festival
Heartbeat Festival 2017
Water Bomb Festival 2017
Pohang International Fire & Light Festival