On September, 28th, the Hallyu wave swamped the german city of Mannheim through the Finger Heart Festival.
The Finger Heart Festival, presented by the Korea Tourism Organization and Semmel Concerts, aimed at promoting the Korean culture and tourism.During the day, fans who came early could enjoy some activities such as wearing a hanbok or eating Korean street food. And as many fans came early, the queue to enjoy all of this also quickly increased.
Tourism in Korea was especially highlighted. All throughout the evening, videos showcased the diversity of the country. However, what really brought fans to Mannheim was the concert attached to the festival. Jeong Sewoon, Cosmic Girls, KARD and Monsta X all took part in the event in a venue that welcomed thousands of fans. A show that presented, with 4 acts, 4 different aspects of the K-Pop industry.
Jeong Sewoon is well-known by K-pop fans. He was a popular contestant of Produce 101 Season 2 and found his place in the K-pop industry thanks to his unique style.
Somewhere between K-pop and indie music, he brings his voice and his guitar as his most powerful weapons. He is at ease with both his own songs ("Irony" or "Just U") and international covers (Daniel Caesar's "Best Part").
He came, he saw and he conquered. What he conquered was the heard of the audience, who instantly fell in love. A quick visit on his latest MV, released on October 3rd ("When It Rains"), shows many of the festival-goers streaming and commenting his new release.
KARD debuted in 2016 and started touring internationally right away. Hence they were not new to Europe and felt very much at home and proving that they are the aces of Co-Ed groups.
They rocked the stage with their energy and songs like "Oh Na Na", "Don't Recall", "Hola Hola", and "Bomb Bomb". The audience also had the pleasure of witnessing "Dumb Litty", the group's latest track.
Cosmic Girls, also named WJSN, then took over the stage with their charisma. While the number of K-pop concerts in Europe keep increasing, girl groups lovers often feel forgotten. Events like the Finger Heart Festival are a rare chance for them.
But Cosmic Girl were perfect representatives of girl groups. Their choreo and synchronization were on point on "La La Love" or "Save Me, Save You". They made good use of "Boogie Up" to show their cuter side to the fans.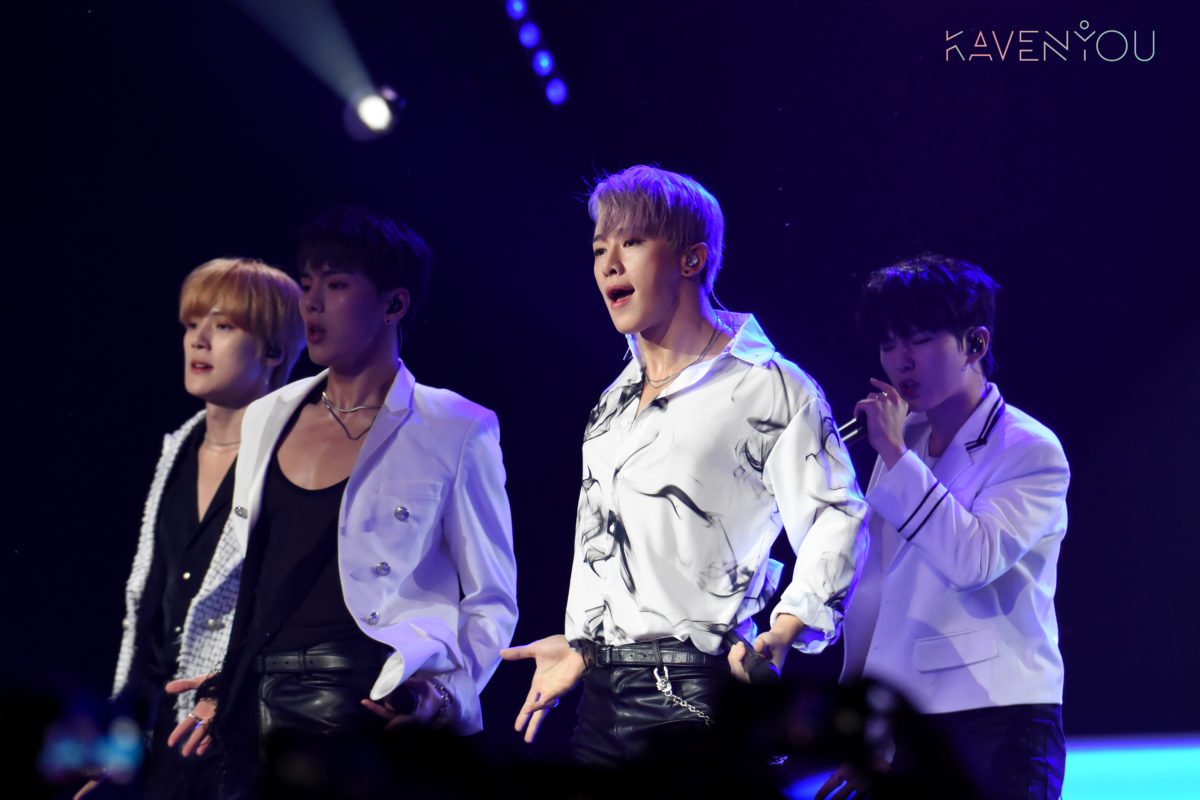 Monsta X were the headline of the evening. Despite them having a Europe tour just a few months ago, fans were eager to see them again. And the group didn't disappoint.
With a solid experience, they have no trouble turning any stage into their own. Even in a festival, the audience quickly get the feeling that they're at a Monsta X Concert. Songs like Alligator, Rodeo or Fallin' are among the fans' favorites. Besides, they are efficient in making the audience jump and party.
All these artists gathered on stage at the end of the evening to say goodbye to fans and to honour their hosts with German flags. A relaxed moment for all of them, during which they could enjoy being on stage with friends.
While South Korea excels in many aspects and industries, K-Pop remains a major component of the country's soft power. The Finger Heart Festival understood and the K-pop concert included in the festival was a proof of it, for every attendee's bigger pleasure.