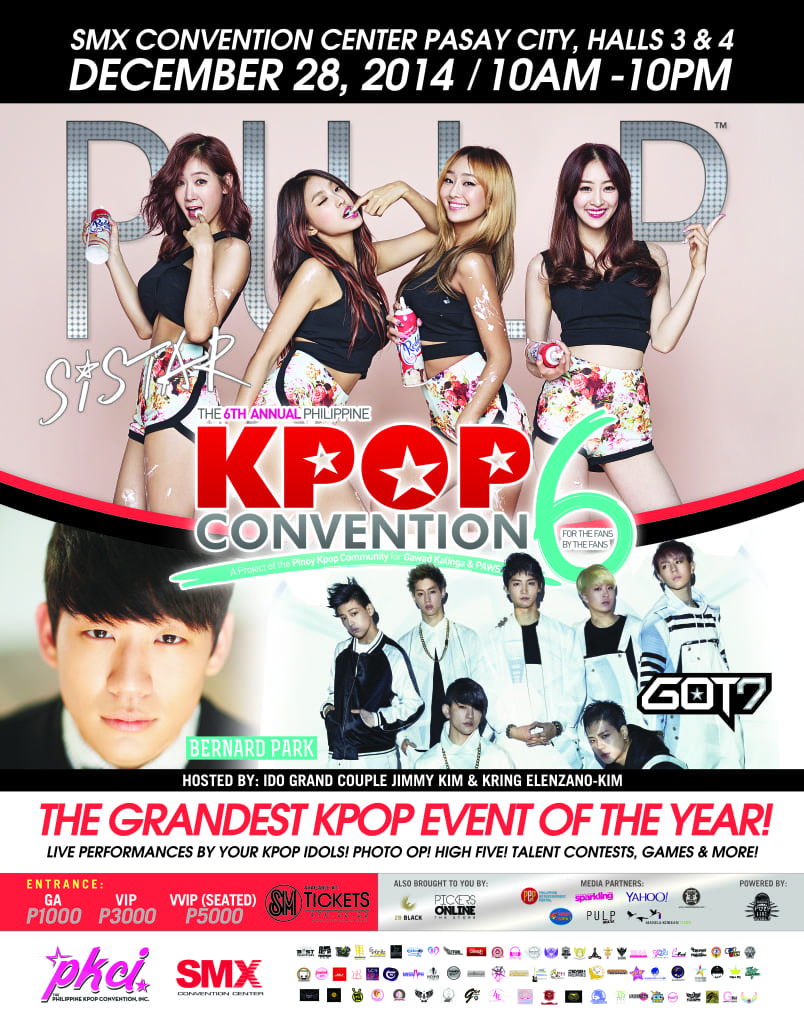 KPop Fans Unite! PULP LIVE WORLD invites you to take part of this year's KPOP Convention 6 happening on December 28, 2014 at SMX Halls 3 & 4.
Expect a fun-filled day as your heroes SISTAR, GOT7, and BERNARD PARK unleash their brand of KPop to keep you off your seats. Sistar, a four-piece all-girl group, has been tearing up the Korean charts with their famous hits such as "How Dare You" and "Gone Not Around Any Longer" since 2010. GOT7 is an up-and-coming hip-hop/dance collective who has already garnered recognition through its 2014 debut album Identify. Bernard Park is the stage name of KPop Star season three winner Park Nak-Jun, an R&B crooner.
Get ready to share moments with fellow Kpop fans who share your passion and head over to SMX Halls 3 & 4 this December 28, 2014. The KPOP Convention 6 starts at 10AM. Tickets are now available at SM Tickets. Tickets are priced at 8000PHP (VVIP + Photo Op), 5000PHP (VIP + Hightouch), and 1000PHP (Gen Ad). Visit smtickets.com and pulpliveworld.com for more details. This event is proudly presented by PULP LIVE WORLD.
Event Details:
Event: KPOP CONVENTION 6
Date: December 28, 2014
Venue: SMX Halls 3 & 4 (SM Mall of Asia)
Time: 10:00 am