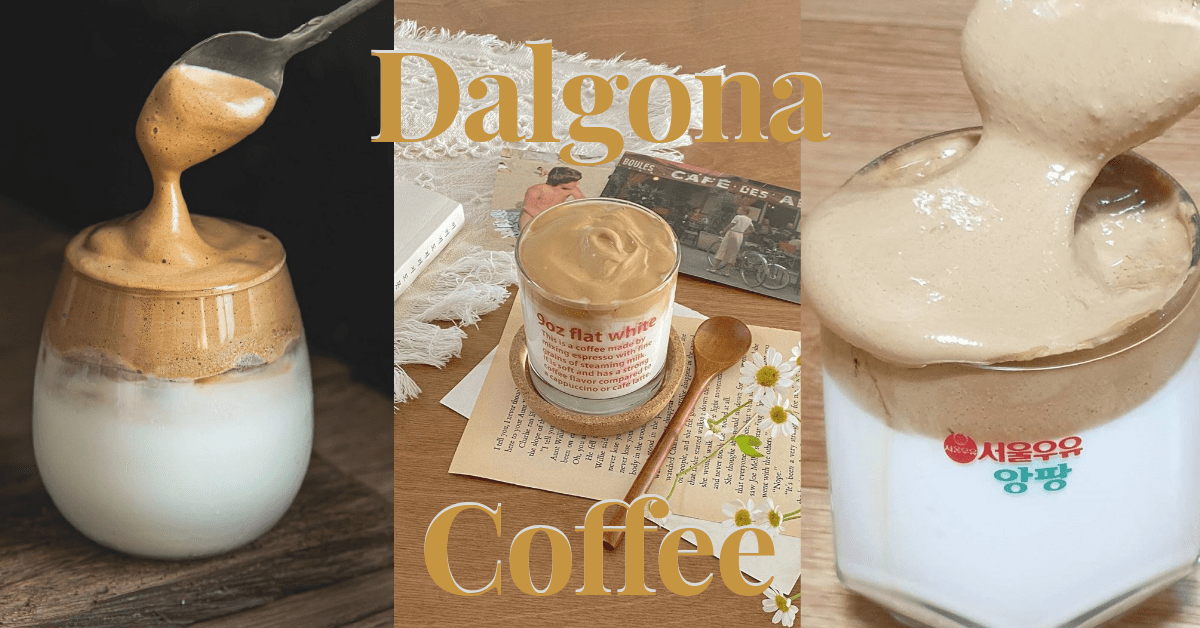 South Koreans have been staying in due to the coronavirus situation, but that has not stopped their creativity. You probably have seen this new food trend popping up on your feed recently: the dalgona coffee (달고나 커피).
You've probably heard of dalgona before – it's also known as ppopgi (뽑기), the Korean traditional sugar candy commonly seen on the streets of Korea. Kang Gary recently tried making it at home for Ha Oh in The Return of Superman as well! The drink has been given this name because it tastes similar to the Korean toffee candy.
How did this trend come about? Here's Jung Il Woo discovering and trying the dalgona coffee (which was also nicknamed 400 coffee because of the number of times required to stir the mixture) in an assuming eatery in Macau, where he was pleasantly taken aback after trying it for the first time:

It's really simple to make one – all you need is 4 ingredients, which you probably already have at home.
Dalgona Coffee Recipe

Required:
– Instant coffee (do not use 3-in-1 coffee!)
– Sugar
– Milk
– Hot water
– Whisk/ Electric hand mixer (you can do it by hand with a spoon too, but we don't recommend that)
The coffee powder, sugar, hot water should be in a 1:1:1 ratio (technically the coffee powder and sugar will be more because they'll be heaped on the tablespoon), so if you use 2 tablespoons of coffee powder, you'll match with two tablespoons of sugar & two tablespoons of hot water.
Step 1: Pour out the instant coffee and sugar together
Step 2: Add hot water into the mixture
Step 3: Whisk the mixture well until it becomes like a thick whipped cream texture (it kind of looks like peanut butter at this stage) – we do not recommend stirring with a spoon because it'll take (more than) 400 times…
Step 4: Pour milk into a glass
Step 5: Pour the mixture on top of the milk and serve
Here is our step-by-step video instructions for a clearer picture:
Tips:
Use normal coffee powder, not 3-in-1 coffee. The creamer & sugar inside 3-in-1 coffee will form a clumps and the mixture will not be smooth, and the mixture will SINK to the bottom of the drink 🙁 Also, it will be too sweet as there's already sugar inside the coffee powder (We tried & failed twice with 3-in-1 coffee, so nope)
If you are not confident, add slightly lesser water first – you can add in afterwards if you feel the mixture is too thick
Use a spoon (or even chopsticks) to stir the initial mixture until there's no more clumps, and then speed up the process with a whisk/ hand mixer

Let us know if you've tried it and how it went!

Looking for other easy home recipes to kill time at home? Try out these other recipes that are popular with the Koreans!