Tell me why why why~ The concert is over already? Did you enjoy the concert? Because our KAvenyou team sure did! Do you miss them already? 'fraid not, I'm going to walk you through the entire concert and you can relive the night again and again and again.
This might be one of the presents that the Singapore BOICE's received from their 4 boyfriends for the Valentines' Day weekend – A 2 hour full live concert! With Yonghwa's impressive vocals that did not change in quality for the entire concert, I have to say, I was really very very very impressed at how he could also sing and manage more than one instrument at the same time. Unlike typical kpop group concerts where they come out and dance, the CNBLUE boys were very much focused on their instruments, wanting to give their fans their best and to also prove that their music making essence is real and not what other people claim to be a "hand-sync".
They kicked off the concert with "Domino" which slowly build up the tempo of the concert and warmed up the atmosphere with Yonghwa's gentle vocals and Jonghyun's occasional (but very precious) appearances to back up his hyung. They proceeded to bring out the sherlock in them and sang Hide & Seek which had some funky beats in the start to bring some quizzical vibe into the song which led on into a melodic chorus that went "nowhere without you, nowhere without you girl". It seems like CNBLUE really doesn't want to go anywhere without BOICEs!
Next up, a familiar tune to any K-pop fan who has seen through the glory days in the 2009~2010s, a song that grabbed the first place within 15 days of their debut, breaking the records in Korea, "I'm A Loner". The members definitely seemed to play well on stage as they sang the songs with ease while the audience was filled with nostalgia.
This concert also featured many CNBLUE hit songs such as "Can't Stop", "Love" and "I'm Sorry" bringing the concert atmosphere into an all-time high! It was like going on a "Roller Coaster" ride.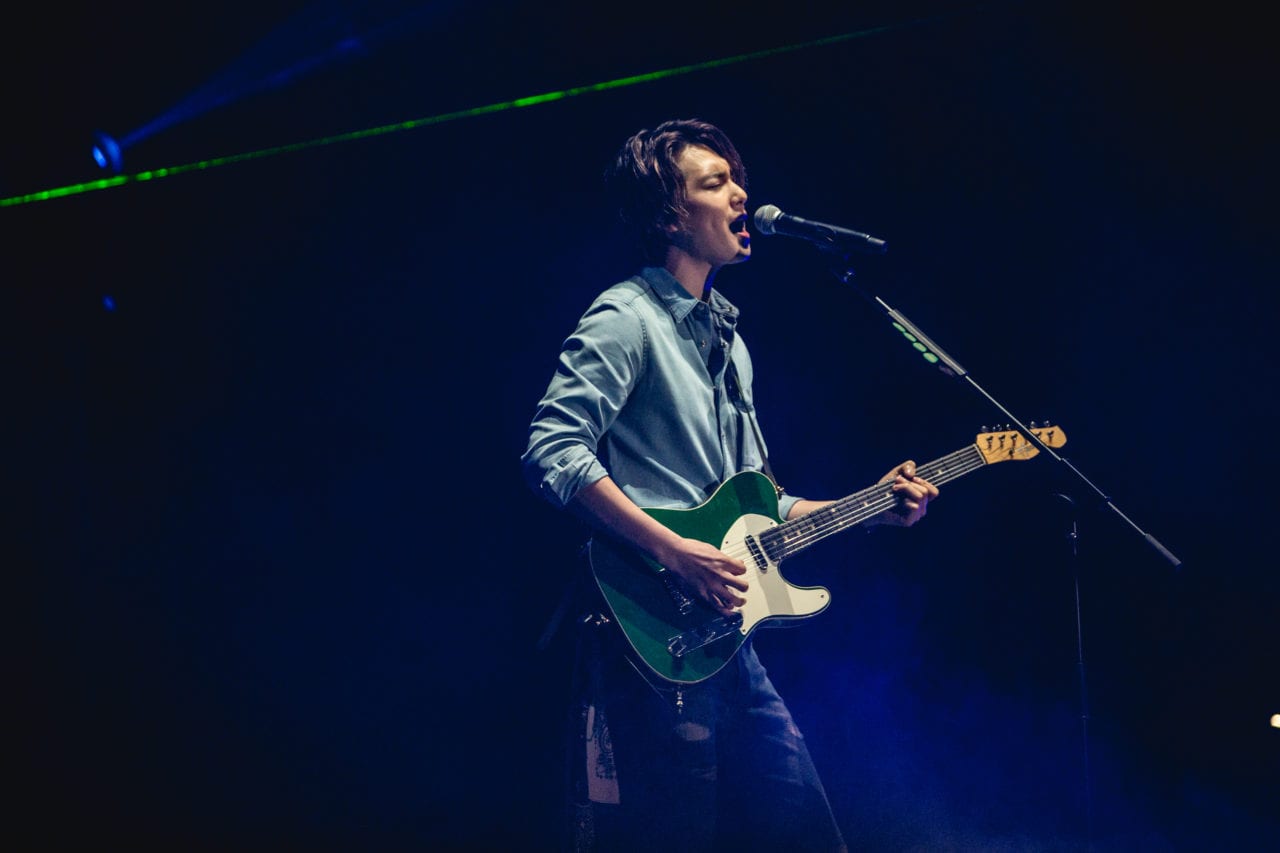 Jonghyun's beautiful rendition of "Irony" allowed him to have a temporary change of image as he switched out of his electric guitar and strummed on in a melodic tune with his acoustic guitar. While having his solo stage, the other members stayed on stage to watch on him and also participated in playing for the music of the song. From this stage, you could feel the invisible bond that hung in the air, between the members that also spread to the audience.
During the stage for "Stay Sober", there were impressive stage effects as the lyrics were displayed on the LED screens in calligraphic fonts as the cameras switched from member to member, catching each of their moments, in a coloured limelight.
They also performed their most recent title track, "Cinderella", once again bringing the atmosphere up to another high. I could feel the pride and joy that emitted from the CNBLUE members as this song was entirely composed and written by Yonghwa himself. During this song, fans started whipping out the golden paper crowns (a fan project done by CNBLUESGFC) and wearing them on their head. One of the fans even threw it up on the stage and Yonghwa wore the crown on his head as acknowledgement!
When the official set ended, BOICE quickly shouted for encore and accompanied with screams, eager to see CNBLUE up on stage again for their encore set. BOICE also quickly whipped out red and white LED balloons that filled the entire stadium and just looked absolutely beautiful. When Jungshin stepped out on stage again for the encore set, his jaw dropped and he was amazed that he exclaimed, "Wow… So pretty…" Hmm, I wonder if he was referring to the fan project or the BOICEs in the crowd? Or both? 😛
The boys quickly reappeared again in the concert's official t-shirt which was listed as one of the official merchandise! Which also meant that some fans in the crowds were wearing couple tees with the members up on stage!
The first encore song was "Try Again, Smile Again" and during this song, Yonghwa moved to different parts of the extended stage and bended down to sing at the fans, which certainly made the BOICEs' hearts flutter with excitement.
During the second encore song "Love Light", the crowd screamed when it was Jungshin's time to shine with his rap. And also very lovingly, it was as if Yonghwa could read the fans minds and when he reached the end of the line "…you are my love~" he paused and waited for fans to sing "light~" each and every time! Also, in the middle of the song, Yonghwa paused and pushed the mic away from him, putting his fingers to his lips to ask fans to keep quiet. He continued singing the song with his beautiful piano accompaniment, completely live – without the mic. His voice echoed throughout the entire stadium, definitely warming the hearts of the audience.
During the last song, "Hold My Hand", it was obvious that everyone did not want the concert to end and they did not want CNBLUE to leave. However, good things will always come to an end. But worry not, because they'll be coming back again, hopefully soon! I quote Yonghwa, "I promise I'll come back here every year, forever".
Setlist aside, in between songs, the members showed of their superb English skills that looked effortless and almost had close to no grammar mistakes at all! Jungshin showed off his ring that he bought while shopping at Orchard Road and Yonghwa did a short parody of "Love" by singing, "Love love love, everybody crab crab crab!" making the fans roll over in laughter. From here, we can clearly see how much Yonghwa loves chili crab and pepper crab and he even said that he just had the dishes for lunch that day!
Yonghwa also constantly remixed short snippets of songs and sang about how much he loves SIngapore and its food! And prepare your red packets because Minhyuk asked for red packets since it's Chinese New Year!
I was really impressed with their extensive knowledge of Singlish although not always applied in the correct ways but I could really tell they put in a lot of effort in learning Singlish.
Once again, CNBLUE never fails to wow the crowd. The four members were so natural on stage none of their nerves showed through! I'm definitely hoping that during their next tour, they would stop by at Singapore again. You want that too, right?
The KAvenyou team also wants to thank ONE Production for the media invite!
For your reference, here was the setlist including the encore set:
Song List
1 – Domino
2 – Hide & Seek
3 – I'm A Loner
4 – Can't Stop
5 – Footsteps
6 – Love
7 – Roller Coaster
8 – Coffee Shop
9 – I'm Sorry
10 – Lady
11 – Hero
12 – IRONY
13 – Stay Sober
14 – Realize
15 – Holiday
16 – Catch Me
17 – Cinderella
18 – Radio
Encore
19 – Try Again, Smile Again
20 – Love Light
21 – Hold My Hand
Visit KAvenyou's Twitter page for more tweets about the concert!
Watch this space for more updates about music, entertainment and Korean culture at "KAvenyou: Your Avenue to Non-Stop Entertainment, Lifestyle and Fashion"
Article by: Cass Zheng @ KAvenyou
Official Photos: ONE Production/Marcus Lin