For your travel plans in 2016, we highly recommend you to step outside Seoul, and visit other marvelous cities and provinces to discover the genuine beauty of South Korea. Here's a general travel guide to South Korea's major cities and provinces, featuring its attractions, activities, and suggested Itineraries.
1. Busan
Busan, the second largest city in Korea, boasts beautiful beaches with white sand and a variety of leisure activities, attracting thousands of visitors every year. Along with the city's high reputation as a summer holiday destination, the city is well known for its breathtaking night views, low to high end shopping options, fresh seafood to hot springs as well.
Here's a unique tour travelers might want to try. It's a night tour with the locals, and you can just hop on and off at the most iconic locations in Busan including Busan Bridge, Igidae Park Observatory, Gwangan Bridge and many more. For more details, click here.
A full circuit takes about 2 hours and 30 minutes, offering ample time to see Busan breathtaking illuminated during the night. There's no need to navigate through busy streets or waste time on the subway or bus trying to figure out how to get to one place to another. Just sit back and relax as the shuttle bus will take you to the best night course in Busan. You can sign up here.

2. Jeju Island
The biggest island in South Korea, Jeju Island, is the most popular weekend getaway for Koreans as well as a honeymoon destination for the newlyweds. As Korea's most southern region, the climate on this volcanic island is temperate, hardly falling below the freezing temperature. So, it's often considered as the Hawaii of South Korea.
The entire island is filled with natural wonders including crystal clear sea, white sand, waterfalls, rocky cliffs and volcanic mountain along with the long lasted history of haenyeo (women divers).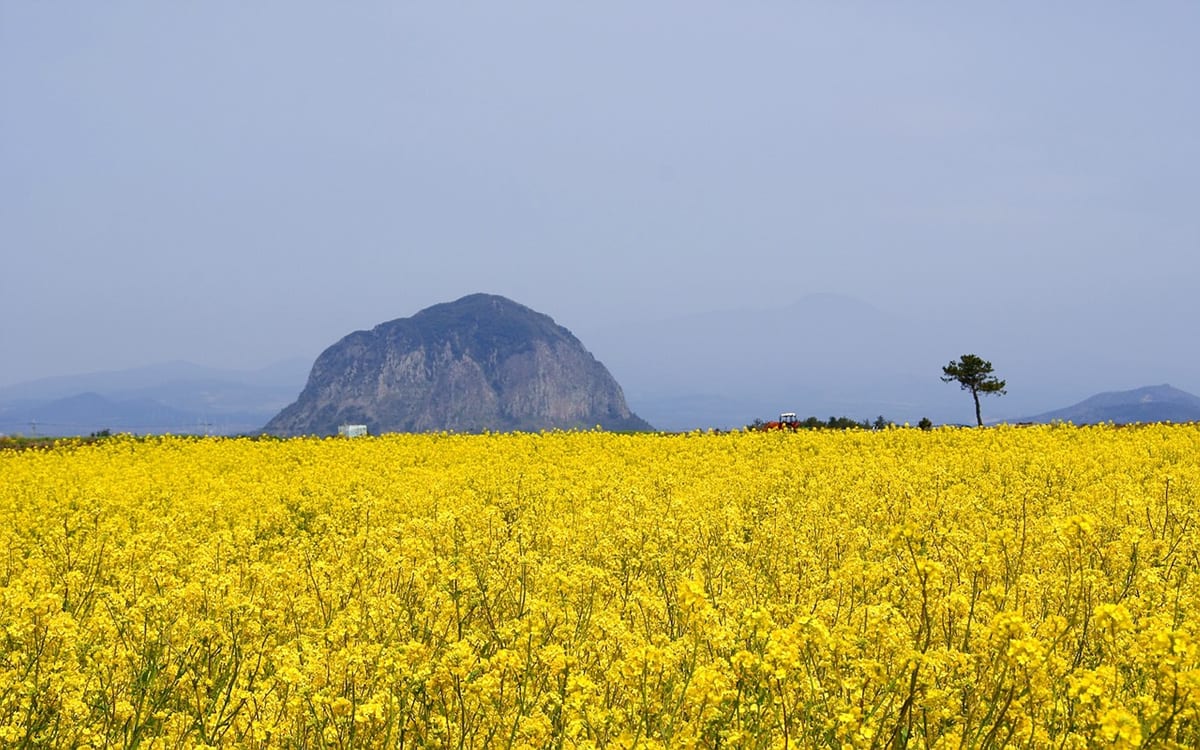 To travel around Jeju Island without renting a car, scooter or hiring a taxi, a bus tour is the best option, and there's a one-day bus tour that operates 3 tour courses (West/East/South) across the island. For details, click here.
If you are a free traveler, try hopping on and off a golden round-trip shuttle bus. The Jeju Golden Bus City Tour provides an opportunity to look around this beautiful island in one of the most convenient and affordable ways. For details, click here.
The bus starts from Jeju Welcome Center, drops by at Jeju International Airport and takes you to the main attractions in Jeju City including Yongduam, Ihotewoo Beach, Doyoung Costal Road, Dodubong Peak, Sarabong Oreum (Hill), Jeju Folklore & Natural History Museum and more. With a One-Day Pass, you can hop and off this golden bus for free all day long, and the pass is available here.

3. Gangwondo Province – East Sea & Seoraksan National Park
In Gangwondo province, there's a region called Sokcho, where travelers and tourists can enjoy both Seoraksan Mountain (Seoraksan National Park) and East Sea. No trip to Korea could be complete without seeing the spectacular view of Sokcho. As well as the sightseeing, gourmet and delicious local food like seafood, Korean-style chicken, and Soondae (pork sausage) is also popular.
Here are recommendations for first-time travelers to Sokcho: Seoraksan Mountain, Naksansa Temple, Dongmyeong Port and Cheongcho Lake Park. Above all, Seoraksan Mountain is not-to-be-missed destination. It's the 3rd highest mountain in Korea where you can admire the spectacular views that changes every season from spring, summer, autumn to winter. For details and directions, click here.
For those who never traveled Korea before or doesn't speak Korean, making reservations, gathering information and even riding a bus is very difficult. So, if you want to travel around this region, it's recommended that you join a Sokcho self-guided tour, which offers a qualified accommodations and restaurants. For details, click here.

4. Jeonju
As the most popular travel destination in the southwestern part of Korea, Jeonju offers visitors much to see, do and eat!
In Jeonju, the most famous destination is Jeonju Hanok (Korean traditional house) Village where you can find 700 hanoks that are comprised of cultural workshops, galleries, guesthouses, restaurants and street food vendors.
You can also walk around the village wearing Korean traditional clothes Hanbok and try out all kinds of street food from 3 flavored fruit punch, Choco pie, Cheese sticks, Cheese Dakgalbi (Chicken) to Octopus Skewers. Since Jeonju is the origin for Bibimbap, trying Bibimbap for lunch or dinner is also highly recommended.
For free individual travelers, you can make travel arrangements here, and it includes a round-trip train tickets, a map, and a travel guide book.

Go ahead, explore and discover the authentic beauty of South Korea. And don't forget to visit Korea's #1 Travel Guide, Trazy.com, if you are looking for more fabulous adventures and activities in South Korea that can make your travel better.
Go Travel, Go Crazy!
Read more at "KAvenyou: Your Avenue to Non-Stop Entertainment, Lifestyle and Fashion"
Article by: Yemi @ Trazy.com