Wherever you travel, it's always nice to have a souvenir to serve as a memory of your trip. Whether it's just one item or you stock up on so many that you have to buy a whole new suitcase, here are our top 5 recommendations for souvenirs that we highly recommend you check out! They're all reasonably priced too, so you can hand them out to all your family and friends without going broke.
K-pop Merchandise
K-Pop is Korea's biggest export, so for those of you who are hardcore k-pop fans, lucky for you as there is an abundance of merchandise available for you with street vendors and stores bound to sell something you like. Perhaps you'd enjoy a pillow with a huge blown up picture of your favorite idol member's face on it, a school supply kit with pencils, erasers and rulers with your bias's face and name splashed all across them or maybe a sticker photo that literally looks like you took a photo with them (thanks to the idol photo booth at the SPAO store in shopping mecca, Myeongdong).
Myeongdong, Insadong or Namdaemun are the places to go. In addition, we have a post here about specific stores in Seoul to buy K-pop goods.
Animal Face Masks and Limited Edition Makeup
Another item that you simply can't skimp on when shopping in Korea is Korean skincare and makeup, which have generated interest and popularity in recent years for their high quality, natural ingredients, and affordable prices.
We recommend you try the recently trending animal sheet masks. Sheet masks are soaked in essence and are a quick way to deliver a burst of hydration and active ingredients for all your skin needs. These make pampering much more fun as they are printed with characters and animals such as hello kitty, tigers, pandas, dog, cats- you name it! They're also perfect for selfies or sleepovers and are bound to be a cute gift.
Photo courtesy of The Face Shop
We're also loving the products from limited edition makeup collaborations. A lot of affordable brands have recently been collaborating with companies to release products sporting their characters. For example, there's The Face Shop x Disney collection with lipglosses and cushions sporting characters such as Minnie Mouse or Winnie the Pooh, and the Missha x Minions collection with the adorable yellow creatures all over cleansing foams and eyeshadow palettes.
Photo courtesy of The Face Shop
Crazy, Quirky Socks
If you hardly have any cash but still want to buy some great gifts, you can find vendors or stores in places like Ewha Womans University, Dongdaemun and Hongdae selling a huge variety of socks. They usually only cost about 500~1,500 KRW. There's something for everyone and you're sure to have lots of fun choosing from the large range of designs such as K-Pop idol faces, Obama, Psy, Hello Kitty….. They're even soju and ramen prints! Your socks are guaranteed to be a conversation starter when people see them.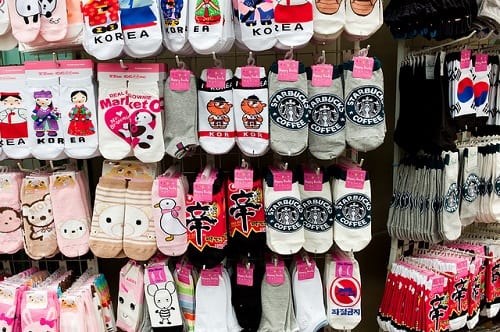 Photo courtesy of Rex Wang
Cute Stationery
Korea is the mecca for anything cute, especially stationery. If you're looking for cute tidbits such as gaudy pens with polka dots and bright colors, wallets in the shape of cats, or post-its in the shape of ice creams, look no further. Stores such as Artbox, Kosney, and Daiso have them all. We recommend you use our post on stationery stores in Seoul as a guide!
Photo courtesy of Korea_MorningGlory_04
Kakao Friends Character Goods
Originally only able to be seen through virtual stickers on a screen, Kakao Corp. has brought its signature characters into life as it has opened up 17 stores selling merchandise all over Seoul. The flagship store in Gangnam has over 15,000 visitors per day with queues spanning 30 minutes to even an hour even during weekdays. Here is a list of the 7 most prominent stores in Seoul we chose.
Kakao started out as simply a mobile app to exchange messages, but now there is a huge range of emoticons you can use to accurately show how you feel. There's everything from Tube (the white duck character) throwing a cell phone at you in anger to Apeach (the pink peach character) literally collapsing onto the floor from exhaustion. The popularity of the 7 characters (with Frodo the lion being the latest addition) has led to their own merchandise such as clothes, electronics, makeup, household goods, and more being sold.
For a list of other unusual and quirky things to buy in Korea, check out this link. If you want to find more great guides like this one, be sure to check out Trazy.com! 🙂