For the second-year running, Skechers' Sundown Music Festival has once again gotten fans rocking the night away with unique music acts.
To kick start the music festival, local musician Cheryl Loon belted out a few of her self-composed tracks such as "Dancing With Angels" and even covered popular hits like "Titanium" by Sia as well as "High And Dry" by Radiohead, drawing much cheers from the crowd.
Following her act was local band Farrago, which consists of members from Australia, England, Japan and Singapore. Farrago sang a few of their tracks such as "We Were Young" and "You And I" from their debut album, which was available on sale for the fans at the festival.
Another local band Cashew Chemist was out to perform next and sang multiple tracks with infectious rhythms to which the crowd swayed to. Some from their set list include "Sarah" and "Feel Amazing". Made up of members of very young ages, Cashew Chemist proved that age didn't matter when it comes to talent!
Up next was a special guest performance by Taiwanese rock band, Ground Zero (放射空间), who wowed the audience with their soulful rock music. Ground Zero performed songs such as "玩真的!小朋友"and "简单生活". Ground Zero also performed an amazing rendition of "Hold Back The River" by James Bay, asking fans to jump and cheer along with them. Many local fans also whipped out their cameras to capture the charisma of the band, who promised that they will be back on our sunny island really soon!
Local metal-rock band Caracal gave the crowd a reason to start partying as the sun goes down as they sang tunes that got everyone hyped and jumping as they rocked the crowd. Some songs include "Cheers To Love" and "Given Breath". The lead of Caracle, KC, even teased the fans, as he took of his shirt halfway through the set!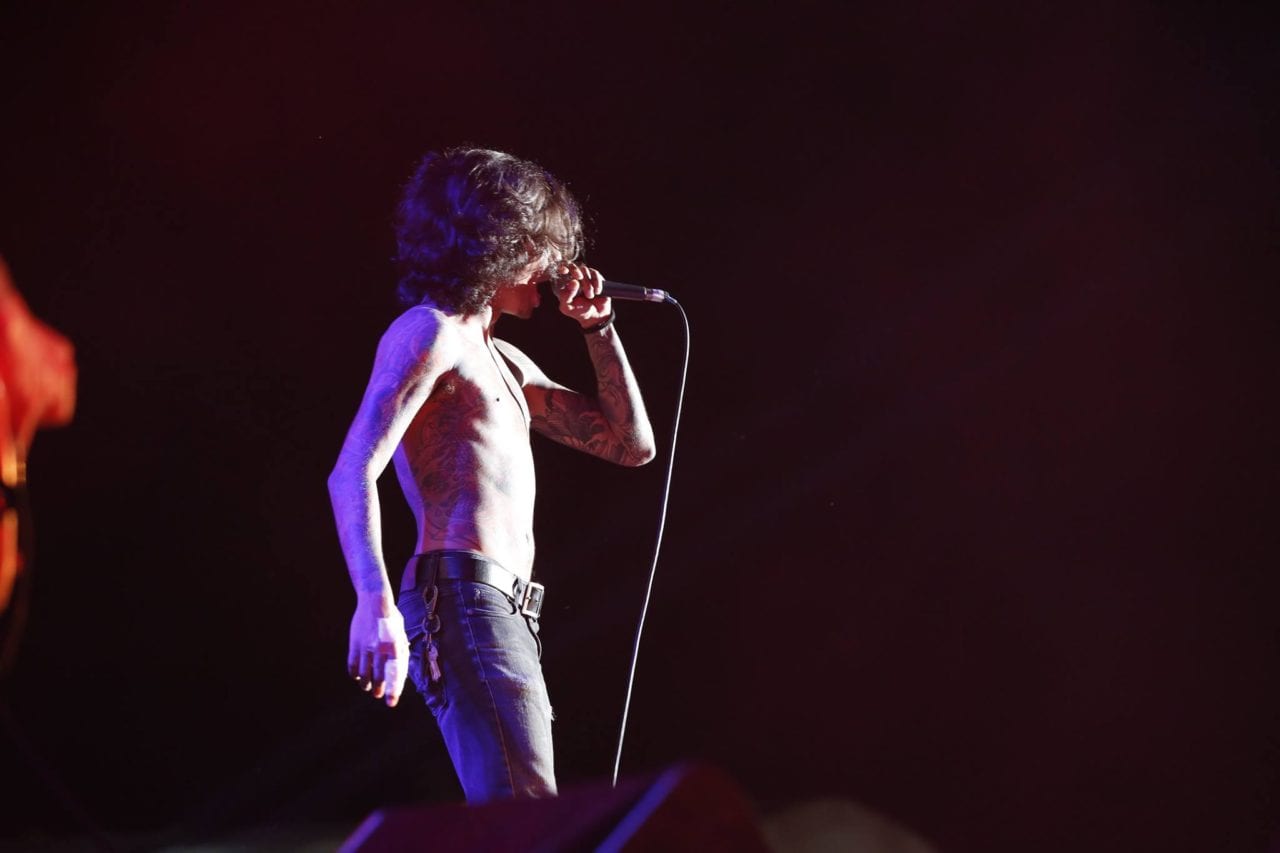 Hailing from Jakarta is J-Rocks, who came on stage with a very special message behind their performance. In line with the recent terrorist attacks, the lead singer of J-Rocks, Iman, emphasized that terrorism has no religion and no God, drawing massive cheers and support from the crowd as they continued to impress their crowd with their hearts and music, which include title tracks such as "Jrockstar" as well as "SOS".
Japan's rock band INKT came owning the stage as they performed some of their title tracks such as "Saisarisu" and "Trigger". INKT even performed some crowd pleasers as they threw their towels and bottles to the fans, creating a massive snatch for these precious items. Although it started drizzling during their performance, the crowd was unfazed as they continued to cheer and scream for INKT amidst the rain.
Thai indie-rock band Potato proved their endless charms as they serenaded us with ballads such as "Tur Yang" and "Pieng Por"which drove many fans crazy as the lead singer, Pup, got the crowd to sing some of the lines for them. There were many fans that flew from Thailand to catch them live, proving their immerse popularity. Potato continued to make the crowd swoon with their infectious smiles and rich voices, making the fans cheer endlessly, before ending their performance with a promise to be back to Singapore after receiving many requests from fans!
After much anticipation from the crowd, Epik High finally came on stage with a bang as Tablo and Mithra Jin rapped their hearts out to Born Hater with DJ Tukutz working on an amazing sound on his console. Epik High worked on some fantastic crowd pleasers, as they will continuously sprayed water at fans, with Tablo even throwing towels he used to wipe sweat off Mithra Jin to a sea of endearing fans who wasted no time in trying to catch a towel. A lucky staff from KAvenyou even managed to catch one of towels thrown by Tablo amidst the chaos. Epik High continued to energize the crowd despite the late hour with hit songs like "Fly" and "Fan", before settling to a slower-paced remade version of "Eyes, Nose, Lips". To say that Epik High gave good fan service is an understatement, as Tablo even answered to a comment by a fan in the crowd, drawing roaring cheers from envious fans. Epik High then temporarily left the stage, which got the crowd chanting for more. Their request was answered as Epik High came back on stage to end the festival with "Don't Hate Me" before Tablo officially ended the set by promising "We'll be back".
KAvenyou would like to thank Red Spade Entertainment for the opportunity to cover this event.
Check out KAvenyou's Facebook page for more photos of Skechers' Sundown Music Festival!
( https://www.facebook.com/media/set/set=a.1067470686616616.1073742152.126224380741256&type=3 )
Article by: Beatrice @ KAvenyou
Photography by: Beatrice @ KAvenyou and Red Spade Entertainment