Internet sensation NAMEWEE 黃明志 spent a "Tokok" night with fans in 4896 (西北夠力) world Tour in Singapore (4896世界巡回演唱会)
3 February 2018, Singapore – Malaysian internet sensation NAMEWEE 黃明志 was here in Singapore with his 4896 world Tour in Singapore (4896世界巡回演唱会). The world tour kicked off in Taipei to a sold out venue, and the trend was set to continue in Singapore. He first made a name for himself with hit songs "泰國情歌", followed by other hit collaborations like "漂向北方".
The name NAMEWEE 黃明志 seems to guarantee loads of entertainment, with his regular Youtube programme "Tokok" proving that point. The concert was filled with a variety of guests, local flavour, and his usual sarcasm and self-deprecating jokes.
AMOi-AMOi worldwide release of "Happy Go! 黑皮狗!" at 4896 Singapore
The concert kicked off not by himself, but a special "debut" by girl group he produced – AMOi-AMOi (comprising of ET, May, Stella and ShaoQi). It's not their first reveal, but rather the worldwide release of their new song "Happy Go! 黑皮狗!".
Guest appearances lights up 4896 in Singapore
NAMEWEE 黃明志 himself then took over the stage of 4896, performing various medley of his songs like 击败人, 啪啪啪, and 麻坡的华语 2017. The highlight then came with his showcase of his vocals with 飙高音. The guests that would make an appearance at the concert also made much headlines, with only Singapore singer Boon Hui Lu the only announced guest.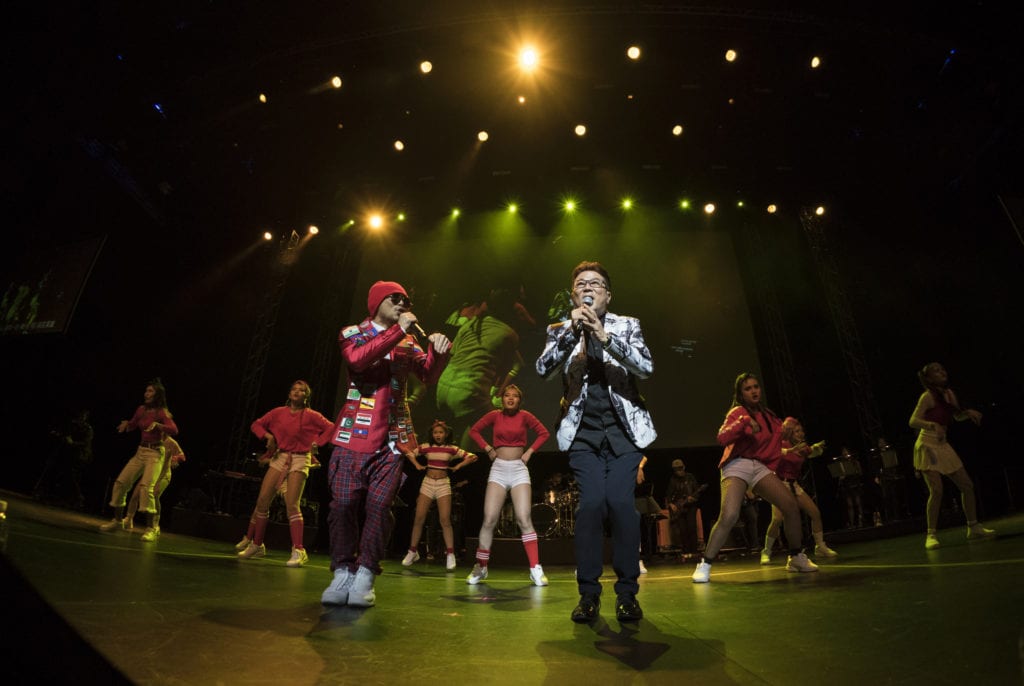 Singaporean director, host and actor Jack Neo added to the local flavour as NAMEWEE performed 搞笑快行动; based on a popular Singapore variety show of the 90s. NAMEWEE's own parents were on point for the performances of 老母 and 爸爸的梦, before Boon Hui Lu brought the roof down at 4896 with 漂向北方. This concert is also the first time he performed 爸爸的梦 LIVE with his father; and added that his crew would be filming this performance as part of the song's music video. He went as far as requesting the cooperation from the fans, and joked "如果camera拍到你要像中國好聲音,掉眼淚給二十塊".
The event then came to a close with encore performances of 泰国情哥 and 不想上班, where NAMEWEE used his Tokok programme to encourage the fans at 4896 to bring him back on stage.
Malaysia sensation Namewee 黃明志 gave Singapore fans an entertaining night, since his concert was banned in his home country… Check out what you missed yesterday night!!

#4896世界巡迴演唱會 #namewee #namewee黃明志 #飆高音 #漂向北方 #泰國情歌

Posted by KAvenyou on Saturday, 3 February 2018
4896 World Tour in Singapore (4896世界巡回演唱会) was brought to you by Mode Productions and of course NAMEWEE 黃明志.
Article by: James and CKK @ KAvenyou
Official Photography: Mode Production