WANNA ONE held their 1st Fan Meeting in Kuala Lumpur on Jan 19 at Stadium Negara. Their tickets were sold out in 4 hours and 6,000 Wannables from all around the world were gathered at the stadium! The fan meeting was an 'unforgettable' moment for Wannables, be it good or bad.
The fan meeting started at 8pm sharp with Wanna One coming up to the stage. The crowd was getting so excited seeing the boys. Wanna One began the show by performing Energetic and Beautiful! While Wanna One was performing on stage, the crowd in Rock Zone couldn't stop pushing towards the stage causing a commotion. Security and medical teams were seen walking towards to Rock Zone.
After performing two songs, the boys were asked to introduce themselves, but they stopped when they noticed the situation in Rock Zone. Due to the pushing, many fans were injured and some even fainted! The whole scenery was really chaotic, security and medical teams were trying to execute those fans who fainted. Looking at what was happening in Rock Zone, Wanna One asked fans to calm down and to stop pushing. They were so worried about more fans getting hurt, saying "Your safety is our priority!"
The crowd didn't seem to be calming down, hence MC asked Wanna One to go backstage. As they were leaving, Daehwi said "We won't come out unless you all calm down!"
Staffs, security and medical team were giving out water to the fans in Rock Zone to prevent them from dehydration. (Apparently the area in Rock Zone was too crowded, many fans fainted due to suffocation) It was so out of control that even the police got involved. The policeman got on stage and warned the crowd, saying if everyone does not cooperate, they have the rights to cancel this show. Hearing that, Wannables in Rock Zone tried their best to cooperate and sit down. It was not easy, but after spending an hour and a half working on it, along with Wannables cooperation, everything was finally under control.
When MC asked Rock Zone crowd to stand up once again to welcome Wanna One back on stage, surprisingly the crowd were shouting "NO!" They didn't want the commotion to resurface again halfway during the fan meet. In the end, the organizer came to a conclusion to resume the show with Rock Zone remained seated. This could be the first fan meet in Malaysia where they have "seated-Rock Zone".
The Boys are Back on Stage!
Wanna One once again came back to the stage, greeting fans with their charming smiles, the commotion did not stop them from giving their best to Wannables! The members played some games during the fan meeting. During one of the games, members MinHyun and SungWoon were holding the rope, and with others members completed the mission in a short period!
When MC asked Wanna One weather they liked the weather of Malaysia, they replied due to winter day in Korea, they really enjoyed Malaysia warm weather. The MC continued to ask if Wanna One had any unforgettable memories in Malaysia these few days, they replied with sweetest words that "these moments (which are the moments with Wannables) are their most unforgettable memories in Malaysia." They really appreciated all the support from their fans.
Knowing Daehwi birthday falls on January, Wannables prepared a surprise birthday event for him! As the birthday cake was handed to Daehwi, Wannables sang him birthday song in English and Korean! Daehwi thanked the fans for celebrating his birthday in such memorable day. Wanna One then performed Wanna Be and Pick Me before giving their last greetings to fans. They then performed Always in smart black suits, making Wannables went crazy once again.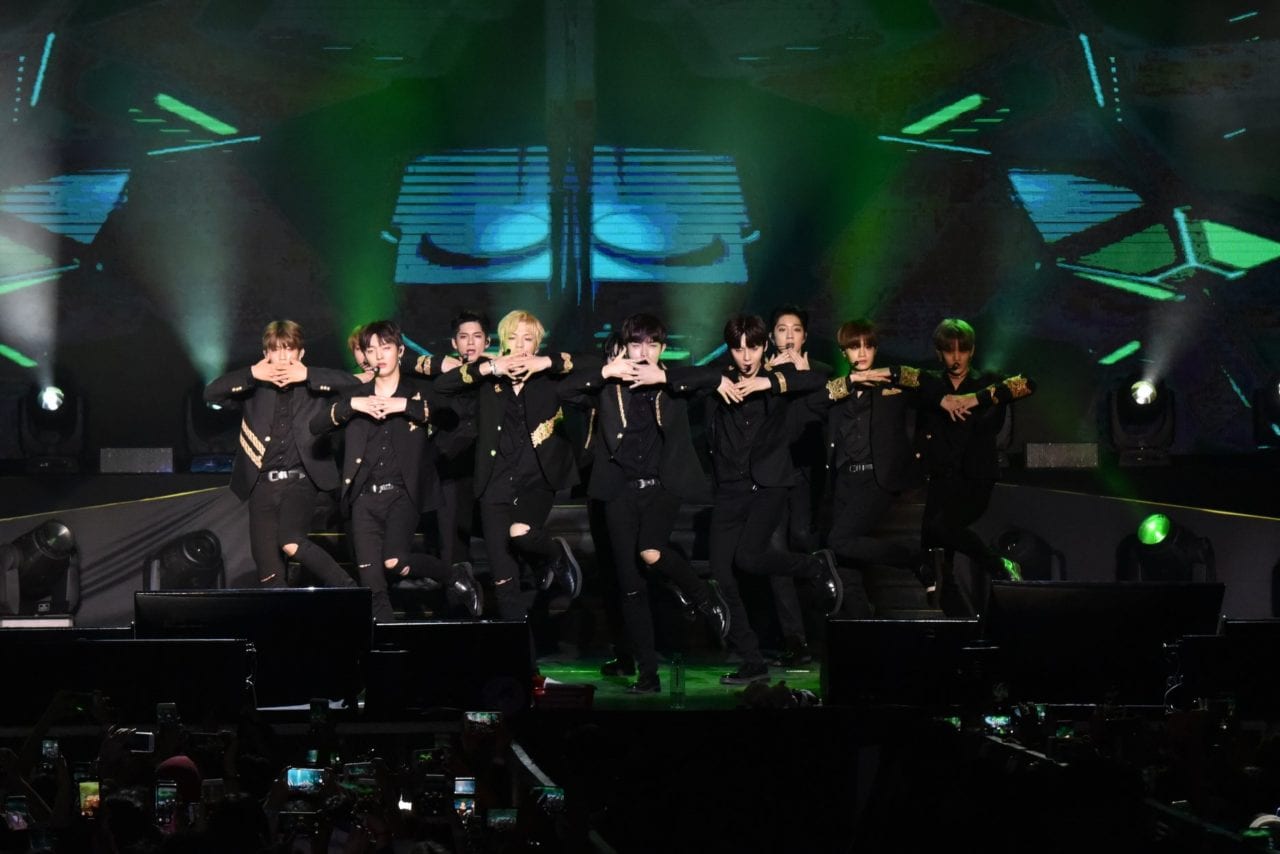 Just when we thought it was the end of the show, Wanna One came up to the stage again for encore performance with Never and Burn It Up giving the fan meet a wonderful ending!
It was unfortunate that the show was cut short due to the commotion; however we believe it was a memorable night for everyone. Keep in mind, safety always comes first, we hope that everyone will enjoy all the future shows safely while having fun!
Article by: Adeline
Photos by: IME Asia