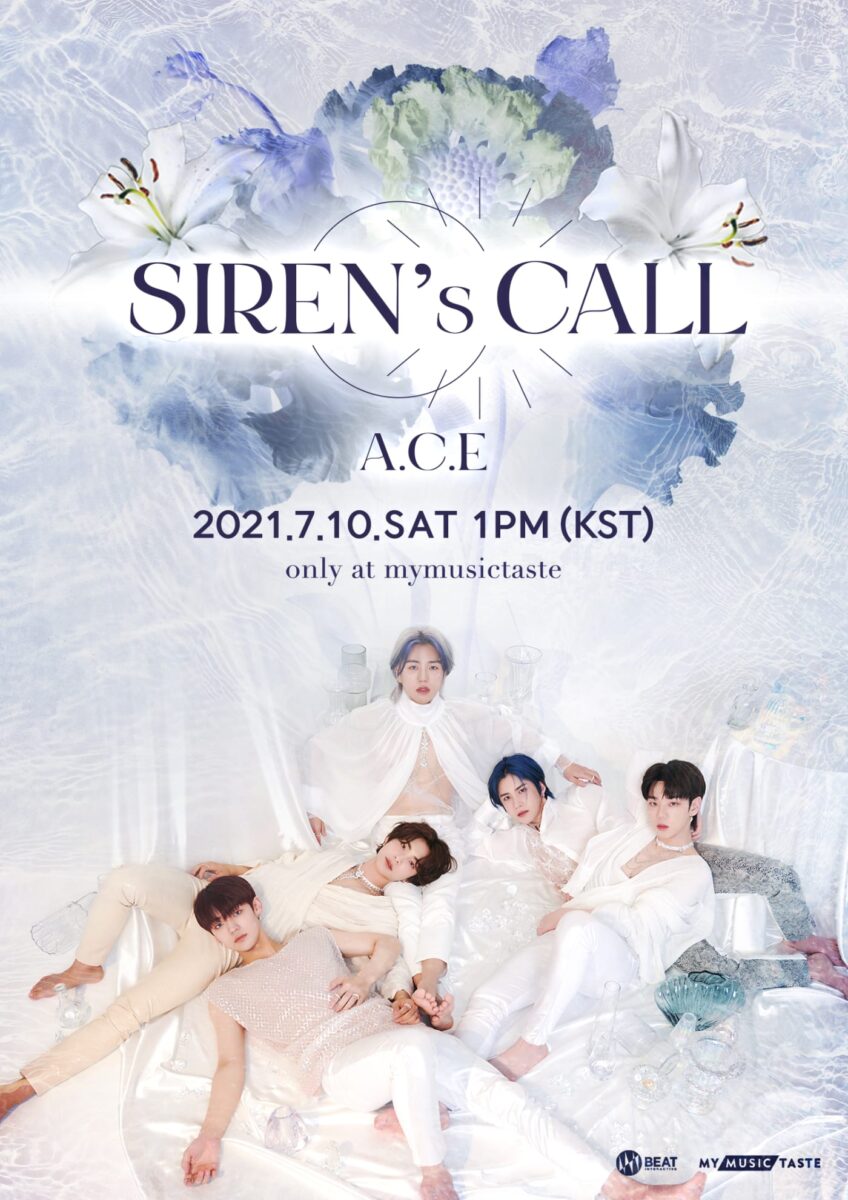 A.C.E, who continuously defy all the stereotypes of the K-Pop scene, are coming back with their second online concert in July. They resume their exploration of the fantasy world with a dive into the mysteries of the sea as they respond to the SIREN'S CALL on July 10th at 1PM KST.
As a group that developed a strong relationship with fans through their busking performances since debut, A.C.E is gearing up for not just a comeback, but a meeting with their fans through the online concert that follows the same concept as their fifth mini album.
It's been eight months since their last online concert, and A.C.E have been keeping busy with chart-topping releases that have only raised the level of anticipation from fans for [SIREN:DAWN].
In January 2021, they made their grand entrance to the US Billboard Dance/Electronic Digital Song Sales Chart for their single 'Fav Boyz', a remix and collaboration with Steve Aoki and Thutmose, making them the third highest ranking K-pop artist. This wasn't the only significant achievement, as they made it onto other charts as well, including the World Digital Song Sales chart, debuting at fourth and turning the heads of several media as they commanded attention with their Gold Star remix that shocked with catchy lyrics and an addictive beat. April brought a surprise when they dropped a collaboration track with Grey, 'Down', EDM-infused pop song that had fans ready for the summer.
Although member Wow did not participate in the last A.C.E project, fans can look forward to seeing him in their much anticipated comeback on June 23rd and in the online concert on July 10th.
Their second online concert, A.C.E ONLINE CONCERT: SIREN'S CALL lures with the promise of dynamic powerful stages and beautiful vocals that will leave fans breathless.
For this concert, A.C.E works in collaboration with MyMusicTaste, a technology forward platform that breaks the barriers set by the pandemic and brings fans and artists together to create a new way of connection.
A.C.E's five members: Jun, Donghun, Wow, Byeongkwan, and Chan are ready to take the stage and call upon their fans, Choice, with their siren song in SIREN'S CALL.
Further information regarding ticketing and the show itself can be found through https://mmt.fans/MO4X or through MyMusicTaste's other social media channels.
A.C.E ONLINE CONCERT: SIREN'S CALL
Date: 10 July 2021
Time: 1PM KST
Ticket Purchase: MyMusicTaste