Popular Korea drama "Goblin" has concluded, but the hype is far from over – Visit the 5 best filming locations
If you're part of Goblin fanbase, you can't miss a visit to some of the beautiful places in Korea where this hit drama was filmed.
For those of you who are still not over the drama yet, here are five of the best filming locations from Goblin to visit!
1. Hanmi Bookstore
This small bookstore in Incheon appears in the scene where Eun-tak (Kim Go-eun) and Shin (Gong Yoo) lovingly stroke each other's heads while walking down an alley.
With its eye-catching façade featuring a bright yellow color, this bookstore has quickly become the newest Instagram hot spot for Goblin fans. Try a visit and take photos at the spot, which will make the other fans envy for sure!
For directions and map, click here.
2. Borinara Hagwon Farm
Boasting a stunning natural beauty, this is the beautiful barley field where Shin plucks a handful of flowers at and paces in before being summoned by Eun-tak for the first time in Episode 1.
For directions and map, click here.
3. Cheongna Lake Park
Stretching through the heart of Cheongna International City, Incheon, the park was used as a location where a drunken Shin reveals the truth about the sword stuck in his body in Episode 3.
For directions and map, click here.
4. Jumunjin Beach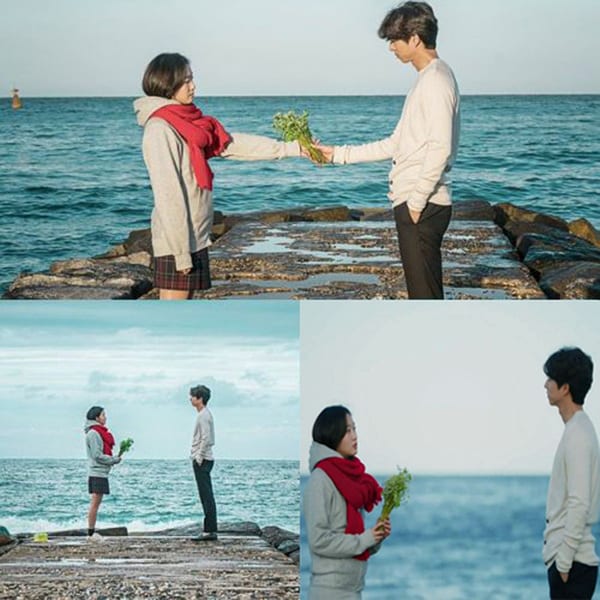 One of the most unforgettable scenes for the fans would be where Eun-tak and Shin first meet and speak to each other at a beach. The scene was filmed at Jumunjin Beach in Gangneung, Gangwon Province.
Although the drama is over, many fans are still flocking to the beach today. If you would like to recreate the scene, you can rent a bundle of buckwheat flowers, a red scarf and an umbrella for 1,000 won each from the vendors on site.
For directions and map, click here.
5. Yongpyong Ski Resort
This back hug scene made all the female fans go crazy, right? It's when Shin finally confesses his feelings to Eun-tak and gives her a back hug against this amazingly beautiful backdrop, the Dragon Peak at Yongpyong Ski Resort in Gangwon Province.
One of the most romantic locations in the drama. You should absolutely go with your special someone, to experience recreating the scene.
*To give you a heads up, K-Drama Festa will take place near Yongpyong Resort on Feb 22, 2017. Featuring a K-pop and K-drama OST concert, EXO-CBX, BTOB, and more will be performing at the event. For more info, click here.
For directions and map, click here.
If you want to find more filming locations from "Goblin" visit Trazy.com, Korea's #1 Travel Shop. You can also discover the latest, trendiest and newest things to do in South Korea.
Article by: Yemi @ Trazy.com