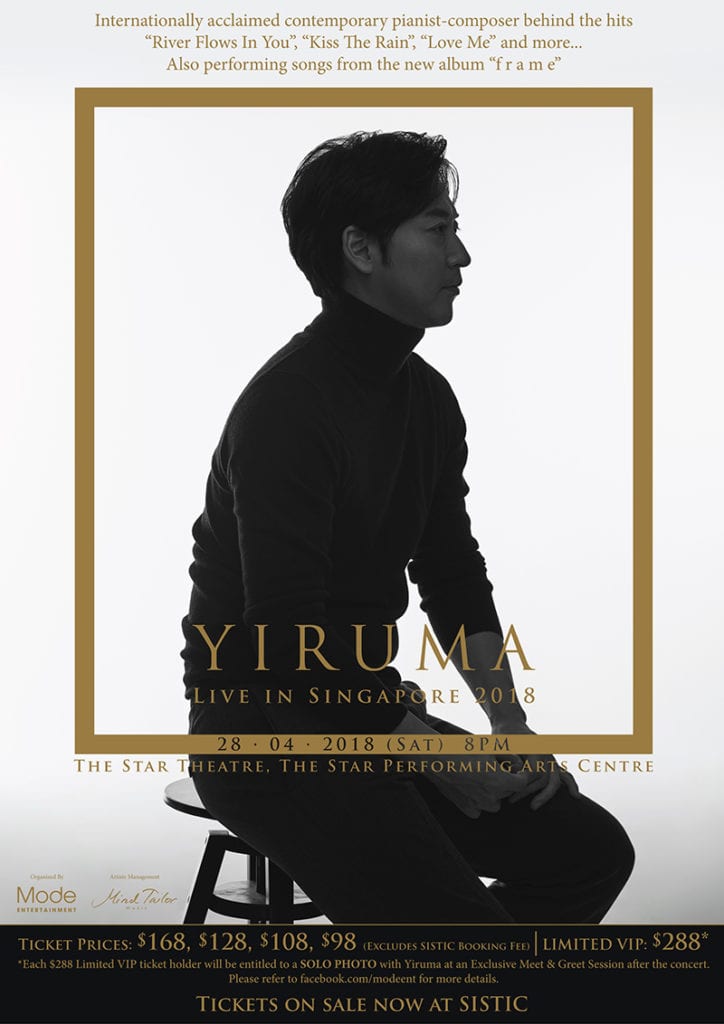 After his sold-out tours in 2015, 2016 and 2017, popular and well-loved Korean contemporary classic composer & pianist, Yiruma is coming back to Singapore next year!
For this upcoming concert – Yiruma Live in Singapore 2018, he will be performing his signature classics such as "River Flows in You", "Kiss the Rain", "Love Me" and "May Be". Yiruma will also premiere mesmerizing pieces from his new album "f r a m e". Yiruma is set to captivate audiences once again with his charming personality and engaging interaction at the concert.
Over the years, Yiruma has performed successful tours around the world, from Singapore to China, Malaysia, Australia, Europe, and recently New York's Carnegie Hall and Los Angeles' Dolby Theatre. Back in Korea, he holds the record as the classical artiste with the largest audience at a single concert, and the greatest number of concerts by a single artiste!
Well-loved by popular Korean stars, Chanyeol from top boyband EXO recently made news with his rendition of his favourite tune, "River Flows in You". Other famous K-pop stars such as Henry from Super Junior, Ailee, Hyolyn, Baek Ji Young have all chosen to collaborate with Yiruma over the years.
Yiruma's concerts have been known to resonate with audiences from all walks of life, who have their own stories set to the emotions of Yiruma's music. As Yiruma once said, "I want my music to be the background music of your life". Don't miss Yiruma in this one night only concert – Experience his beautiful music and charisma live!
Event Details
Name: Yiruma Live in Singapore 2018
Date: 28 April 2018 (Sat)
Time: 8PM
Venue: The Star Theatre, The Star Performing Arts Centre
Ticket Prices: $288 – Limited VIP*, $168, $128, $108, $98 (excludes SISTIC Booking Fee)
*Each $288 Limited VIP ticket holder will be entitled to premium seat and a SOLO PHOTO with Yiruma at an Exclusive Meet & Greet Session after the concert.
Tickets are available on all SISTIC channels.
Yiruma Live in Singapore 2018 is proudly presented by Mode Entertainment.