The annual Singapore Night Festival is back, with its 8th year. This time round with more exciting shows and beautiful art installations for everyone!
Singapore Night Festival currently features over 60 festival partners, and is now one of the region's most anticipated annual events.
As a museum-goer myself and also once a volunteer assistant for Singapore Night Festival a few years back, I always make it a point to visit the annual event, if I can! So for readers who went for the Night Fest in previous weekends, I'm sure you had a great time just like me! And for those who did not manage to attend the Night Fest, it is okay, because I will do a short coverage for you!
The Singapore Night Festival runs for 2 weekends, Friday and Saturday, 7PM-2AM. 21 & 22 August, and 28 & 29 August. Both weekends are almost the same, except that there are certain shows happening only on that particular day!
Singapore Night Festival consist of 5 zones. From National Museum of Singapore, Armenian Street (Peranakan Museum, Sub-Station & Armenian Street), House of Glamour at Cathay Green, Festival Village at Singapore Management University (SMU) and Singapore Art Museum. All the places are of walk-able distance between each other, so it is very convenient for the public.
So before we get all ready to visit the museums and the various art installations, we had our tummies filled up at the Festival Village! The food that I was looking forward to was Soi 55 that sells awesome Thai beverages such as milk tea, rose milk tea and green milk tea!! And also The Quarters with their salted egg fries and chilli crab mantou! ;3
Festival Village has a variation of food, from snacks to mains to dessert, such as churros, satay-in-a-cup, macaroni, chicken kebab, tiramisu and creamsicles!
Different zones have different art galleries and installations, apart from the temporary art exhibitions that was set up to the special light installations just for the Night Festival! We went to the Armenian Church to see the light installation, titled Hanami by Clee Mastoc Production (France). This light installation is inspired by Hanami, the Japanese tradition of celebrating the transient beauty of cherry blossoms each spring.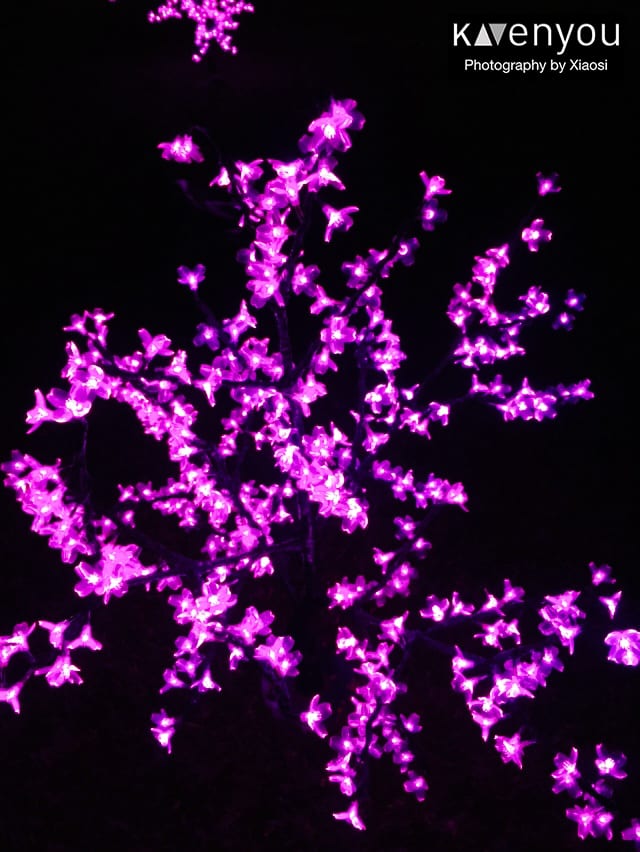 Right after that, we went to Philatelic Museum to look at stamps and then to the Peranakan Museum for the light installation titled 'Illuminate' by the students from Nanyang Academy of Fine Arts. It is definitely a party / club-ish gallery because of the glow-in-the-dark outfits designed by the students and the club music that was playing in that small little room! XD
One of the good things about the Night Festival is that all the museums are FREE for that period of time! So don't worry about having to pay extra just to visit museums! XD
National Design Centre at Queen Street also had its own light installation titled 'Pixels Wave 2015' by Michael Chevaliar in collaboration with Carolyn Kan and Depression, co-presented by Design Singapore Council. 'Pixels Wave 2015' is about a giant light carpet that changes colour and form. Everyone was sitting on the floor and taking photos as the pattern changes from time to time!
The main highlight for the night (IMO) would probably be the 'Garden of Angels' by Theater Tol from Belgium! It was a 25 minutes show and everyone was awed by their performance!
As this year is the golden jubilee of Singapore (SG50), the world's smallest Inuits, Anooki was also here at the National Museum of Singapore as they pay a special birthday tribute to Singapore! ^^;
There are a lot more of art installations, performances and shows happening at Singapore Night Festival, these are the fews that I visited and find very interesting and awesome and wanted to share! Definitely looking forward to next year's Singapore Night Fesival! How about you? 😉
Article & Photography by: Xiaosi @ KAvenyou.com