Korean "Prince of R&B" TAEYANG successfully held his first Hong Kong solo concert "2015 TAEYANG WORLD TOUR [RISE] in HONG KONG Sponsored by Modern Education (Hong Kong) Limited" on January 10, 2015 (Saturday) at AsiaWorld-Expo Hall 10. TAEYANG impressed the audiences with his outstanding vocal and unrivalled dancing skills, proving that he is the one and only "Prince of R&B"!
TAEYANG kicked off the much-anticipated concert and showed off his perfect body with the upbeat song "Body". He then got every audience up on their feet with "Superstar" and "Move", which were both from his first solo album "Solar".
TAEYANG then showed off his all rounded talents with a heart-melting songs "You're My". He also performed his signature song "I Need a Girl", where one lucky audience was invited to the stage to become his girl friend! The lucky audience was fascinated, yet nervous, especially when TAEYANG looked directly into her eyes and danced with her! Sound of jealousy came from below the stage as everyone wanted to be the lucky girl on stage so badly! After sending the lucky girl off, TAEYANG then continued to demonstrate his outstanding vocal with the song of the year "Eyes, Nose, Lips", "Only Look At Me", "Wedding Dress" and "This Ain't It". All audiences were touched by his sentimental voice and waved the signature crown light stick gently along with the rhythm.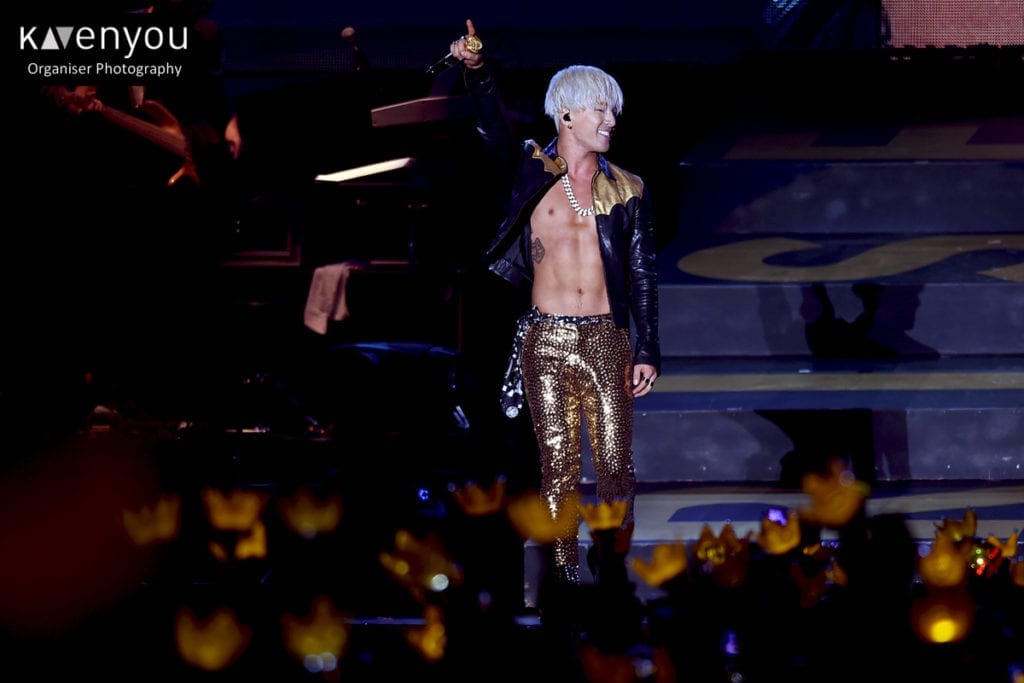 TAEYANG then kicked-off the second half of the concert with some powerful songs. TAEYANG first begin with "Ringa Linga", a song written by G-Dragon which swept Korean real time music charts and topped iTunes in 5 countries. TAEYANG then continued to showcase his amazing dancing talent with "Break Down". TAEYANG, who always looks for interactions from the audience, moved along the main stage and also the extended stage to get close with the fans and get everyone involved! All audiences in the standing zones immediately went crazy. They screamed and waved the self-made banners to try to get his attention.
TAEYANG then showcased his unparalleled attractiveness and connected with the audience with "1AM", another hit song from his latest album "Rise". He then confessed in love and invited all audience to stay with him by singing "Stay With Me". All the audiences were so fascinated by the song and chanted along loudly with him!
TAEYANG then performed "Good Boy", his latest collaboration with G-Dragon! Given that this is his first solo concert in Hong Kong, TAEYANG has specially prepared a pair of autographed shoes for Hong Kong VIP. A lucky audience was picked and was given this premium gift after the show. TAEYANG planned to end the concert with two emotional songs "Let Go" and "Love You to Death". However the passionate fans were not willing to leave and keep demanding TAEYANG to return the stage! Touched by the love and passion of the audiences, TAEYANG returned to the stage for the encore stage. He dedicated his sincere gratitude for the tremendous support from Modern Education, the title sponsor and sound check party sponsor. He then performed "Bad Boy" and "Fantastic Baby" and concluded the spectacular concert with "Eyes Nose Lips", the greatest hit from his chart topping album "Rise"!
With the tremendous love and support from the enthusiastic fans, music lovers and fashionistas, all concert tickets of TAEYANG first solo concert in Hong Kong "2015 TAEYANG WORLD TOUR [RISE] in HONG KONG Sponsored by Modern Education (Hong Kong) Limited" were promptly sold out on the first day of its public sale, attracting approximately 5,000 audiences in total. A NEW & SPECIAL Limited Edition Tour Album of Taeyang was distributed to all HK$1,480 ticket holders. Audiences were excited to be able to witness the passionate performance of TAEYANG and brought home the Limited Edition Tour Album and are already looking forward to his next performance in Hong Kong.
Deeply touched by the passionate love and support from all Hong Kong fans and Modern Education, TAEYANG has specially held a Meet & Greet session after the show. 10 outstanding students of Modern Education and 20 lucky fans who were drawn in the early afternoon were able to meet and took photo with TAEYANG. All fans were pleased to have the rare opportunity to interact closely with their beloved idol. TAEYANG has also revealed that he wished he could come to Hong Kong again in the near future. After the Hong Kong concert, TAEYANG will continue his tour to China, Malaysia, Singapore, Indonesia, Thailand and Taiwan, etc.
Commenting on the concert, representatives from the concert organizers, including ELF ASIA and Live Nation Lushington (Hong Kong) stated, "We are pleased to have the opportunity to hold TAEYANG first solo concert in Hong Kong. TAEYANG is one of the best male Korean artists and we are proud of that TAEYANG has chosen Hong Kong as the first station to begin his first world tour. With the great love and support from all Hong Kong VIPs, we hope that the Hong Kong station would be a great start for TAEYANG and we sincerely wish TAEYANG all the best in the following stations of the tour."
Modern Education (Hong Kong) Limited is the title sponsor and also the sound check party sponsor of "2015 TAEYANG WORLD TOUR [RISE] in HONG KONG". 200 lucky students of Modern Education were thrilled to have the unique opportunity to attend the sound check party and witness the rehearsal of TAEYANG. Citibank is the exclusive priority booking service provider of the event. A Bathing Ape is the co-sponsor. They have presented the first ever premium line, namely "A BATHING APE® BLACK", of the brand to TAEYANG, making him the world's first ever celebrity to wear and receive the full "A BATHING APE® BLACK" collection. Commercial Radio 2 is the media partner. It is also fully supported by Hong Kong SkyCity Marriott Hotel, AsiaWorld-Expo and HK Ticketing.
ELF ASIA and Live Nation Lushington (Hong Kong) are the promoters of "2015 TAEYANG WORLD TOUR [RISE] in HONG KONG Sponsored by Modern Education (Hong Kong) Limited".