On October 25th, Pentagon performed in Paris as a part of their Prism tour.
Despite being 3 years old already, it was the first time for Pentagon to bring their concert to Europe.
This tour is entitled "Prism". A reference to the transparent object that separates white light that passes through it into different colors.
The group made sure to let everyone know that this was the reference, with the members saying (in french, thumbs up for the pronunciation) : "Montrez-nous vos ailes, montrez-nous vos couleurs" (Show us your wings, show us your colors). The reciprocal was true too. The members explained that they carefully chose the set-list to make sure to show there different charms and colors.
For any outsider, Pentagon's white light would probably be songs like Shine, Humph, or Fantasystic. Playful tones, uplifting mood and synthetic sounds. It's the songs that the general audience think about first. Which could be because Shine was the group's first song to do well in charts, hence the following songs naturally garnered more attention.
But looking at the group from the prism of a concert, Pentagon has much more colors to show and many more sides to explore.
Usually, covers and special stages are the perfect opportunity for artists to show their own personnality. Pentagon didn't miss out on this opportunity. YeoOne, Hui, Yuto and Kino performed a cover of Bad Guy (Billie Eilish). With charisma and a sexy choreo, they impressed their Universe (fandom name) showing a more mature image. As for Wooseok, Hongseok, Jinho and Shinwon, they proved that they master the british pop genre with a cover of Best Song Ever (One Direction).
An energetic rendition that also became a perfect moment for interactions between the members and the fans.
However, it was more than just the covers. Pentagon's own songs are by themselves a proof that the group can pull off any color and music genre.
Lost Paradise, sung by Hui, Yuto Kino and Wooseok, shows that these members are really at ease with hip hop. A genre that's always successful in Europe, with fans showing their appreciation for the group's venture into it. The song Spring Snow, on the other hand, sounded like it could belong to a band. As for Critical Beauty, the old funk sound is so catchy that you can perfectly imagine it being performed with a live orchestra.
Usually, going to one's concert would leave you with the feeling that you understand their color more. Going to Pentagon's concert only makes you realize that they don't have "one" color. Not because they lack one, but because they have many. It wouldn't be surprizing to see that they still have many unshown colors to uncover in the next few years.
Obviously, this is something Universe already knew. They knew every songs, sang with the group, and even danced with them. During he concert, Pentagon fed off the crowd and the interactions between both only enlightened how much the group has to offer. Especially during the encore, as the group let go of their choreo to play with water and have fun.
With a double refractation experiment, the initial white light that became a color spectrum through a first prism is passed through a second prism. The various color beams are further spread to result in a somewhat wider spectrum display. If the concert itself was the first prism, the fans can be considered the second prism that only made each color of Pentagon more clear and distinct.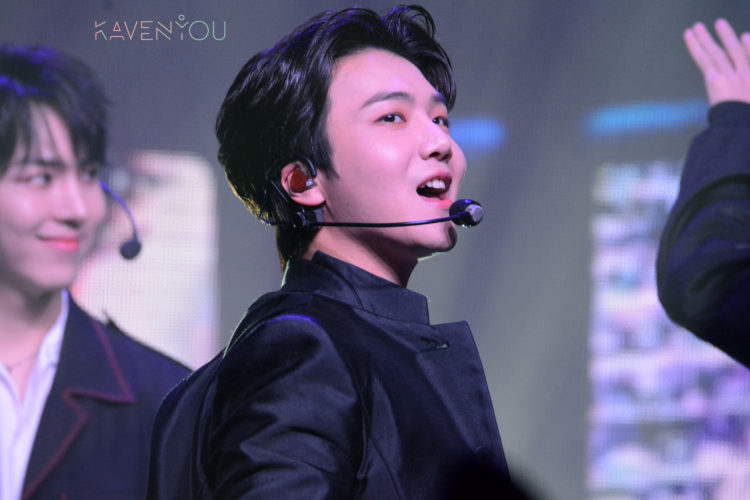 Besides, October 25th was also the opportunity for everyone in the venue to celebrate two events.
First of all, an unexpected one : Hongseok parents actually went to Paris to watch their son perform and celebrate their wedding anniversary. Fans were quick to help Hongseok congratulate his parents. The member even remained cutely confused. He wanted to ask Universe to give his parents a round of applaude but the fans did it first without him even asking.
The second event was more expected and planned. Despite Yan An having to sit out of this tour for health reasons, the Universe didn't forget his birthday. They planned banners that said "Happy Birthday Yan An, we're really proud of you". The members seemed very happy to join in the celebration and to sing with the fans. They recorded the crowd, saying that Yan An will probably be very happy.
A similar design also was used for the whole group, saying "You're Our Universe". The fans held it up during the song "Beautiful". The song, with sweet vocals and soft rap lines, asks "How can I show you my love ?". A question to which Pentagon and Universe found an answer to on that night, both probably feeling equally loved by the oher side.
We'd like to thank MyMusicTaste for having us at Pentagon's Prism World Tour. Don't forget to visit their website to request for your favorite artists in concert.