Following her sold-out first solo concert in Singapore last year, IU returned to our shores again for her 2019 IU Tour Concert "LOVE, POEM". IU proudly announced to the audience on day 2 of the concert that both shows were sold out, further proving the songstress' popularity here.
KAvenyou's coverage will be of day 1 (6 December) of her concert in Singapore, which lasted for a total of 3.75 hours.
IU opened the concert with "unlucky" and an acoustic rendition of "Palette" before greeting Singaena, a term she lovingly gave to Singapore UAENA. Being back in Singapore again to perform for her fans after a year, IU wants Singaena to feel loved through this concert and also added that she really loves performing here.
Continuing with "Autumn Morning", "Friday" and "Secret Garden", IU returned to stage with "The Visitor", "Jam Jam" and "Twenty-three" after an outfit change. IU also had fond memories performing "BBI BBI" last year in Singapore and was delighted to return to perform it again.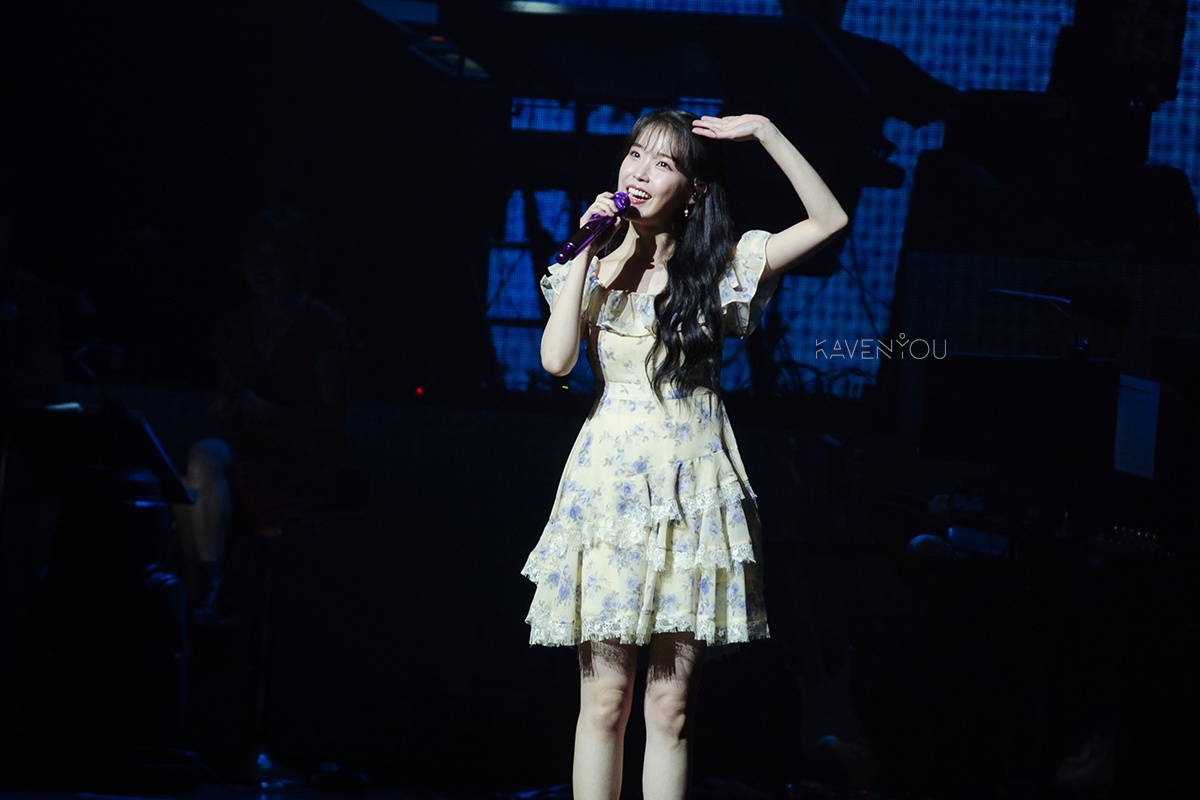 IU impressed everyone belting high notes for "Hold My Hand" – even getting fans to join in, the fanchants for "Blueming" were really loud (which she asked the fans if they've watched her fanchant guide online) and the audience held up their flower lights that was placed on every stall seat, creating a beautiful sea of blueming roses. After "Meaning Of You", IU surprised Singaena with a medley of songs from the OST of her recent hit drama, Hotel Del Luna, before performing "Happy Ending" in full. IU actually prepared this surprise due to fan requests and even her Korean fans did not get to hear them during her shows in Korea, so it was really lucky for her Singapore fans to watch her perform it live. As it was prepared quite last minute, IU asked her fans to bear with her as the songs lacked practice – but which she still delivered flawlessly.
IU's mesmerizing vocals continued to fill the venue with favourites like "Lullaby", "Through The Night", "Sogyeokdong" and "The Red Shoes". Fans were treated to "Above The Time" performed for the first time here, followed by "You & I" which was accompanied with a beautiful display of confetti.
IU returned to stage for her first encore, and was teasing that the fans chanted for an encore so quickly – that she did not even take time to take a toilet break! For her encore, she performed her classic hit "Good Day" and her latest song "Love Poem", which was also greeted with a LED flower field as part of the fan project.
True to all her concerts, IU returned with an re-encore, singing together with fans and fulfilling fan requests. Starting with "Heart", IU also performed "Sleepless Rainy Night" and "The Night Of The First Breakup" with her very accommodating live band, before concluding the first night with "Someday" – a song that most of us haven't heard in a while since the Dream High days.
Although the previous stops for her concert tour has been tinged with sadness, IU revealed that she was actually constantly happy while performing that night, even during sad songs – because of Singaena. IU even confessed her love to her fans, saying "I love you" (which was her first time saying it in English), and also lovely phrases like "I adore you" and "I cherish you".
IU also made a promise with fans, to meet again in Singapore next year at the same place (with her official lightstick). She asked fans to keep on living well, and if things are hard for them – to remember the promise they've made together.
Photo credits: KAvenyou