Korean heartthrob and currently the latest sensation in the Korean entertainment industry, Kim Soo Hyun, was finally back in Singapore after three years for his first ever Asian tour – 2014 Kim Soo Hyun Asia Tour 1st Memories in Singapore. The fan meet kickstarted with Kim Soo Hyun serenading the the 2800-strong audience with Dreaming, from the drama Dream High.
After the first song of the night, Kim Soo Hyun greeted the fans present, "I hope you guys can make happy memories with me! This is my second time in Singapore after three years, and it is so different this time round with so many of my fans here!" After the filming of his latest drama which also propelled him to sky-high popularity, You Who Came From The Stars ended on a good note, Kim Soo Hyun has been visiting various Asian countries for his fan meeting tour, and it was finally Singapore's turn.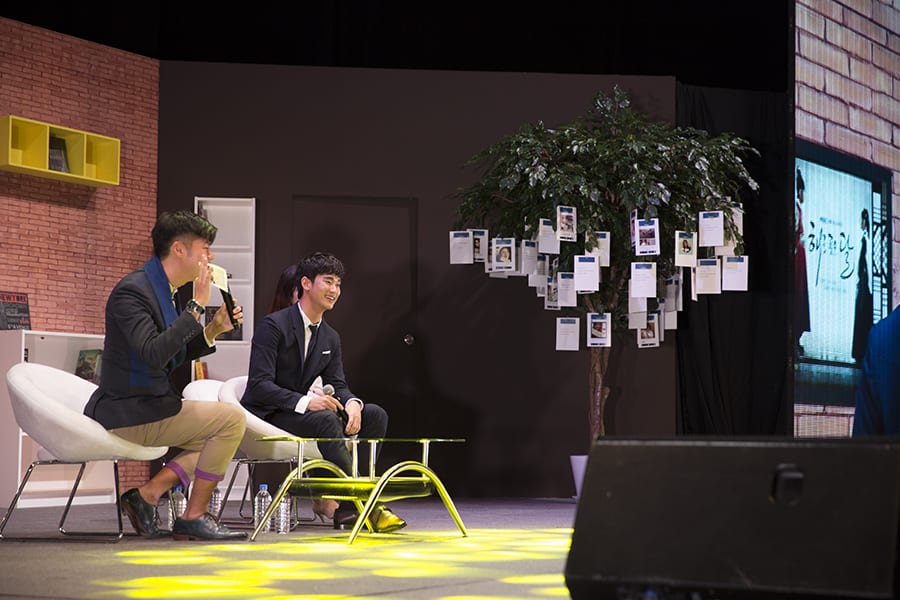 A video of Kim Soo Hyun's works was shown, and he shared more about the behind-the-scenes. Before embarking on a new project, Kim Soo Hyun will remove himself from his real life character and instead immerse in his new character. He also admitted that he was actually embarrassed of (the roles of) the productions he was involved in, and he felt like dying watching those scenes together!

One of the most memorable couples in Korean dramas will definitely be Kim Soo Hyun and Suzy in Dream High. When the topic of Suzy was brought up, he beamed proudly and said, "Suzy is very lovely, isn't she?" In the period drama, The Moon That Embraces The Sun, Kim Soo Hyun got the opportunity to wear hanbok, Korea's traditional costume for his role as the king. He took the opportunity to promote Korea's culture as well, by asking his fans to try wearing the hanbok when they visit Korea, and added that "not many people can pull it off well!" However, when the fans were asked if they prefer to see Kim Soo Hyun in a hanbok, everyone replied no in unison and cheekily shouted "nothing!" instead. The man himself burst into laughter upon hearing the answer and added, "Singapore is a hot country, isn't it?"

Unlike the serious Do Min Joon character as portrayed in You Who Came From The Stars, Kim Soo Hyun displayed his witty and cheeky side during the fan meet. He stood up at few times and told his fans to loosen up, "Looking at your faces, I feel like I'm giving a serious lecture!" When asked about what he usually packs in his luggage, Kim Soo Hyun gave an unexpected reply, "I don't bring a lot of luggage around, maybe about 30 pieces of underwear… and that's about it?"
The topic of Kim Soo Hyun's kiss scenes was also brought up during the fan meet, and in reply to how he felt doing them, he answered  "Kiss scenes are all up to your imagination! It's good to think about it that way." When asked about which superpower would he like to possess, Kim Soo Hyun replied that he had a "dangerous thought", but after a long pause, he added that, like Do Min Joon, it would be good if he could live for 400 years.

Lucky fans got chosen randomly from their ticket stubs to go on stage to take a picture in the style of Kim Soo Hyun's drama/movie posters, consisting of Dream High, The Moon That Embraces The Sun, The Thieves, Secretly Greatly and You Who Came From The Stars. The lucky ones would be the fans that picked Dream High – who got to hold hands and lean back to back, The Thieves – who got to wrap her arm around his shoulder, and You Who Came From The Stars – who got to lean against him, while having their photos taken.

Unlike most actors, Kim Soo Hyun boasts impressive vocals and he displayed his vocal abilities when he performed his renditions of the 1992 classic song, Wearing A Black Skirt (까만 치마를 입고) and Wonder Girls' Nobody, which later on he revealed to be his favourite songs.
Fans who went to the fan meet definitely will not forget this segment of the night – where Kim Soo Hyun's behind-the-scenes photos were shown on screen and he described them one by one. Kim Soo Hyun also teased the translator by weaving long-winded stories for the photos, and having her to translate them word by word in the style of how he had just narrated it. For instance, this is Kim Soo Hyun's story to a picture of him seated in a car:
"I drove my car all the way to Jeju. But in Jeju, my car broke down. In this picture, the people behind are trying to push my car that has broken down. In the end, I decided to abandon my car there in Jeju."

Kim Soo Hyun also made three fans' wishes come true as he picked three fans' photos from a wish tree and called them. One fan that wasa picked was an overseas fan who has travelled to many countries just for his fan meets and she got her wish of him signing on all of her fan meet tickets granted. Another lucky fan got to look at Kim Soo Hyun's eyes for 15 seconds – to which he said that it must be inspired from a certain drama (we all know which drama it is right!)

Before the fan meet ended, Kim Soo Hyun picked some more lucky fans to take photos with him. Instead of the original 5 fans, he picked more fans as most of those selected were the fans seated behind and he wanted to give the fans seated in front a chance too – such a sweet move by him!

Kim Soo Hyun ended the fan meet in Singapore with In Front Of Your House, from the drama You Who Came From The Stars. Kim Soo Hyun displayed his emotional side as he made his farewell speech to his fans present while tearing up. "I'm learning a lot through this Asia tour & I'm very happy as well. For you to give me so much energy and so much to work for, it means a lot to me. I will do my best and work hard to come back to see you all soon!"

KAvenyou would like to thank New Empire Media, Keyeast Entertainment and UnUsUaL Group of Companies for the opportunity to cover 2014 Kim Soo Hyun Asia Tour 1st Memories in Singapore.
Article by: Zhen Zhen @ KAvenyou
Photo and video credits to New Empire Media & Keyeast Entertainment