HallyuPopFest 2018 promises to be the largest K-Pop extravaganza in the region featuring a lineup of fan favourites peppered with a few new faces
Kpop fanatics unite! HallyuPopFest 2018 – touted as the largest Korean pop (K-Pop) music festival, will make it's debut in Singapore. It will comprise of an unprecedented number of K-Pop acts spread across 3 days of festivities and performances by the hottest hallyu acts.
The event will be from 7 to 9 September 2018, coinciding with the local school holidays; which underlines the thoughtfulness of the organisers. Ensuring everyone can let their hairs down for 3 days of immersion into their favourite pop culture. The organisers are still in the midst of finalising the lineup for the festival, but Singapore-based firm H.A.H Entertainment has promised "a strong base of fan favourites peppered with a few new faces". If this doesn't excite our fans from Singapore, Malaysia, Indonesia, Thailand, Vietnam and beyond; I am not sure what does.
We do hope the prices will be attractive enough for fans as well.
More details on the HallyuPopFest 2018 including the full list of performing artistes, ticketing details, festival schedules, and official partners will be announced in the weeks to come. Information on HallyuPopFest 2018 are available at the official festival website: www.hallyupopfest.com and their various associated social media platforms below. If all else fails, just continue to stay glued on KAvenyou.
[UPDATED on 3 July 2018]
Ticketing Details
1 day priority sales of tickets starts 6 July 2018 at 1000hrs (Singapore Time) and ends at 1159hrs right HERE! During the priority sales, get your hands on the coveted HallyuPopFest 3-Day Pack at a 5% DISCOUNT!
---
Realise your K-Pop Dream
All ticket holders are entitled to also sign up for the auditions that will be held on all 3 days by different agencies. Are you going to be the next Lai Guan Lin, have the potential to be in VIXX, or aspire to be a great singer like Soyou? Your shot a stardom is here, and could be nearer then you ever could be. Signup HERE!

---
Rundown of daily activities at HallyuPopFest 2018:
0900hrs: Auditions
1300hrs: Showcases
1530hrs: Red Carpet
1700hrs: Hi-Touch and Group Photos (Only for Daebak! Pass Holders)
2000hrs: Concerts
---
List of announced performers at HallyuPopFest 2018: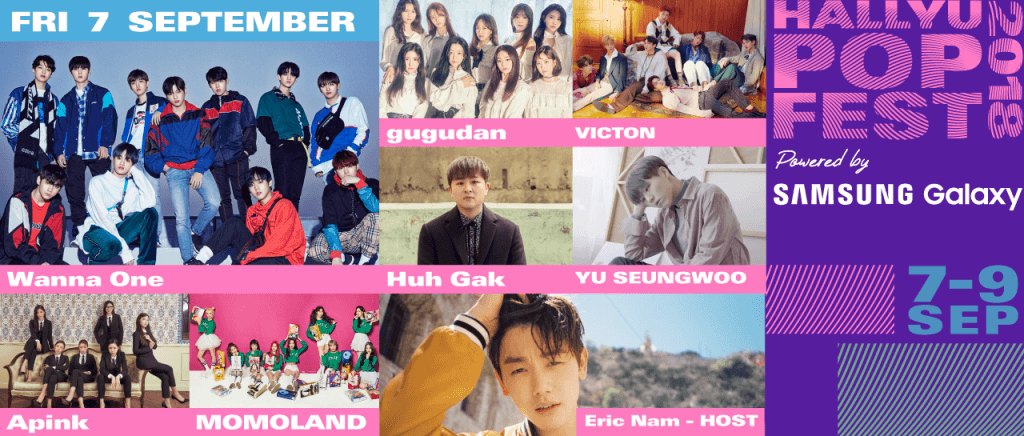 Instagram: @hallyupopfest
Twitter : @hallyupopfest
Facebook : www.facebook.com/HallyuPopFest