Happy Lunar New Year! By now, most of us have already feasted on countless new year delicacies and sumptuous meals. Our Korean counterparts also love eating just like us – but what do they usually eat? (I'm quite sure they don't have pineapple tarts over there!)
1) Tteokguk (떡국)
Similar to the Chinese tradition of eating tang yuan (glutinous rice dumplings), having this traditional dish of soup with sliced rice cakes also means growing a year older. You can also find our your Korean friends' ages by cheekily asking them how many tteokguk did they have!
2) Japchae (잡채)
Made from sweet potato noodles or more commonly known as glass noodles, this dish is stir fried with vegetables and meat (usually beef) in sesame oil. Koreans believe that the long length of the noodles symbolises longevity – so don't cut the noodles short especially when having them during festivals!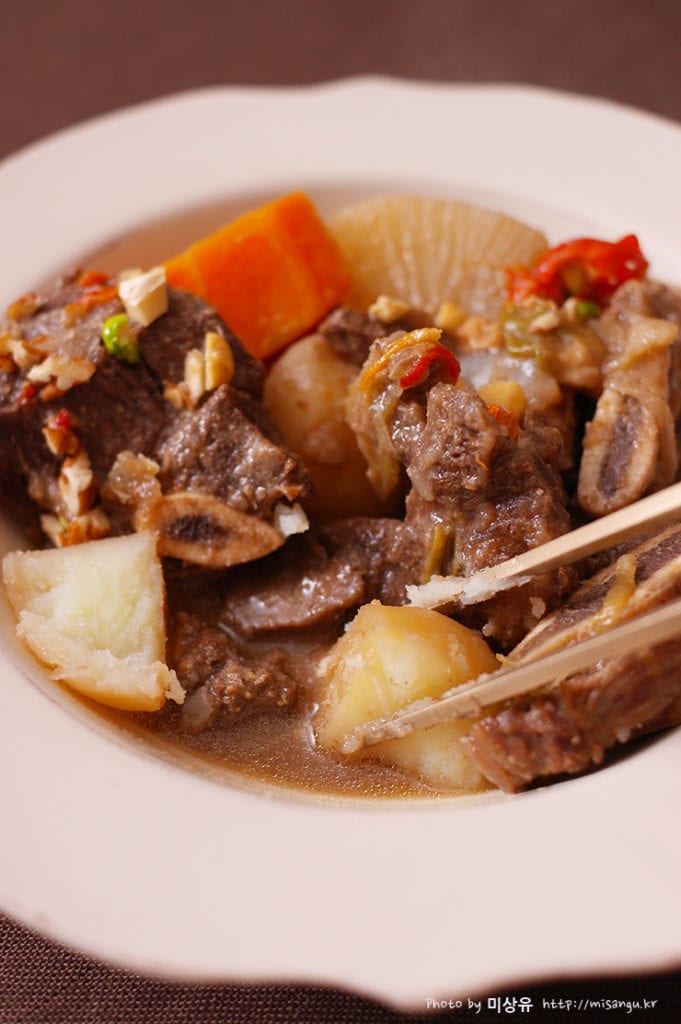 3) Galbijjim (갈비찜)
Galbijjim (Korean braised short ribs), usually served during major Korean festivals like Seollal and Chuseok to honoured guests, is usually made with beef ribs, braised in a dark sauce with vegetables such as carrots and potatoes. The Korean beef ribs used to make this dish are expensive and thus galbijjim is not often prepared by Korean familiies on normal days – so this is definitely a must-try dish if you happen to be in Korea during Seollal!
Also, for the health conscious people who're afraid of putting on too much extra pounds during this festive period, here is a Korean food calorie diagram to refer to:
From top left to bottom right:
– Yakgwa (약과): 172kcal per piece
– Apple (사과): 100kcal per piece
– Samsek-namul (삼색 나물): 397kcal
– Donggeurang Ddeng (동그랑땡): 45kcal per piece
– Dubu jorim (두부조림): 430kcal
– Japchae (잡채): 306kcal
– Sikhye (식혜): 250kcal
– Tteokguk (떡국): 433kcal
– Galbijjim (갈비찜): 531kcal
Enjoy feasting this festive period!
Read more at "KAvenyou: Your Avenue to Non-Stop Entertainment, Lifestyle and Fashion"
Article by: Zhen @ KAvenyou.com