Many of the cherry blossom festivals are going to kick off this week, so make sure you check out this spring guide with a full list of Korea's best cherry blossom festivals for your next adventure.
Jinhae Cherry Blossom Festival
If you want the ultimate cherry blossom experience in Korea, visit Jinhae Cherry Blossom Festival or Jinhae Gunhangje Festival, which will run from April 1 to 10. Featuring more than 350,000 cherry trees, it is by far the largest cherry blossom festival in Korea!
If you don't have much time to plan your trip to the festival, this one-day tour to Jinhae Cherry Blossom Festival from Seoul can be a great option.
For those who want to stay overnight and take a tour to Busan and Jinhae, join this 2-days-1-night tour here.
Yeouido Cherry Blossom Festival
Keen on traveling outside Seoul? Head over to the Yunjungno Street behind the National Assembly in Yeouido, which features a 1.7km-long path lined with beautiful cherry trees.
Not only you can appreciate explosions of cherry blossoms, you can also enjoy the annual Yeouido Cherry Blossom Festival that will take place from April 1 to 9.
If you like exploring on your own feet, check out this walking tour. This fun walking tour will guide you through Yeouido Cherry Blossom Festival and you can choose to take a Han River Night Ferry Cruise or visit 63 Square Sky Art as well.
For more information, click here.
Gyeongju Cherry Blossom Festival
Bomun Lake in Gyeongju is one of the best cherry blossom destinations where you can stroll down a walkway filled with bursting cherry blossoms. Nearby the lake is Bomun Pavilion, which is one of the "50 Beautiful Places to Visit in Korea" by CNN Travel, so try to drop by when you are at the festival! For more information, click here.
Since the best time to visit is in early April, you better hurry up and sign up for a one-day tour to Gyeongju Cherry Blossom Festival from Seoul here.
Hwagae Cherry Blossom Festival
Following the cherry blossom festivals in Jinhae and Gyeongju is Hwagae Cherry Blossom Festival, a famous cherry blossom festival in Hadong County.
The festival is well known for its Simni (10ri) Cherry Blossom Road, a long road filled with blooming 600-year-old cherry trees, which stretches from Hwagae Market, one of the five biggest traditional markets, to Ssangyesa Temple, an old Buddhist temple with a rich history.
For more information, click here.
Gyeongpo Cherry Blossom Festival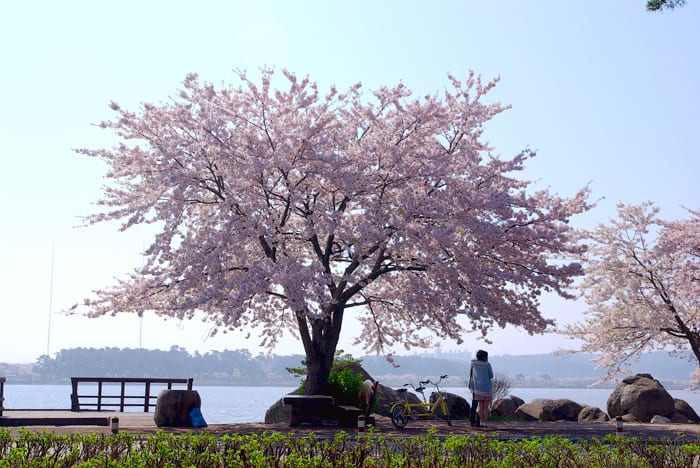 Gyeongpo Lake in Gangneung will host a cherry blossom festival from April 6 to 12, and you will be able to take in fascinating cherry blossoms along the 4.3km path around the lake. You can also rent a bike and ride around the lake to enjoy the view! If you have spare time, head over to Gyeongpo Beach near Gyeongpo Lake as well.
For more information, click here.
If you enjoyed reading this article, check out the best spring tours in Korea at Trazy.com, Korea's #1 Travel Shop, and plan your spring getaway today!
Photos by:
Yeongdeungpo-gu Official Website
Gangneung City Official Website