Get excited! There will be spectacular fall foliage across Korea in the next couple of weeks!
Start planning your fall foliage trip today to get ready for these incredible fall colors this autumn.
To help you plan the perfect leaf-peeping getaway, here's your ultimate guide to when and where to go for the best displays of fall colors in Korea this season.
Fall Foliage 2017: Best Time to See
In Korea, the fall foliage usually peaks around mid-October to mid-November, and the peak fall foliage lasts up to 1 or 2 weeks after its first appearance.
The first autumn foliage usually starts in the northeast regions, at Seoraksan National Park, followed by the central and southwest regions, and then the southern regions. In Seoul, the autumn foliage usually reaches its peak in early November.
This year's autumn foliage season will arrive 2 or 3 days later than usual, but be sure to check the weather forecast regularly.
Weather: What to Wear & Pack
Speaking of Korea's autumn weather, it will be mostly sunny, while a few showers is possible. There's a big gap between day and night temperatures, so dressing in multiple layers will work the best.
Wear a warm, lightweight jacket, boots, long-sleeved T-shirts or sweatshirts, thick socks, and an umbrella in case of rain. Temperatures will continue to drop throughout November, so bring a thick winter coat if you're planning to visit in November.
Before you head out, make sure you check the weather forecast for indication of rain.
Best Places to See Fall Foliage in Korea
For the ultimate fall foliage experience, head out to these Korean mountains and national parks across Korea!
Seoraksan National Park
Best time to see: Mid-October~Early November
Where: Sokcho, Gangwon-do (northeast of Korea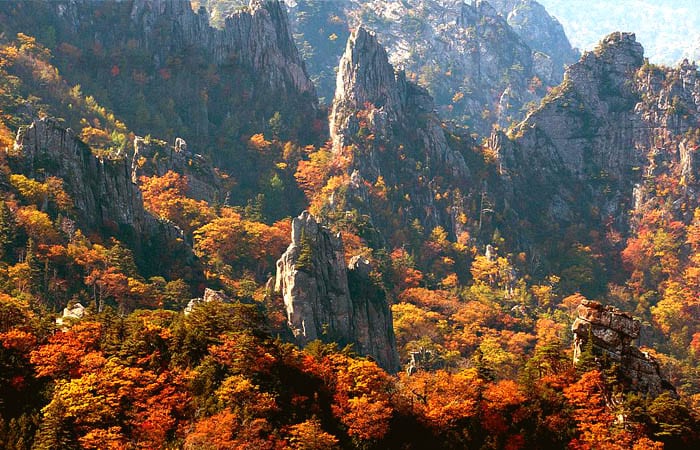 Seoraksan National Park, home to Seoraksan, the third highest mountain in Korea, is where you can see the first foliage in Korea.
As the park is expansive, spanning across four cities and counties, there are different fall foliage experiences on offer depending on which area you visit.
The southwestern part of the park, which is referred to as NaeSeorak, offers half a dozen beautiful valleys and streams and up-close views of the gorgeous autumn foliage.
On the other hand, the eastern part, which is referred to as OeSeorak, offers jagged cliffs and dramatic mountain peaks. Here, you can also enjoy the scenic cable car ride and hike up to the famous Ulsanbawi Rock, a unique rock formation of six granite peaks, as well.
| See the most popular fall foliage trip from Seoul to Seoraksan National Park here.
Naejangsan National Park
Best time to see: Late-October~Mid-November
Where: Jeong-eup, Jeolla-do (southwest of Korea)
Naejangsan National Park, located in the southwestern part of Korea, is home to one of the most appreciated Korean mountains during fall, the Naejangsan Mountain or Naejangsan.
Particularly famous for its breathtaking views of vivid crimson foliage, the park features 600-year-old nutmeg trees, a scenic pavilion called Uhwajeong Pavilion, and two ancient Buddhist temples, Baekyangsa Temple and Naejangsa Temple.
For epic photo-ops, it is recommended to walk along the tree-lined path from the Hiking Information Center to Naejangsa Temple, which offers a breathtaking canopy of colorful autumn leaves!
| See the most popular fall foliage trip from Seoul to Naejangsan National Park here.
Daedunsan Provincial Park
Best time to see: Mid-October ~ Early November
Where: Nonsan, Chungcheongnam-do (central Korea) & Wanju, Jeollabuk-do (southwest of Korea)
Take in the incredible fall foliage from the scenic Daedunsan Cable Car and cross the famous suspension bridge at Daedunsan Mountain located in the western part of Korea!
Offering jaw-dropping sights of steep and rocky landscapes set against the blazing maple leaves, Daedunsan is one of the top-rated fall foliage viewing spots in Korea.
Aside from its spectacular fall colors, the mountain is particularly famous for its hair-raising suspension bridge called Geumgang Gureumdari, which hangs over a deep ravine 300 meters above sea level. It's definitely not for the faint-hearted, but those bold enough to cross will be rewarded with unparalleled fall foliage views!
| See the most popular fall foliage trip from Seoul to Daedunsan Provincial Park here.
Looking for more fall foliage viewing spots in Korea? Check out these other Korean mountains and national parks where you can take in the gorgeous fall colors!
Since the fall foliage season is short, it will be best for you to plan or book your fall foliage trip ASAP.
Those who want to make the most of your autumnal getaway, be sure to check out the amazing fall foliage trips offered by Trazy.com, Korea's #1 Travel Shop!
Photo Credits
Korean National Park Official Website