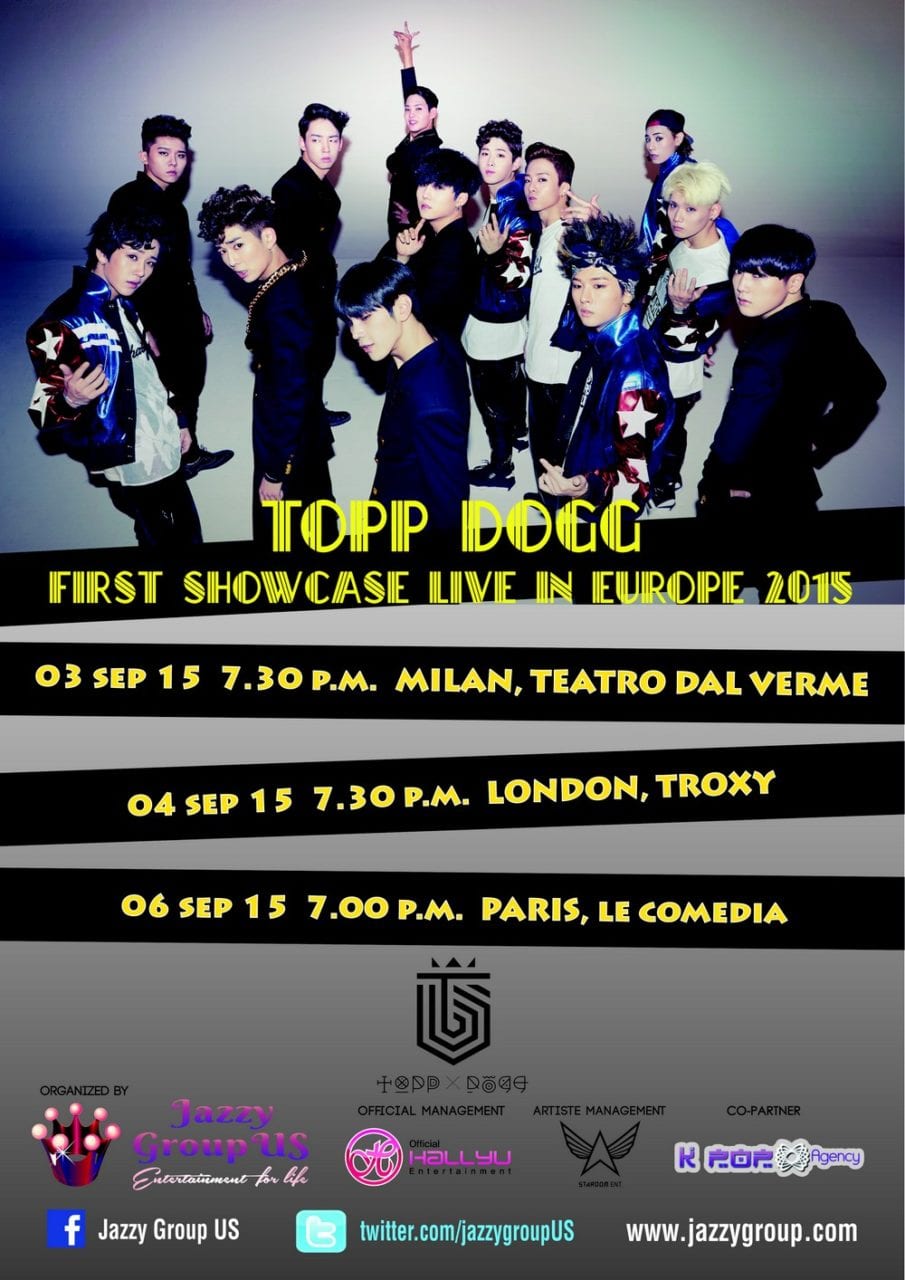 If you are a European fan of Topp Dogg, your chance to see them performing live is coming up soon!
This September, Topp Doss will head to Europe as a part of their World ToppKlass tour. This might just be what you were looking for to say goodbye to summer with a smile on your face!
This tour will bring the members to Milan, London and Paris, and they seem happy about it! On OSEN website, they stated "We are so excited to be able to meet our fans in Europe, we hope to show our best performance in Europe so please continue to support us."
The members also expressed how they want to meet fans in all the visited countries through message videos. You can watch this set of videos on this tour's Facebook page.
Want to cheer Topp Dogg for their first steps in Europe? Tickets will go on sale on June, 12th for Jazzy Superstar members, while public sales will begin on the 13th. Jazzy Superstar is a membership program for Jazzy Group, the organiser for this concert.
Tickets for all three concerts include 4 categories : a Zone A ticket, a Zone B ticket, a VIP ticket with a hi-5 session, and a VVIP ticket with both hi-5 and photo session.
Milan
VVIP €159
VIP €129
ZONE A: €79
ZONE B: €49
London
VVIP £149
VIP £119
ZONE A: £79
ZONE B: £49
Paris
VVIP €169
VIP €139
ZONE A: €89
ZONE B: €59
Tickets will be available at www.ticketone.it (for Milan's showcase), www.troxy.co.uk (for London's showcase) and www.ticketmaster.fr (for Paris' showcase). Tickets for Paris' showcase will also be available on www.le-comedia.fr from June 15th onwards.
Do you already know which ticket you'll buy?