It was like a ray of sunshine as The Boyz visited rainy season Singapore last weekend.
Titled Asia Fan-Con Tour "The Castle", Sangyeon, Jacob, Younghoon, Hyunjae, Juyeon, Kevin, New, Q, Ju Haknyeon, Hwall, Sunwoo, and Eric invited The B's into a fairy tale like fan con tour, gifting them a whole new experience of fan meeting and concert in one night.
The Boyz got the night rolling with their debut song "Boy", to "Right Here", "Giddy Up" and "No Air".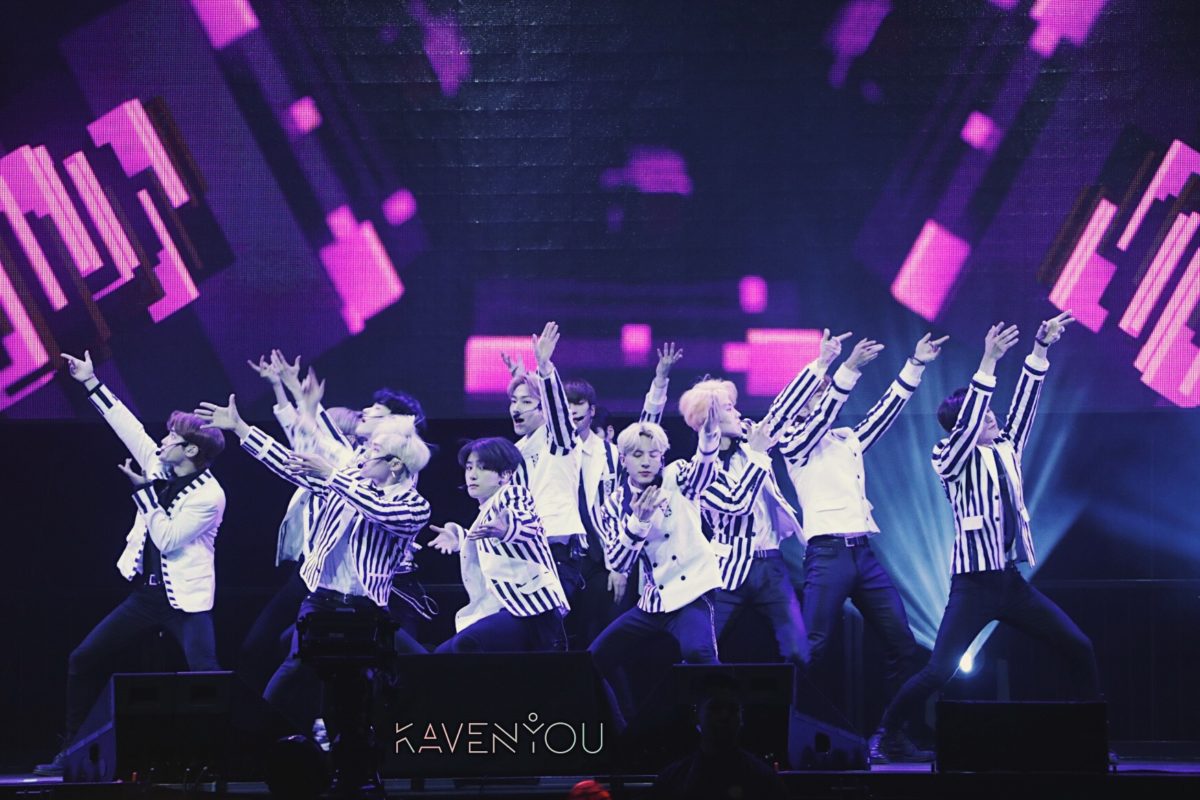 What's a fan con without games? The Boyz were split into 3 teams and first up, they had to put their listening skills to the test, guessing 2 second snippet of kpop songs, and of course what's kpop without their iconic dances? Each team competed against each other as they tried to guess the correct answer from EXO Love Shot, Blackpink Ddu Du Ddu Du, to Twice TT ~너무해 너무해, they were all so cute and sexy
I personally have only seen the game Whisper Challenge played over a monitor screen, and it was definitely a sight to see The Boyz up close trying to guess what each member was mouthing and shouting at each other with their headphones covering their ears. "MA- RI- NA- BA-Y S-A-NDS-" the sight of relief and happiness as they guess it right and realising it was the photo spot each member has spammed The B's with on Twitter over a spend of 3 days, together with the infamous chilli crab dish which they proclaim they wish to have it takeaway back to Korea with them.
The Boyz continued to hype the night up with dance covers of EXO Call me Baby and Twice Cheer Up.
They serenade fans with "4ever" and popolar tracks such as "Keeper", which was produced by Block B Park Kyung and "Bloom Bloom", their first song that they recently earned No. 1. A song that Sun-woo and Eric revealed they received inspiration from The Bs as they always wanted to dedicate a song to them, walking on the "flowery path" together with The Bs.
One of the many highlights of the night was definitely how The Boyz prepared a very 'special local gift' for Singapore The B's as they covered JJ Lin's 只對你說 (I'll Tell Only You). It's a pity we were not able to do a video record, but here's their talented and sweet voices that swept fans further into the fairy tale night.
Q: How was your experience while filming for the fancon VCR?
A: When we were filming for the vcr, it was kind of awkward and we didn't really know what to do. But as time passed, we got really into it and we got to enjoy filming as well. We hope our fans enjoyed it
Q: What is your impression of Singapore The B's?
A: It is our first time here and honestly we are very happy and honoured to be able to visit our fans during this fan con tour. We are able to feel their love and support through their energy since yesterday as we met them as our press conference. Singaporean The B's are really energetic and passionate. Thank you for your endless energy and support. Thank you for the special event you have prepared for us. We did not expect to feel this emotional. Thank you. We are one big family!
KAvenyou would like to thank Three Angles Production for the invite to The Boyz Asia Fan Con 'The Castle' in Singapore!
Article by: Leslyn @ KAvenyou
Photography by: Xiaosi @ KAvenyou