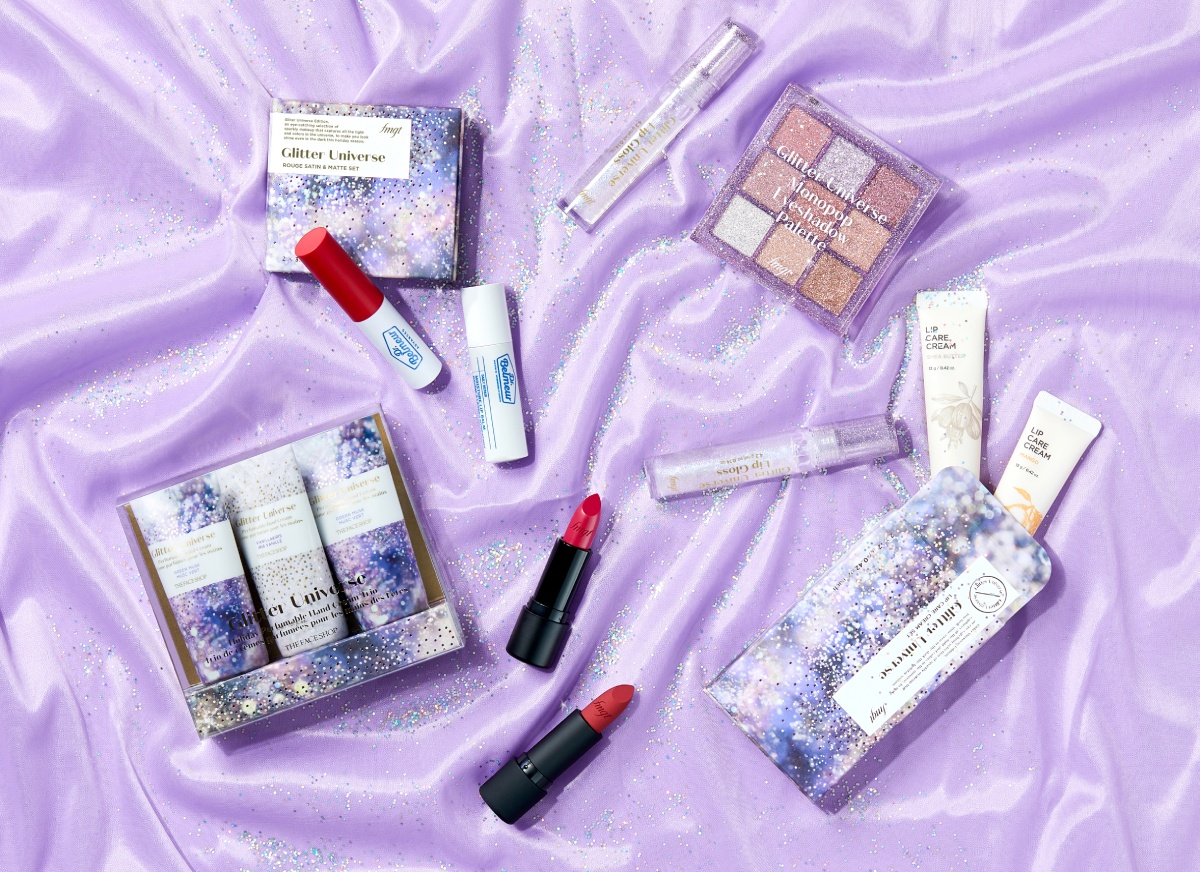 Get ready to sparkle and bask in joy this festive season with THEFACESHOP's 2020 Christmas Collection that comprises of a comprehensive range of limited-edition makeup and skincare sets that make wonderful gifts for your loved ones or even yourself. Themed #THEFACESHOPGlitterUniverse, one of the key highlights of the collection is the line of sparkly makeup products that beautifully impart glitter and shine to the eyes and lips.
This Christmas, THEFACESHOP is doing something a little special for our frontline workers that protected us through the pandemic. Partnering with Singapore General Hospital (SGH), shoppers can gift a set to the heroes of 2020 and THEFACESHOP will be matching dollar-to-dollar in return. Let us do good and spread the sparkle this Christmas! (more details below)
Get into the festive mood with #THEFACESHOPGlitterUniverse Collection!

Step 1: Glow With These Skincare Treats
A handy skincare staycation kit to ensure your skin stays fresh and revitalised. Each product is formulated with traditional herbs harvested from Korea's pure and natural environment and created with the wisdom of skincare secrets from the past. Including the Yehwadam First Serum which is a first step serum that contains Water Lotus and Pine Leaves Extract that helps to prepare for better absorption of your next skincare step.
Set Includes:
• Yehwadam First Serum, 50ml
• Yehwadam Revitalizing Toner, 32ml
• Yehwadam Revitalizing Emulsion, 32ml
Shine bright like a diamond this season with the miniatures of Yehwadam's Pure Brightening Range. Containing skin brightening ingredients like pearl, ginseng and flowers, this range of products helps to even out skin spots, freckles while boosting the moisture in your skin.
Set Includes:
• Yehwadam Pure Brightening Toner, 32ml
• Yehwadam Pure Brightening Emulsion, 32ml
• Yehwadam Pure Brightening Serum, 8ml
• Yehwadam Pure Brightening Cream, 10ml
An infusion of traditional botany and modern science, each product is hand-blended to perfection to target signs of aging, you can now age backward with The Therapy. Comes with The Therapy's best-seller, The Therapy First Serum is formulated with 3 different blends of oils that helps to nourish, repair, and reduce signs of aging.
Set Includes:
• The Therapy First Serum, 130ml
• The Therapy Essential Formula Foaming Cleanser, 150ml
• The Therapy Moisture Blending Formula Cream, 10ml
Spa facial treatment at your fingertips! Infused with the delicate fragrance of orchid, rose water, and snow cotton, cleansing will feel like you are taking a trip to Bali. The aromatic soft lather not only cleanses away impurities but also provides you with a mini aromatherapy session in your bathroom! Perfect for an unwinding session after your Christmas celebrations.
Set Includes:
• Daily Perfumed Foam Cleanser (Orchid), 60ml
• Daily Perfumed Foam Cleanser (Rose Water), 60ml
• Daily Perfumed Foam Cleanser (Snow Cotton), 60ml
Tiny but mighty, this Chia Seed Travel Kit is packed with pink vitamins (B12) and Chia Seed extract that helps to supercharge the skin with moisture and prep it for a better makeup application.
Set Includes:
• Chia Seed Hydro Toner, 32ml
• Chia Seed Hydro Lotion, 32ml
• Chia Seed Hydro Cream, 10ml

Step 2: Glam Up Your Looks With These Christmas Makeup
Inspired by the Milky Way, the palette consists of a ton of glitter and the trendiest colours for this fall and winter season. With its upgraded silky formula, it melts at your fingertips which allows the eyeshadow to adhere to your lids and through your endless Christmas celebrations.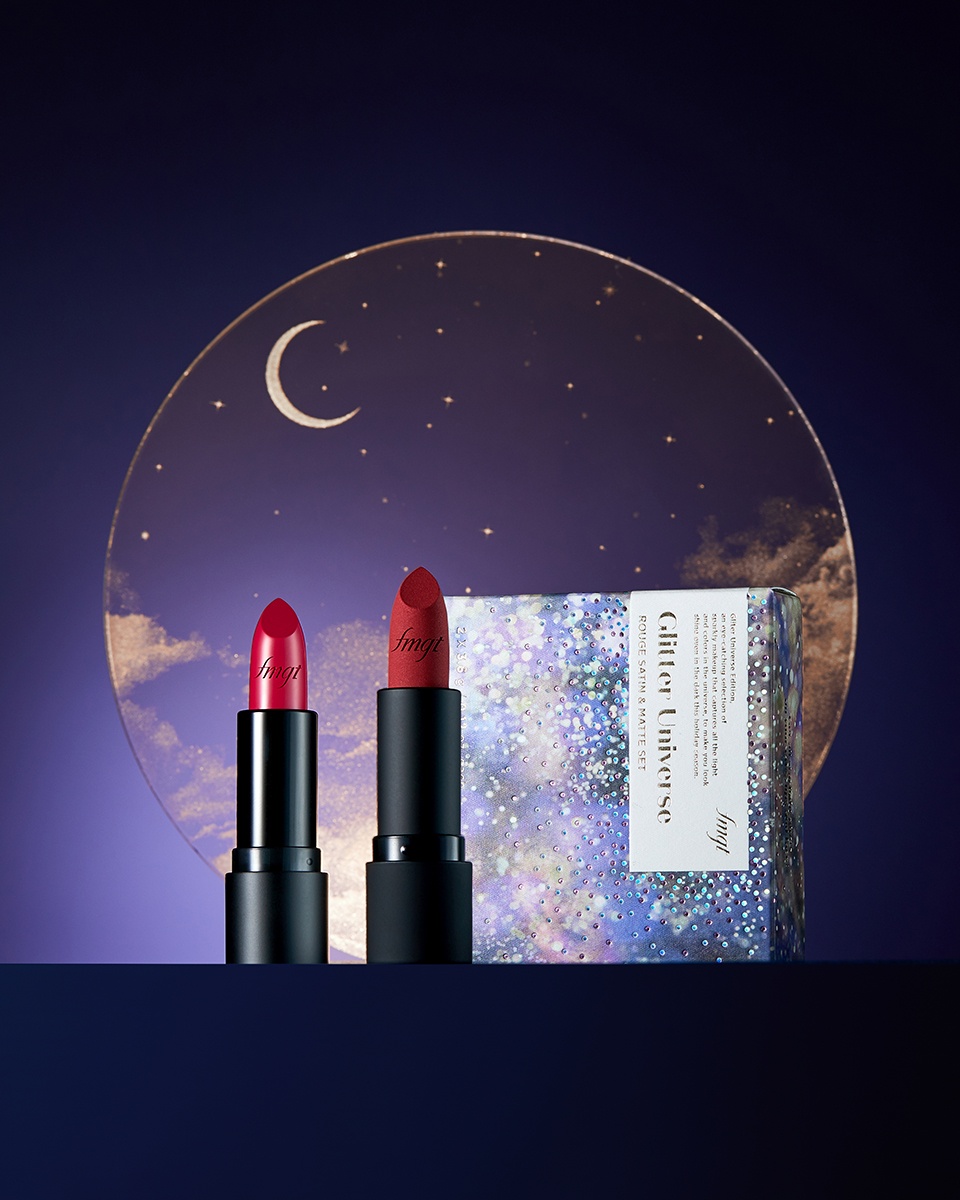 One of fmgt's best-selling ranges specially curated for this festive season as a special gift set. Each set comes with a Rouge Satin Moisture and a Rouge True Matte Lipstick. Now, pick your shade! Choose from either 01 Red Universe for the perfect lip-catching holiday look; or go for 02 Pink Universe to create a refreshed look for the coming new year with your lips in soft pink.
Get your lips ready for the kiss under the mistletoe with this dynamic duo. Formulated with healing ingredients like Cica and blends of oils, it helps to heal and nourish your lips, leaving it soft and supple. If you like a hint of colour, the Dr. Belmeur Advanced Cica Touch Lip Balm leaves a slight touch of red getting your lips ready for this festive season!

Step 3: Sparkle from Head to Toe
A pair of warm hands to keep us cozy this holiday season! Be sure to give your pair of hands some TLC with this trio. Infused with Green Musk/Vanilla and Iris, the hand cream deeply moisturises your pair of hands, leaving behind a long-lasting fragrance.
Set Includes:
• Perfumable Hand Cream (Green Musk), 30ml x 2
• Perfumable Hand Cream (Vanilla and Iris), 30ml
This Christmas, BEYOND, one of the best-selling natural body and hair care brands under THEFACESHOP – Nature Collection, launches a special gift set – BEYOND Total Recovery Special Gift Set, that comes with Total Recovery Shower Cream (250ML + 50ML), Total Recovery Body Emulsion (80ML) and a 2-pc towel set.
Infused with Hibiscus Flower Extract and Ceramides, this limited-edition gift set softens and adds moisture to dry, dull skin, to achieve skin soft and supple to touch. Comes with a sweet and lovely apple floral fragrance.
THEFACESHOP's #THEFACESHOPGlitterUniverse Christmas Collection, priced from S$15.00 to S$55.00, is now available at all THEFACESHOP retail stores and official online store at http://thefaceshop.com.sg.

The Beauty of Doing Something Good This Christmas
In partnership with Singapore General Hospital (SGH), THEFACESHOP launches #THEFACESHOPGivesBack campaign* aimed to encourage shoppers to extend their appreciation to the dedication and hard work of our frontline heroes during the pandemic.
Shoppers may purchase a curated gift set from THEFACESHOP official online store (www.thefaceshop.com.sg) from now to 15 December 2020 and THEFACESHOP will match dollar-for-dollar in gifts. All gifts will then be hand-packed and delivered to our heroes at SGH before Christmas Day.
Updates of the progress of this campaign will be posted regularly on THEFACESHOP Facebook page.
*The campaign runs from now till 15 December 2020, or when the target of $50,000 gifts purchased is reached, whichever comes first.