5 February 2015, Singapore – Wassssup people! Welcome aboard Swag Check Thursday! 😉 We will be introducing interesting fashion labels, news and tips of and from your favorite idols!
First for this column, we have BLANC & ECLARE by Jessica Jung! Recently, she has been seen focusing and working hard more on her fashion label, appearing for her store opening and fan-signs mainly in China and Hong Kong respectively.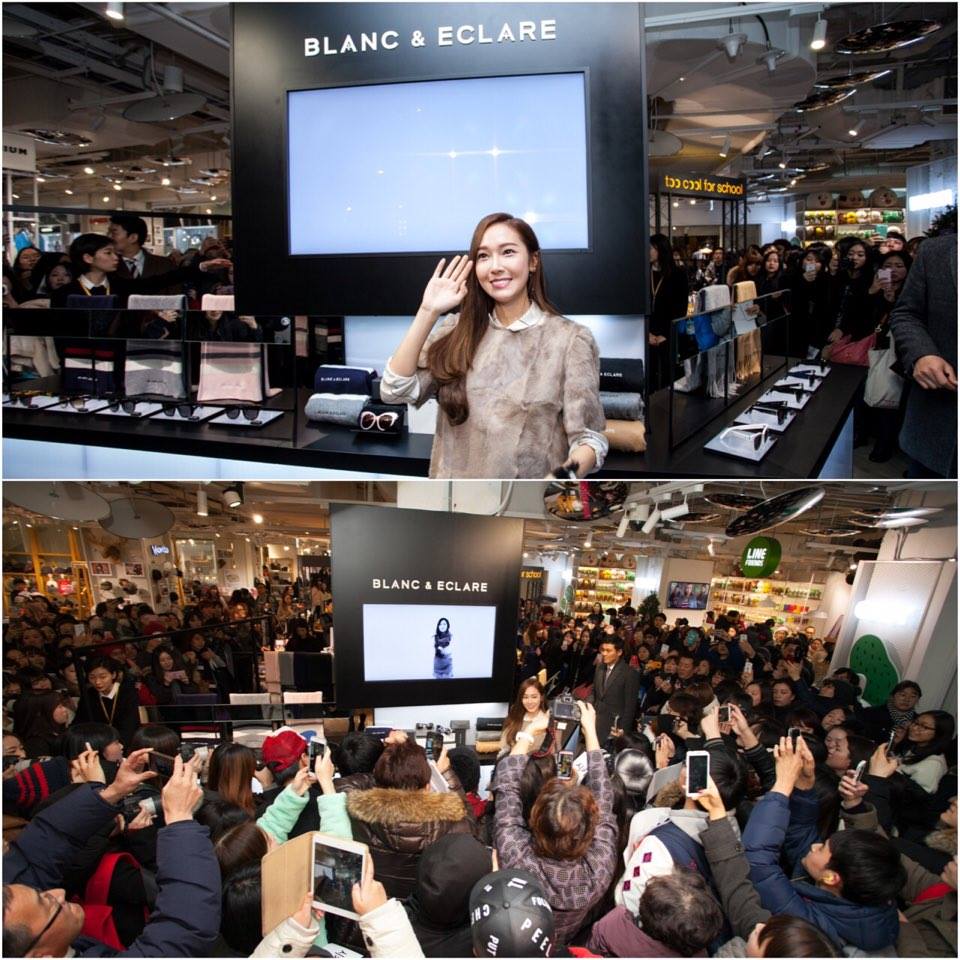 So what is BLANC & ECLARE?
Derived from the Latin root Clara, ECLARE expresses clarity and brightness, virtues highly held by Founder and Creative Director, Jessica Jung. BLANC & ECLARE is known as the modern classic, beginning with their eye-wear collection to the recent scarves collection. Their logo, a division sign nestled within the classic lettering of the brand name illustrates how BLANC & ECLARE bridges the divide between the clean enduring classic and the fashion forward.
BLANC & ECLARE was first up with their sunglasses collection, each priced at US$250, followed by the scarves collection, each priced at US$200. They are now preparing to launch their Fall/Winter 2015 fragrances and Ready-to-Wear collection!
On October 2014, BLANC & ECLARE announced that they were launching a new initiative called BLANC & ECLARE LOVES GIVING, in partnership with global charity group, Help For Children, that aims to prevent and treat child abuse. This initiative invites the public to design a pair of sunglasses and the winner's design will be put up as part of BLANC & ECLARE's collection. 100% of the profits goes to the charity partner!
This is really a sweet move from Jessica, not only launching her own fashion line, but also giving back to the society by donating the profits!
Jessica is not the only one who dons her own brand of sunglasses. Wu Yi Fan (Kris) was also seen wearing one from her collection too.
[one_half]
[/one_half]
[one_half_last]
[/one_half_last]
Bangtan Boys, Rap Monster was also spotted in BLANC & ECLARE scarf at the airport!
Don't you wish you can own a pair of sunglasses too? Personally, I like their scarf collection. Just style it with a simple white tee and ripped jeans, with the scarf around your neck and you are good to go! 😉
BLANC & ECLARE has been expanding ever since it's launch, Now you can find BLANC & ECLARE at stores near you, in China, Hong Kong, Malaysia, Singapore, Taiwan, Thailand respectively!
Read more at "KAvenyou: Your Avenue to Non-Stop Entertainment, Lifestyle and Fashion"
Photos by: As credited on photos, BLANC & ELCARE website: blancgroup.com
Article by: Xiaosi @ KAvenyou.com