Leaders of South Korea, North Korea, and the U.S. hold a summit in Wonsan, North Korea to discuss North Korea's nuclear issue and peace in the Korean Peninsula. Interrupted by some North Korean hardliners who have raised a coup, the leaders of the three countries are abducted and taken away on a North Korean submarine.
As the North Korean hardliners, the U.S., Japan, and China each set up their own plans for war, how will President Han of South Korea, who is trapped inside a submarine, overcome this crisis?
Steel Rain is centered around the story of 'Eom Chul-woo', a special agent from North Korea portrayed by Jung Woo-sung. It starts off with the fantasy that South and North Korea have the right to decide on the issues of the Korean Peninsula entirely. However, Steel Rain 2: Summit builds on the reality of the Korean Peninsula, an island of the Cold War surrounded by sharply divided powers.
The two central figures reflect the existence of hard-liners and soft-liners in the North and their confrontation over the future of Korea. It's only a matter of time before North Korea's Chairman, who goes on the path of soft-liners for peace and diplomatic relations with North America, resulting in reform, opening up and economic development, while the Supreme Guard Commander stands by China, a blood ally to North Korea, and launches a coup with hard-line factions determined not to let go of the country's nuclear armament. The two very different characters, who cannot coexist, present the two faces of the North that go back and forth between hard-line and soft-line policies. Yoo Yeon-seok, who portrays the North Korean Chairman, shows a character with strong self-esteem not to be pushed around by the U.S., but who worries about the hard-liners represented by the military in North Korea.
Meanwhile, Kwak Do-won represents the hard-line North Korean convictions and portrays a character who believes that the Chairman's move to establish diplomatic ties with the U.S. is a way to betray the people and ruin his country, then stages a coup that threatens the life of the supreme leader. Like Dr. Jekyll and Mr. Hyde, the two faces of North Korea that welcome the South with hearty laughter at the truce village of Panmunjom, then hurl stark accusations and criticisms a few months later are depicted.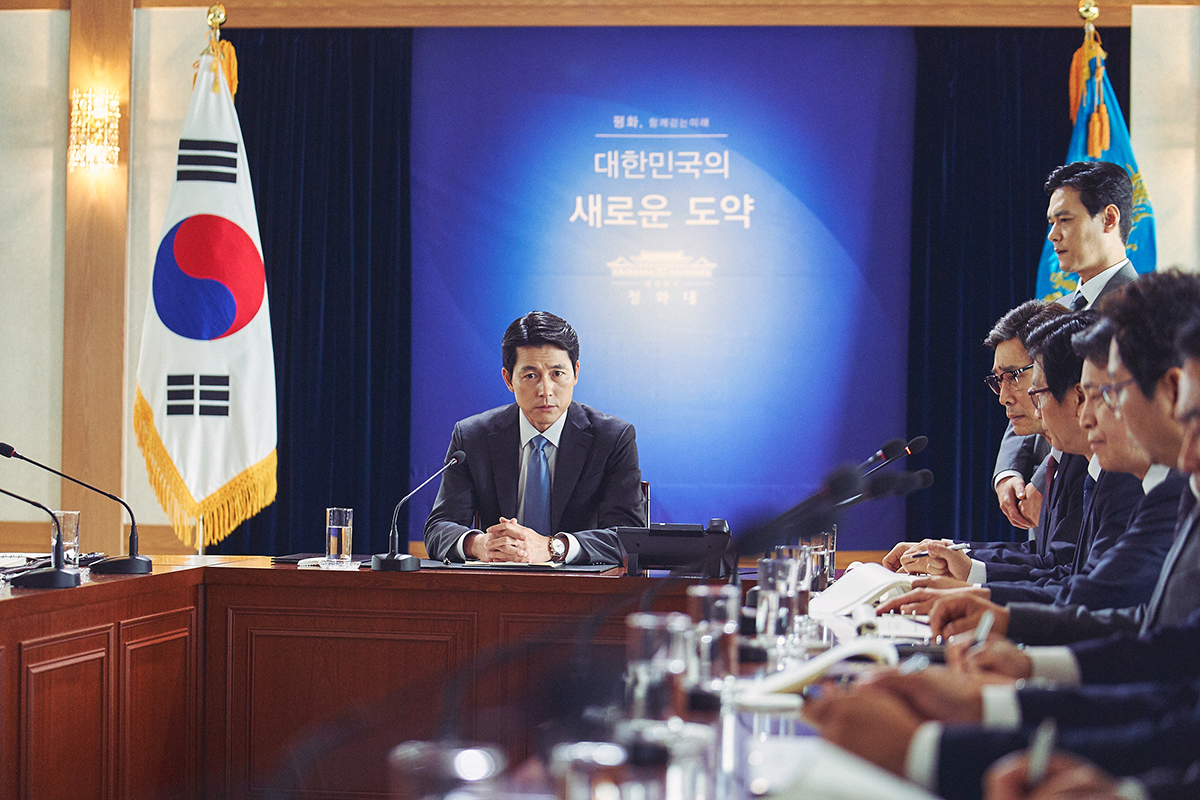 Steel Rain 2: Summit captures the calculations behind North Korea's inner plans in realistic ways. The tension and confrontation between Kwak Do-won and Yoo Yeon-seok are vividly shown by the two actors' outstanding performances much like that of Jekyll and Hyde.
Steel Rain 2: Summit (강철비 2: 정상회담) starring Jung Woo-Sung, Kwak Do-Won, and Yoo Yeon-Seok airs in Singapore cinemas from 13 August 2020. Sneaks from 7 – 12 August 2020.
The movie is rated NC16 due to some coarse language used inside.