Say hello to healthy, glass-like skin with Korean cosmeceutical brand, Snow2+. Created by Korea's leading biomedical startup, LabnPeople, Snow2+ brings its world's first patented magnesium microneedle skin patches to Singapore, in partnership with exclusive distributor, Beauty Circus Pte Ltd.
The official Singapore debut consists of four types of patches, targeting different areas, such as the undereye, corner of the eyes and acne spots. These patches are paired with specially formulated ampoules to tackle various skin problems, including acne spots, troubled skin, wrinkles, dull skin and pigmentation.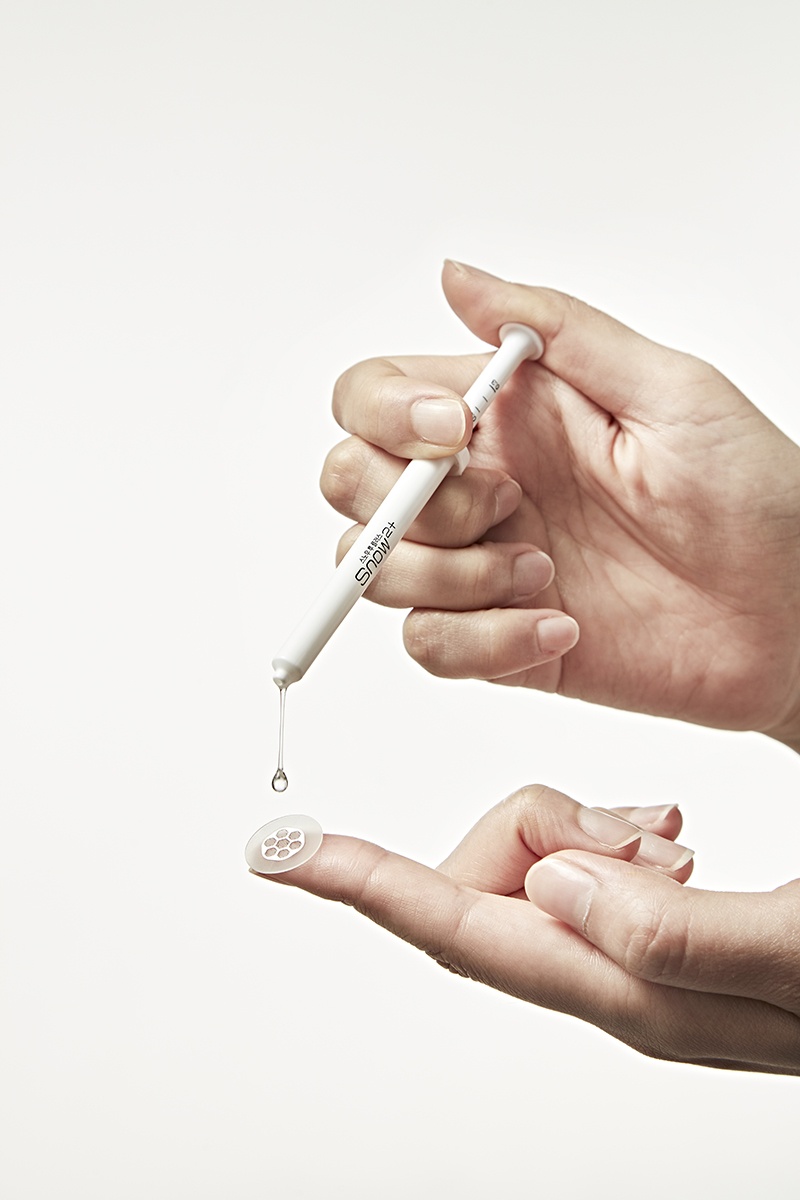 The first Korean brand to offer this proprietary, innovative technology to the Singapore market, these magnesium patches are made with microneedles that are finer than a strand of hair with an optimized needle length of 0.23mm to 0.27mm to deliver the active magnesium ingredient into the dermal skin layer. They are 100% biocompatible to human skin as well as painless and safe to use as they do not stimulate the hypodermic nociceptive nerve.
The ionization of magnesium on the skin offers antioxidant and anti-bacterial effects, effectively tackling acne and troubled skin. The microneedles also stimulate the natural regeneration of collagen within the skin to improve its elasticity and radiance for anti-aging, wrinkle improvement and brightening benefits.
For Acne & Troubled Skin
For troubled skin, such as skin redness, acne, maskne or stress spots, Snow2+ offers two different microneedle patch solutions – the One Night Trouble Patch and the Multi Ampoule Green Patch.
For days when you need a quick fix or to calm that one pesky pimple, the One Night Trouble Patch is an effective spot treatment for isolated acne or pimple. The magnesium microneedles effectively kill bacteria and work to reduce the appearance and redness of unexpected pimples overnight. This is a must-have for every skincare emergency and you'll never be put on the spot!
How to use:

1) Clean the face.
2) Remove the protective film, tap the patch lightly onto the troubled area.
3) Leave on for 2-8 hours/ overnight and gently remove it afterwards.


For those with more severe acne and troubled skin, opt for the Multi Ampoule Green Patch that provides an intensive skincare treatment with its magnesium patch and ampoule. The ampoule consists of a high concentration of Centella Asiatica Extract that carries anti-bacterial properties, and promotes skin cell production for faster skin healing. Other key ingredients include Panthenol, an anti-inflammatory agent, and Arginine that helps to boost collagen production for supple radiant skin.
How to use:

1) Clean the face – drop 2-3 drops of ampoule on the microneedle side of the patch.
2) Remove the protective film, tap the patch lightly onto the troubled area.
3) Leave the patch overnight and gently massage the troubled area after removing the next morning.
4) Optional: Protect the troubled area with the hydrocolloid band.

*Repeat this regime over a period of one week


For Anti-Wrinkle & Skin Brightening
As we age, skin cells divide more slowly, and the dermis skin layer begins to thin. Furthermore, with constant exposure to the sun, the ultraviolet rays reduce skin elasticity, resulting in wrinkles and full skin. Studies have shown that the eye area is most commonly prone to wrinkles and show the first signs of ageing, which makes it even more important to take special care of the surrounding eye area.
Reduce the appearance of fine lines at your undereye area with the Multi Ampoule Wrinkle Patch, or crow's feet at the corner of your eyes, with the Eyezone Ampoule Wrinkle Patch.
The patches include an ampoule rich in Niacinamide that helps in rebuilding of the skin barrier for an increased resilience, and uplifts the skin through its brightening properties. Other key ingredients consist of Coptis Japonica Root Extract that aids in combating skin sagging and swelling, and Allantoin that helps in skin regeneration and moisturization for a more supple, fresh, and youthful glow after use.
How to use (for both wrinkle patches):

1) Clean the face – drop 2-3 drops of ampoule on the microneedle side of the patch.
2) Remove the protective film, tap the patch lightly onto the troubled area.
3) Tap the patch lightly onto skin upon application and leave on for 30-60 mins.
4) Gently massage the troubled area after removing.

*Repeat this regime over a period of one week


With Snow2+, enjoy the "beauty is skin deep" benefits of an effective and safe biomedical skincare solution in the comfort of your home. Snow2+ is exclusively available for purchase online via Beauty Circus at https://beautycircus.co