Previously, KAvenyou has featured on EXO being the new ambassadors for Skechers D'Lites 2. The team was also invited to the official launch of Skechers D'Lites 2 in Singapore, where we got a first hand look of the new series of stylish footwear, following the successful release of D'Lites 1 last year.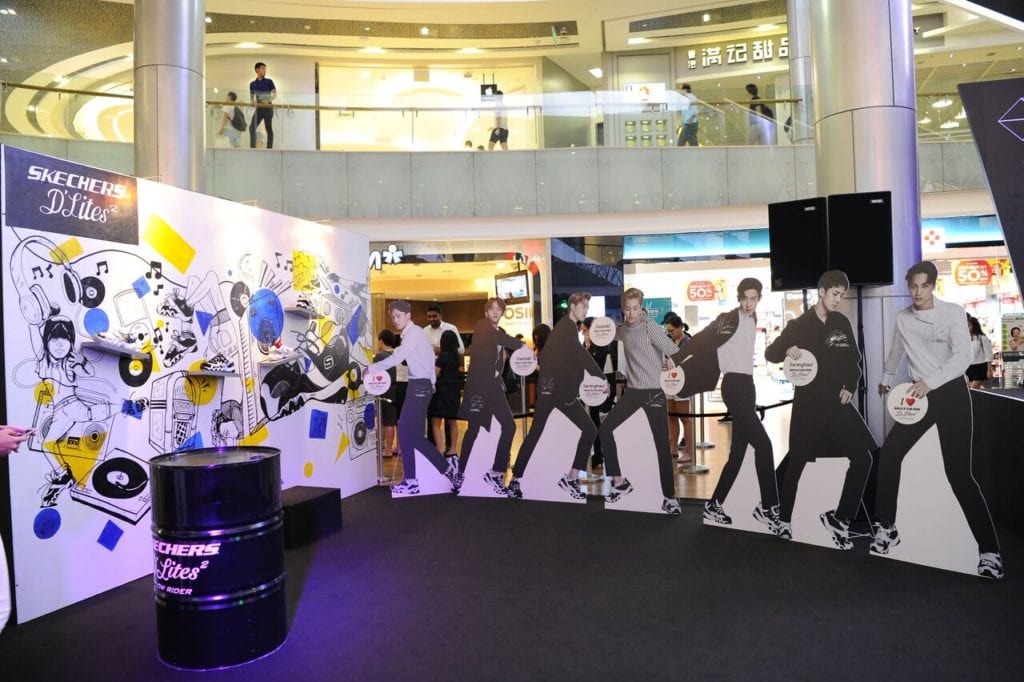 The launch party started off with a dance performance by O School, and the dancers showing off their energetic dance moves in the D'Lites 2 is a proof of how well the shoes provide crucial support for dancing. Even the invited artistes were also wearing their favourite pick of D'Lites 2 from the range of 9 designs, and they were definitely rocking the pair of shoes with their chic styles for the night!
Although it was a pity that EXO was not able to grace the Singapore launch, the members actually recorded a greeting video instead:

For EXO-L out there, here are some of the responses from the EXO members, in regards to them being the ambassadors for D'Lites 2:
1) How do you feel about being ambassadors of Skechers D'Lites 2?
We are very honoured to be picked as the ambassadors of Skechers D'Lites 2. We know the launch of D'Lites 1 last year caused an uproar and there were long queues at the stores, so we are very happy and excited to be able to represent D'Lites 2. We love the trendy designs and comfort it provides, so we do hope to share more about the Skechers D'Lites 2 with our fans and people around the world!
2) What do you like best about the shoes?
They look great, are extremely comfortable and we can dance in them! The shoes come with cushioned insoles and are shock absorbing as well – we tested them out when we performed some dance moves for the filming of the TV commercial. The trendy design is a bonus as well, its textures and details lend an interesting touch to any outfit.
3) How do you think they fit your lifestyle?
Right now, we are busy touring Japan, so we definitely need comfortable shoes! Being on the go is tiring and we like to be as comfortable as possible to preserve our energy so we can deliver the best performances for our fans.
4) Which EXO member do you think looks best in these shoes?
Hopefully our EXO-L members think we all look great in the shoes? Or… maybe they can take a vote instead!
5) Which gender do you think wears it better: Male or female? Why?
We think that both guys and girls look good in the D'Lites 2.0. They are unisex so they are perfect couple wear shoes too!
6) How do you style your outfits with Skechers D'Lites 2?
It's not difficult actually, we  think  it  goes  well  with  many  different  outfits – pants, shorts, skirts and dresses. The designs are versatile and stylish.
7) If you were to choose a shoe to represent EXO, what kind of shoe will it be and why?
Skechers D'Lites 2, of course! They look great, they perform well and best of all… people around the world love them!
8) What  kind  of  shoes would  you  look  for when  you  perform  and go  for  events? What do you look out for when looking for shoes?
Definitely comfort and aesthetics. It's not easy to find shoes that have both of these, so we're glad to have Skechers D'Lites 2.
9) Do girls in sneaker appeal to EXO? Or do you prefer girls in heels?
We would be happy if you wear the same Skechers D'Lites 2 shoes as us.
—
KAvenyou would like to thank Skechers Singapore for the invite to the launch of Skechers D'Lites 2 in Singapore. For more information about the Skechers D'Lites 2 range, do read our previous article.
Article by: Zhen Zhen @ KAvenyou
Photography by: Skechers Singapore & Xiaosi @ KAvenyou