South Korean actor/singer, Seo Kang Joon, visited our sunny island on the 19th of February to promote his ongoing drama, Cheese In The Trap.
Besides from being well-mannered throughout his day of interaction in Singapore, he never failed to show everyone his cheery smile and disposition. It was a major plus point that he was able to understand a little bit of English having studied in Malaysia before and needed minimal translations for questions asked, though he still sheepishly asked for translations when he's stuck.
During the press conference, Seo Kang Joon admitted that Singapore was a lot hotter than he expected, before noting that Chilli Crab sauce with fried Man Tou (traditional Chinese steam bun) was one of the best combinations of food he has ever tasted.
Jumping straight into his promotions, Seo Kang Joon was not shy to admit that although the role of Baek In Ho in Cheese In The Trap holds many expectations and responsibilities, he was confident that he would be able to play the role well. He also mentioned that although his real life personality is very different from that of Baek In Ho, noting that he is an introvert and Baek In Ho is the exact opposite, he enjoyed playing his role very much.
When asked about the way of communication among his co-stars, Seo Kang Joon highlighted that although his co-stars were older than him, he looked matured for his age and the fact that he swears a lot made it a more light-hearted environment for the cast and they bonded in no time.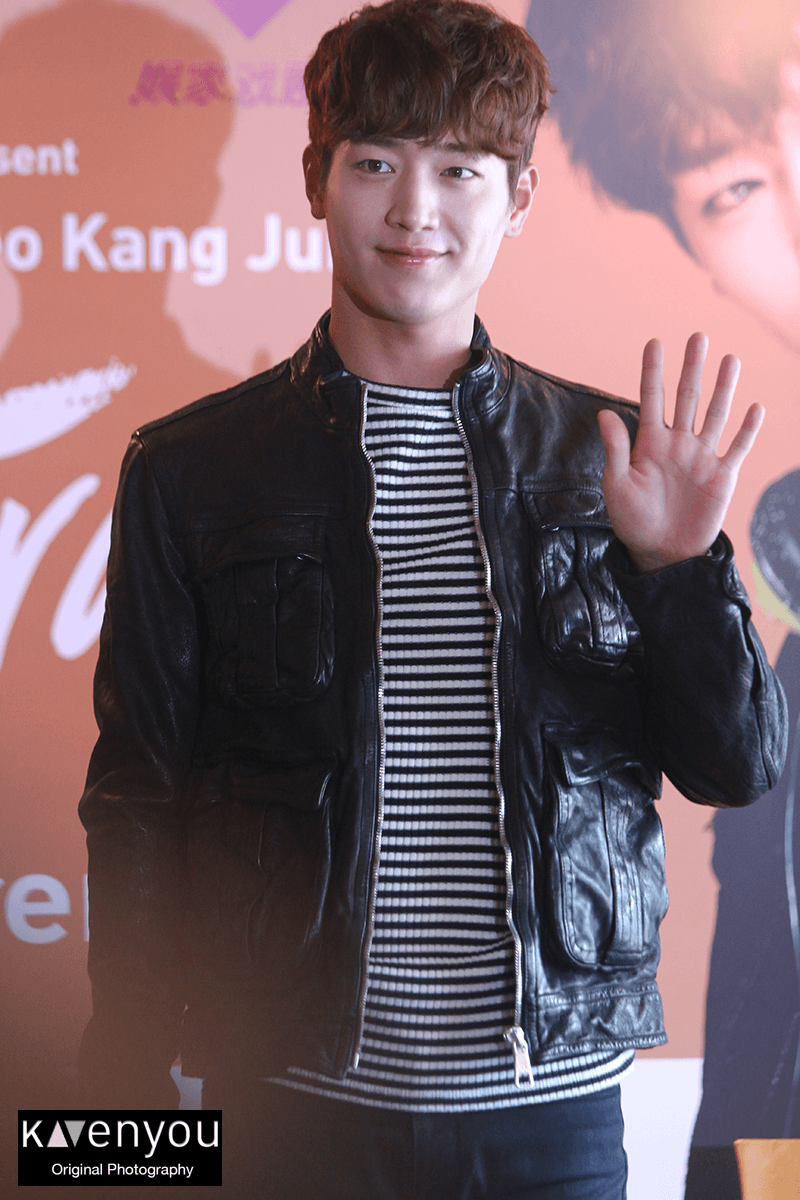 Of course, a press conference would not be complete if trivial questions weren't asked and the suave actor was more than eager to answer them. Seo Kang Joon candidly admitted that because of his fair skin, many people have told him that he'd be great if he were to play a vampire, to which he answered that he would not limit his choices in choosing the next role to play! Some fun facts we've also learnt throughout the press conference were that he has been playing the piano for 7 years and he absolutely loves anything that goes well with beer!

Later that night, Seo Kang Joon made an appearance at Suntec City for his meet & greet and I must say I am very impressed at the fact that he was on time for his meet & greet, considering that it has almost become a norm for the stars to be late. Looking daper in all white, Seo Kang Joon immediately proceeded to the highlight of the event – interacting with lucky fans!
2 lucky fans were specially chosen amongst the crowd minutes before his arrival for a chance to get up on stage to play a game with the actor himself! Not only did they walk away with hugs and prizes from Seo Kang Joon, they've also walked away with the best gift to end the day with. 20 other lucky fans who were chosen prior to the event were given an opportunity for a photo session with the handsome actor and some even walked away with free hugs from him! What a night!

View more photos of the press conference and meet & greet here: Cheese in the Trap Meet & Greet with Seo Kang Joon
Cheese in the Trap is currently airing on VV Drama (StarHub TV Channel 855)娱家戏剧台(星和视界第855频道)every Sunday at 10pm.
Article by: Beatrice @ KAvenyou
Photography by: Yanglin  &  Zhen Zhen @ KAvenyou