For the first time in Singapore, Korean food lovers and Seafood enthusiasts will now be able to savour the delicate taste of the Korean Puffer Fish at the SBCD Korean Tofu House, famous for its Soontofu dishes.
Being the first Korean restaurant in Singapore to offer dishes such as Bok Maeun Tang (Spicy Puffer Fish Stew), Bok Malguen Tang (Puffer Fish Soup), and Bok Bulgogi (Puffer Fish Bulgogi), SBCD Korean Tofu House, will be purchasing their Korean puffer fish from K-Fish, the national K-Fish licensing brand established in 2017 by the Korea Fisheries Association. It has passed rigorous procedures and strict evaluation standards of the Ministry of Oceans and Fisheries (MOF).
Puffer fish, also known as fugu and bokeo in Korean, holds a global reputation for being a highly dangerous and potentially deadly fish when consumed, despite its unique texture and delicate flavour. In Korea, some farmers are now able to breed poison-free puffer fish in domestic conditions, and wild puffer fish are carefully handled by highly trained professionals, with safe parts frozen and distributed in Korea.
The Korean puffer fish will be inspected for any unsafe parts and all parts that may contain traces of poison will be removed completely under stringent procedures before being packed and frozen to Singapore.
Given an opportunity to try out some of the new Korean puffer fish dishes offered at SBCD Korea Tofu House, here are our thoughts on how they fared!
#1. Spicy Puffer Fish Bulgogi
Rating: 7/10
Price: $49.90++
Thick portions of puffer fish cooked together with beansprouts, spring onions, and other toppings in a pot right in front of you, the sizzling and the delicious smell really whets your appetite.
The spiciness level is acceptable for someone who thinks McSpicy is a little bit spicy, the puffer fish was very tender and surprisingly, it tastes just like any other fish we've tried. We were a little sceptical about trying puffer fish for the first time, but it turned out a lot better than we thought. It was a good and flavourful dish but this dish did not amaze us as much as we thought it would.
#2. Spicy Puffer Fish Skin with Vegetables
Rating: 7/10
Price: $19.90++
This dish served cold contains chewy strips of puffer fish skin served up with a mountain of different types of vegetables.
The chewy puffer fish skin doesn't contain much flavour, most of its flavour comes from the sauce it's mixed in, it is slightly spicier than the puffer fish bulgogi, but still bearable. We feel that this dish serves as an appetiser, makes you want to go back for more.
#3. Deep Fried Puffer Fish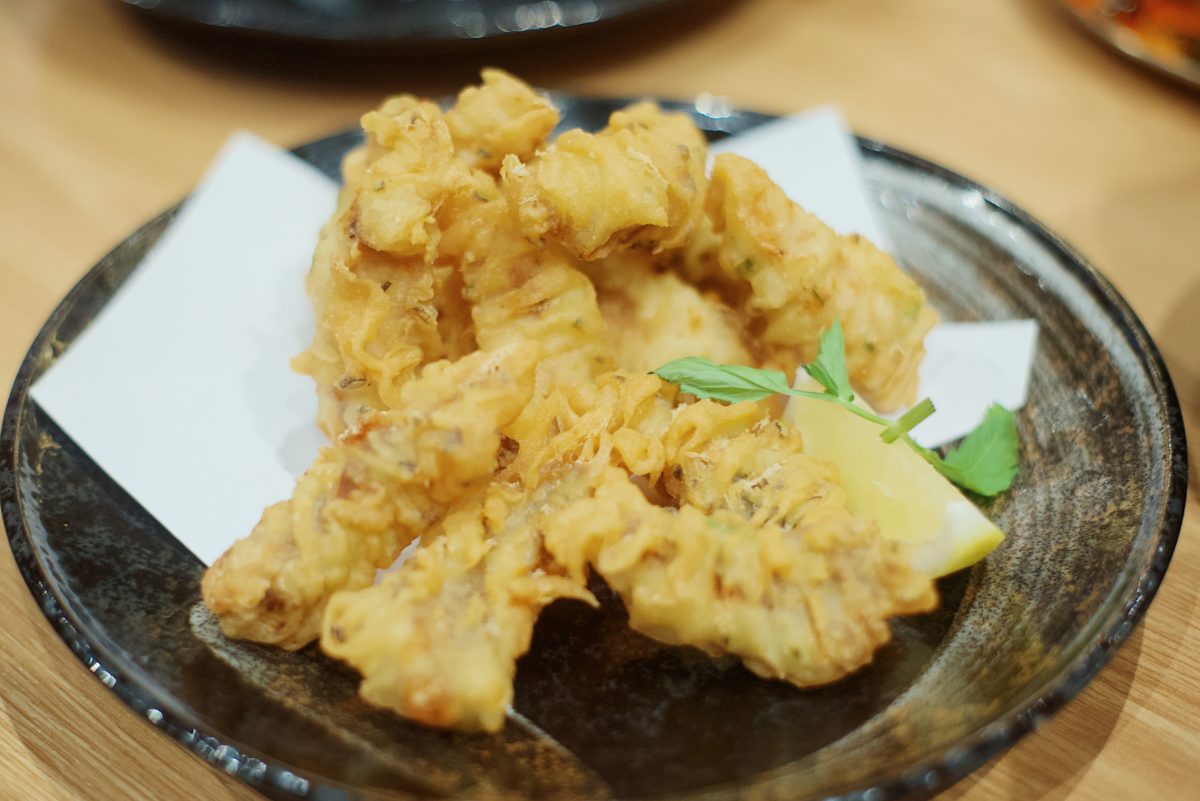 Rating: 8/10
Price: $19.90++
If you didn't know the name of this dish, you'll never expect this to be puffer fish. Though it has been deep fried, it isn't too hard or oily, it is flavourful, the outside was very crunchy, and the flesh inside remained tender.
This dish really surprised us with how good it tasted, and we'll definitely head back to SBCD Korean Tofu House for this dish.
Overall, the dishes were great and changed what we originally thought of puffer fishes, grab a few friends this weekend and head down to give their new dishes a try!